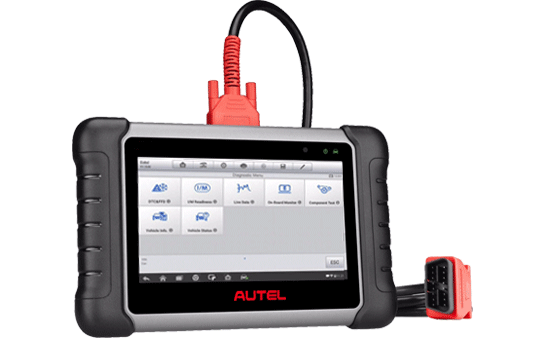 Autel Scanner MaxiPRO MP808 OBD2 Diagnostic Scan Tool with Bi-directional Control, Key Fob Programming, ABS bleeding brake, Reset Functions including Oil Reset, EPB, SAS, DPF, BMS, ABS, SRS, TPMS
Incredible compatibility and ease of use make it a top choice for anyone working with cars professionally.
Burst Point of Autel MaxiPRO MP808:
2022 New Version👍Same Functions as Autel MP808K/MS906: Autel MP808 2021 new added more OE-Level Functions👉Guided Functions 👉Component Matching👉Online Account Login Service 👉Power Balance 👉Flash Hidden Functions👉Actuator Test👉Tons of Actuator Test👉Key Programming ( All the function above is car-specific).
Bi-directional Control + ALL System Diagnosis: Autel MP808 automotive scanner can actuate solenoids and actuators for active testing, send commands to many systems/components to test their working status, without using the vehicle controls. and access to ALL vehicle systems and subsystems, covers Body, Chassis, Powertrain, Fuel system, Light system,and etc,.
Best Hardware & 30+ Growing Reset Functions: ✅Android 4.4.4 System✅7 inch touchscreen✅32GB SD Card(extent to 64GB)✅front &rear cameras✅Auto VIN✅One-Click Update,NO IP Limited! ✅generate/print/share Vehicle Health Report✅Remote Diagnosis✅Data Stream record and playback ✅Maintenance Help.✅ECU Coding,Key programming,ABS Bleed,SAS/TPMS/DPF/Reset and etc,.functions are all-round, reliable, powerful, running super fast, time-saving and cost-effective for a professional mechanics.
Wider Vehicle Coverage for Repairing Shops & Diyers: Autel MP808 automotive scanner reads & erases codes, view live data, retrieve ECU version information.Full range car models and full car system diagnose make it a professional automotive diagnostic tool. ✅The full connector of MP808K is suitable for old models, MP808 give you more diversified choices and save you 100USD. If you need some connectors, you can contact our after-sales mailbox separately.
Mechanics with 50 years of experience Highly Recommended: Autel MP808 diagnostic tool automatically identify vehicle information and complete rapid diagnosis and Quick ALL-MODULE Health Report Generation, greatly increasing the productivity. Autel official authorized MP808 provide 5-year warranty, 60-days return & replacement, and 24/7 thoughtful support.
More User-friendly Functions: The Autel scanner MP808 stands apart from others in its sophisticated and user-friendly nature. With just a single touch, this car scanner diagnostic tool will automatically identify a vehicle's make, model and year of manufacture in no time. No need for any manual information input. Also, its fast boot-up, clear and crisp screen, logically laid out menus etc., all ergonomic designs are made for user comfort, which place this Autel scan tool at a higher level.
Autel Official Store

MP808TS

MP808

MK808TS

MK808

RAM

1G

1G

1G

1G

ROM

32G

32G

32G

32G

battery capacity

5000 mAh

5000 mAh

5000 mAh

3200mAh

Android version

Android 4.4.2

Android 4.4.4

Android 4.4.2

Android 4.4.4

Screen size

7inch

7inch

7inch

7inch

Screen resolution

1024x600

1024x600

1024x600

1024x600

Wi-Fi

2.4 & 5 GHz

2.4 & 5 GHz

2.4 GHz

2.4 GHz

Net Weight

0.885kg

0.788kg

0.885kg

0.788kg

Remote Desk

√

√

√

√

Connection

VCI Mini / Bluetooth

main cable

VCI Mini / Bluetooth

main cable

Auto VIN

√

√

√

√

Auto SCAN

√

√

√

√

Full OBD2 Functions for All Systems

√

√

√(read/erase codes,read ECU info.,data stream)

√(read/erase codes,read ECU info.,data stream)

Commonly used Special Functions

√

√

√

√

Replacement of Control Unit for Some Software

√

√

X

X

Guidance Function

√

√

X

X

Advanced TPMS
(sensor programing/activation)

√

X

√

X

Language

English, Simplified Chinese, Traditional Chinese, Spanish,French, German, Polish, Italian, Japanese, Korean, Dutch,Portuguese, Swedish,Russian

More Functions

Checking Compatibility
What Updates have we made in 2021 as UPGRADED Version OF AUTEL MP808 ?
✔️ Thanks to the Autel MP808 Scan tool, you can get more repair orders and Improve your efficiency and professionalism , Having such a state-of-the-art ,Fast,Smart, Intelligent Bi-Directional Scanner, Which is a great investment in your life .

✔️ As a Car owner ,Thanks to the Autel MP808 Scan tool, you don't need to rely on the mechanics or auto repair shop , you can be the mechanic of your family ,Which is a great money saver for your family.
Larger "me

"

: 32GB storage capacity + 32GB extended memory ( large internal storage and expandable memory for more vehicle software loaded, diagnostic records ,photos,music, and games etc .)
Better "me

"

: Exceptional OE-Level system coverage for all electronic systems.
Faster "me

"

Android 4.4.4 system, and Cortex-A9 quad-core processor (1.4 GHz), 2.4GHz&5GHz Dual-Frequency Wi-Fi, the transmission rate is 3Xfaster than old version.
Multi-functional "me

"

: Available to Download any applications,like facebook, Twitter, Tiktok ,hotmail,etc .( also a multi-functional tablets support entertainment )
Wider & Newer Vehicle software : update car software to 2020/2021, including cars, SUVs, minvans, 12v light-duty trucks.
Longer Battery Capacity : lasting nearly 5 hours continuous use on a single charge .( 10 hours of working and entertainment on-the-go)
Faster update frequency: The AUTEL MP808 offers faster update frequency . Automatic system and software updates with real-time push message notifications via Wi-Fi. You can be certain that this scanner is from a reliable brand and if you're faced with a challenge within this period.
2022 NEWest Version >>>ideal Choice for :Technician , advance DIY, garage, car dealer, used car dealer, auto repair shop, automotive engineer, diagnostic tech, truck man, automobile tech, home mechanic, DIY beginner, automotive student, backyard mechanic, retired mechanic, weekend DIY, individual.
2022 New Added Exceptional OE-LEVEL Function Same As Autel MP808K/MS906 (All the function is car-specific)
Guided Functions: Compatible with Volkswagen / Audi / Skoda / Seat etc.
Component Matching: Compatible with Volkswagen / Skoda / Seat / Honda / etc.
Online Account Login Service: Compatible with Volkswagen / Audi
Power Balance: Compatible with Chrysler / GM / Ford etc.
Flash Hidden Functions: Compatible with Volkswagen / Audi
Actuator Test : Injector Test ;Turn Off ACC Lane Keeping Assist
Tons of Actuator Test (Functional Test) :Turn ON/OFF Front and Rear side ACM Solenoid , turning the fuel pump on and off, cycling the a/c ,clutch on and off, Left clutch electromagnetic coil test,Acceleration Device Test,Oil Pressure Control Test,DYNAMIC camera aiming,Vehicle level position calibration, Brake Vacuum Pump, Inlet and Outlet Valve tests, Open Brakes tests, Parking Brake Botors, Wheel Speed Sensor Supply, PARKING BRAKE tests (Vary by car, Hundreds of actuation test functions)
Key Programming : Add, Delete & Reprogram Keys, Rewrite smart keys, Replace smart key ECU, Replace KNOB IGNITION; Reset Key: Relearn a key.etc .
more and more function will be improved and optimized ....
Bi-directional Control + Active Tests
Pin Down the Exact Cause of A Car Trouble
This upscale professional-automotive diagnostic tool MP808 has bidirectional capabilities, implying that it can perform functional tests, inspection tests, system tests and actuator tests (active tests) etc., i.e., it can talk with, and also listen to the car's diagnostic routines, which will help you to reduce the diagnostic time tremendously.
As for the key programming functions, the MP808 can read keys from IMMO memory, program and reset new keys easily. Basically, it gives you full control over the vehicle's lock and security system.
Autel MP808 can automatically retrieve the VIN of your vehicle and make an accurate diagnosis. This will significantly reduce the time taken to retrieve the codes or perform any other functions.
The MP808 offers faster update frequency and one-year limited service.
+80 US, Asian and European Vehicle Makes
Abarth, Acura, Bentley, Bugatti, Buick, Cadillac, Chevrolet, Chevrolet MPV, Chevrolet Truck, Citroen, Dacia, Daewoo, Daihatsu, Dodge, Fiat, Ford, GM, GTR, Geo, Honda, Hummer, Hyundai, Infiniti, Isuzu, Jaguar, Jeep, Kia, Lambor Ghini, Lancia, LandRover, Lexus, LT3, Maruti Suzuki, Maserati, Maybach, Mazda, Mini, Mitsubishi, Nissan, Opel, Peugeot, Porsche, Renault, Saab, Scion, Seat, Skoda, Smart, Sprinter, Subaru, Suzuki, Toyota, Volkswagen, Volkswagen CV, Volvo...
Full Systems Diagnostics for Deep Inspection in Vehicle
The OE-level compatibility of this diagnostic device is high with access to European, Asian and American applications for resets, module coding, bi-directions capabilities and relearns. By establishing a data link to the electronic control units of the vehicle being serviced directly, the full car diagnose system allows you to:
To retrieve ECU information of tested control units including unit type, version numbers, and other specifications;
Read & erase DTCs to locate problem areas and clear the codes easily;
View live data of each parameter item;
Get access to all vehicle systems and subsystems, such as ABS, SRS, Engine, Transmission, Brake System, Emission System, Fuel System, Light System, Wiper System, Body, Powerstrain, Chassis, and etc.
So as to perform a comprehensive scanning process on ECUs to locate the faulty systems and retrieve the DTCs related.

Advanced 30+ service functions for Data Resetting
For the most advanced functions on the most vehicles, the MP808 is the way to go. It includes 30 reset services and VW & Audi Guided Functions & Customization. The following are commonly-used service functions:
Oil Reset: Turns off oil light reset and service mileage as well.
EPB: Finds fault in the brake pad system.
SAS: Performs steering angle adjustment and clears steering sensor fault memory.
BMS: Perform battery management reset in case of a new battery.
DPF: Diagnoses the exhaust system to stabilize the filter performance.
Throttle Adaptation: Adjusts the throttle position for controlling the volume of intake air.
VW & Audi Guided Functions: Even a DIYer can perform some complicated functions according to prompt of the scanner step by step via this function.
VW & Audi Customization: You can use this function to fold the rearview mirror, get multi-function steering wheel and atmosphere lamp, etc.
Advanced Design to Facilitate Your Daily Repair Work
As the most up-to-date vehicle fault diagnosis tool in Autel's line of handheld diagnostic tools, MP808 also features a long list of user-friendly functions for the simplification of car maintenance and services whilst also enhancing the reliability.
AutoVIN - It comes with AutoVIN technology to automatically read and store vehicle's VIN number.
MaxiFix - Gives you access to a vast database of repair and diagnostic tips along with proven filed fixes.
Data Manager - The Data Manager application is used to store, print, and review the saved files for future reviews.
Shop Manager - Help you manage the workshop information, customer information records, and much more.
Remote Desk - By working with TeamViewer, it has realized the reality that a mechanic can diagnose an abnormal vehicle which is even thousands of miles away.
AUTEL MAXIPRO MP808Kit(Same as DS808k)
Based on the Android operating system, MaxiPRO MP808K is featured with an extensive coverage of OE-level diagnostics. Installed with a fast quad-core processor, MP808K offers maximum convenience and efficiency for your diagnosis and analysis. The intuitive user interface makes using the device effortless through a 7-inch LCD touchscreen that displays at 1024 x 600 quality. Autel MP808K has the same functions as MaxiPro MP808 but comes a kit of adapters.
We love to hear from you,our team is available to help answer questions and offer styling advice, so if there's anything you'd like to ask us, we're right here and ready to help in every way we can.
We're available to support you via
Service Tel: (+86) 16686410852
Whatsapp: (+86) 166 8641 0852

We strive to answer your questions within.12 hours
Customer service chat hours:
Monday - Sunday : 8am - 20pm EST
Now available in English.
Company address:
( Changde Innovation and Incubation Industry Park,
Zhangyao Road, Changde High-tech Industrial Development Zone )
Guanxi Town, Dingcheng District, Changde City, Hunan Province,China



Please kindly note: During peak seasons and promotional sales, our response time might take a little longer. Please use the same email address you used when placing your order when contacting us, and include your order number in your email.
Become a reseller of obd2direct
The more you buy, the lower the price. The more you save.
Join us as our small and medium retail client and help you gain more experience
What is a wholesale program?
Join us, become our wholesale customer, buy more quantity and enjoy great wholesale discount price!
Buy more, save more!
In the sideline business of helping you resell professional car diagnostic tools, but also help you make better use of car diagnostic tools, providing recommendations and the best resale services for workshops around you!
Benefits of becoming an obd2direct wholesale customer:
1. Get the biggest discount price.
2. The latest and most abundant product catalog.
3. Professionals will help you analyze the market according to the sales situation of the market, help you choose the most suitable resale products, and help you obtain the maximum profit.
4. Professional product descriptions, pictures, and professional product introduction DPF documents.
5. One-to-one service from professional aftersales- technicians.
6. Free delivery from overseas warehouses, providing the fastest and highest quality express service. We will prepare goods for you in advance according to your needs, and there will be no shortage of goods waiting.
Our goal:

The spark of continuous technological innovation and improved product inventions has stood the test of time, and the service provided and customer relationships in place are popular worldwide.
Whatsapp: (+86) 166 8641 0852

Email: sales@obd2direct.com
ADDRESS:
(Changde Innovation and Incubation Industry Park,
Zhangyao Road, Changde High-tech Industrial Development Zone)
Guanxi Town, Dingcheng District, Changde City, Hunan Province,China.