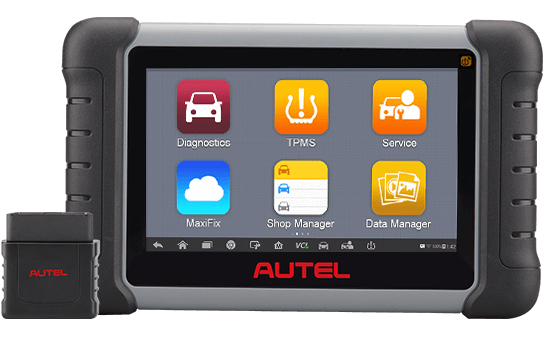 Autel MaxiCOM MK808TS TPMS Scanner with Complete TPMS and Sensor Programming, Diagnosis for All Systems and Combination of Service Functions , Same as MK808/MX808/MK808BT+TS608(upgraded TS601 orTS508)
MK808TS support kinds of language: English, French, German, Italian, Spanish, Portuguese, Russian, Dutch, Polish, Japanese. The ease of use and amazing compatibility make it work efficiently.
Burst Point of Autel MaxiCOM MK808TS:
2022 Top-emd TPMS Scanner: Autel MaxiCOM MK808TS-a perfect combination of professional diagnostic tool and specialized TPMS tool. To meet the needs of the market, we have further developed the 2021 brand new MK808TS based on the MK808 and MK808BT. The updated TPMS functions can help you easily solve 99% of related problems. The advanced 28+ special functions cope with most of your daily maintenance no matter you are a pro mech, workshop owner or a back-yard mech.
Over 28 Special Functions: As a 2021 updated version of MaxiCOM MK808BT, autel scanner MK808TS has gathered more special functions which are available on a wider range of vehicle models. In total over 28 special functions are the perfect solutions for the daily tune-ups, such as oil reset, EPB, TPMS, BMS, brake bleeding, IMMO, SAS, DPF, etc. Every one of those special functions can save your wallet, save your time and save your trouble.
Advanced TPMS Functions: Since Autel diagnostic scanner MK808TS is a specialized TPMS tool. It shares all the professional TPMS functions in common with TS601, TS608. TPMS Programming allows you to program the blank TPMS sensors and get them ready for activation. As for TPMS Sensor Activation, TPMS tool MK808TS empowers you to activate the OE-sensors or Autel sensors. The TPMS Sensor Relearn matches the sensors with on-board modules. MK808TS is a perfect choice for tire-service workshops.
TPMS Retrofitting: The TPMS Retrofit can help you build everything from scratch. For vehicles without factory-fitted TPMS module or sensors, the MK808TS can retrofit the TPMS module and sensors. Here are the processes to help you have a rough idea: 1. perform coding function & program the TPMS module, 2. physically set up the programmed module, 3. Program, activate, and relearn the sensors. For further detail please feel free to come to us for technical support.
Full-System Diagnosis for Systems: To help you root out the problem hidden underneath the hood, tpms scanner MK808TS has packed with OE-level full-system diagnostic which can dive into every corner of on-board system and present everything about your ride with a specific report. Comparing with other competitors, MK808TS can access more system information (such as PCM, ECM, EPS, PDM, BCM, TPM, etc.) and are compatible with a wider range of models.
28+ Service Functions, Making MK808TS a Smart Scanner in the Era of AI
As a smart diagnostic scanner in the era of Artificial Intelligence, Autel MaxiCOM MK808TS comes with 28+ service functions to help professional mechanics and technicians in workshops solve over 80% vehicle maintenance tasks fast and easily.

28+ Service Functions:
A: Oil Reset, EPB, TPMS, ABS Bleeding, DPF, IMMO, BMS, Throttle Matching, Injector Coding, SAS Calibration, Suspension;
B: Trans Adaption, Airbag Reset, ABS & SRS, WIN DR Roof, Seats, Lang Change, Headlamp, CHG Tire Size, TEC Learn, Cylinder;
C: Odometer, Turbocharging, Clutch, A/F Setting, TPMS Sensor Activation, MX-Sensor Programming, TPMS OEM Part No.
D: There are much more special functions could be explored

Designed for Dummies:
With the onscreen instructions, Autel Scanner MK808TS guides users to follow the detailed instructions, enter correct values or data, and perform necessary actions. Even though you're a beginner, you can complete selected service operations easily.

Profound TPMS Functions make Autel MK808TS a Professional Expert
Autel Diagnostic Scanner MK808TS provides the most comprehensive TPMS services for technicians to locate and solve TPMS problems fast and efficiently.
TPMS Sensor Check: activates all known OEM or Autel TPMS sensors to view sensor data (sensor ID, tire pressure & temp., battery condition, and sensor location).
TPMS Diagnosis: checks the status of the TPMS system via BT connection with the test vehicle. Not only compare the sensor IDs retrieved from sensor activation with the IDs saved in the TPMS ECU, but also read the TPMS DTCs.
Sensor Programming: programs the sensor data to the Autel MX-Sensor and replaces faulty sensor (poor battery life or malfunction) via Copy by Activation, Copy by OBD, Copy by Input or Auto Create.
TPMS Relearn: writes the newly programmed sensor IDs, into the vehicle ECU for sensor recognition in 3 ways: Stationary Relearn; Active Relearn; OBD Relearn.

TPMS Installation Functions, Keeping the Vehicle Running Safely
What's the TPMS Installation?
The TPMS Installation function of Autel MK808TS is specially designed to add tire pressure monitoring system (TPMS) to the vehicles without the TPMS, which monitors the real-time tire pressure and alerts the drivers to inflate the tires in time.
Why Need MK808TS?
As we all know, driving with low tire pressure may lead to a blowout and even vehicle crash. Thus, the TPMS is essential for any vehicles. Autel MK808TS, which makes installing TPMS module much easier than ever, is able to help vehicles avoid tire pressure related accidents and poor fuel economy, extend the lifespan of tires, and reduce suspension wear, etc.
How to Use?
Just connect the scanner with the test vehicle via BT connection, follow the prompts on the screen, and select the appropriate options. Then you'll find the operation is as simple as clicking YES or NO.

WE HONESTLY ANSWER ALL YOUR QUESTIONS
1)Q: Is your Autel Maxocom MK808TS original product, is it the 2021 newest version?
A: Yes definitely. We are a 7-year old Autel authorized seller, all products we are selling are genuine Autel products. Our Maxicom MK808TS is the 2021 newest version which helps you diagnose the newest car models.

2)Q: I'm a Spanish, can I change the default language of MK808TS into Spanish?
A: Sure. Autel MK808TS supports 13 languages for free. Please provide us with the serial number of your MK808TS, we will change the language for you within 6 hours.
Note: The serial number is on the back of the device, it's a 12 digit number. If you cannot find it, please send us a picture, we will check it for you.

3)Q: Do I have to update MK808TS after 1 year free subscribtion, how much does it cost?
A: To be honest, it depends. You can still use all functions that you were using one year ago without renewal. But please be informed the software of MK808TS keeps updating which means it could cover more car makes and functions. So if you always want to use the newest functions and diagnose the newest car models, I will suggest you to update after 1 year free subscription with 295 bucks charging fees.

4)Q: How powerful is the TPMS function of MK808TS, can it program other brand sensors except Autel brand?
A: The TPMS function is the key function of MK808TS, it is like top professional TPMS diagnostic scanner, eg. Autel MaxiTPMS TS601/TS608. Please be informed that Autel MK808TS can only program Autel sensors. I will suggest you to buy Autel sensor(315MHz + 433MHz) which could replace all the OEM sensors in the market and covering 98% vehicles in the world.
Autel Official Store

MP808TS

MP808

MK808TS

MK808

RAM

1G

1G

1G

1G

ROM

32G

32G

32G

32G

battery capacity

5000 mAh

5000 mAh

5000 mAh

3200mAh

Android version

Android 4.4.2

Android 4.4.4

Android 4.4.2

Android 4.4.4

Screen size

7inch

7inch

7inch

7inch

Screen resolution

1024x600

1024x600

1024x600

1024x600

Wi-Fi

2.4 & 5 GHz

2.4 & 5 GHz

2.4 GHz

2.4 GHz

Net Weight

0.885kg

0.788kg

0.885kg

0.788kg

Remote Desk

√

√

√

√

Connection

VCI Mini / Bluetooth

main cable

VCI Mini / Bluetooth

main cable

Auto VIN

√

√

√

√

Auto SCAN

√

√

√

√

Full OBD2 Functions for All Systems

√

√

√(read/erase codes,read ECU info.,data stream)

√(read/erase codes,read ECU info.,data stream)

Commonly used Special Functions

√

√

√

√

Replacement of Control Unit for Some Software

√

√

X

X

Guidance Function

√

√

X

X

Advanced TPMS
(sensor programing/activation)

√

X

√

X

Language

English, Simplified Chinese, Traditional Chinese, Spanish,French, German, Polish, Italian, Japanese, Korean, Dutch,Portuguese, Swedish,Russian

More Functions

Checking Compatibility
We love to hear from you,our team is available to help answer questions and offer styling advice, so if there's anything you'd like to ask us, we're right here and ready to help in every way we can.
We're available to support you via
Service Tel: (+86) 16686410852
Whatsapp: (+86) 166 8641 0852

We strive to answer your questions within.12 hours
Customer service chat hours:
Monday - Sunday : 8am - 20pm EST
Now available in English.
Company address:
( Changde Innovation and Incubation Industry Park,
Zhangyao Road, Changde High-tech Industrial Development Zone )
Guanxi Town, Dingcheng District, Changde City, Hunan Province,China



Please kindly note: During peak seasons and promotional sales, our response time might take a little longer. Please use the same email address you used when placing your order when contacting us, and include your order number in your email.
Become a reseller of obd2direct
The more you buy, the lower the price. The more you save.
Join us as our small and medium retail client and help you gain more experience
What is a wholesale program?
Join us, become our wholesale customer, buy more quantity and enjoy great wholesale discount price!
Buy more, save more!
In the sideline business of helping you resell professional car diagnostic tools, but also help you make better use of car diagnostic tools, providing recommendations and the best resale services for workshops around you!
Benefits of becoming an obd2direct wholesale customer:
1. Get the biggest discount price.
2. The latest and most abundant product catalog.
3. Professionals will help you analyze the market according to the sales situation of the market, help you choose the most suitable resale products, and help you obtain the maximum profit.
4. Professional product descriptions, pictures, and professional product introduction DPF documents.
5. One-to-one service from professional aftersales- technicians.
6. Free delivery from overseas warehouses, providing the fastest and highest quality express service. We will prepare goods for you in advance according to your needs, and there will be no shortage of goods waiting.
Our goal:

The spark of continuous technological innovation and improved product inventions has stood the test of time, and the service provided and customer relationships in place are popular worldwide.
Whatsapp: (+86) 166 8641 0852

Email: [email protected]
ADDRESS:
(Changde Innovation and Incubation Industry Park,
Zhangyao Road, Changde High-tech Industrial Development Zone)
Guanxi Town, Dingcheng District, Changde City, Hunan Province,China.