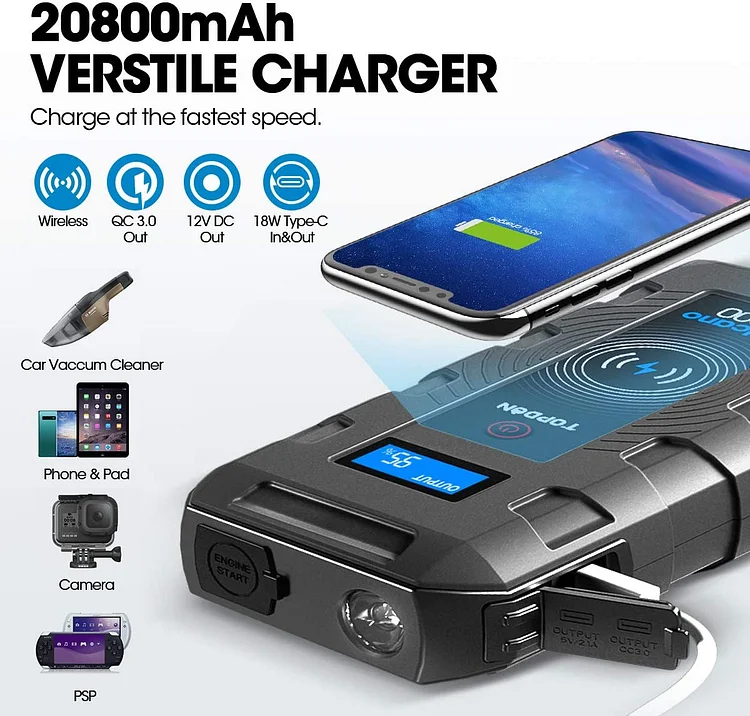 Car Jump Starter Battery Pack Portable, TOPDON VOLCANO2000 12V (Up to 10L Gas 8L Diesel) Auto Battery Booster Jumper 20800mAh Power Bank Wireless Charger Type C for Car Truck ATV SUV Boat-Peak 2000A
TOPDON VOLCANO2000 serves as a portable Jump Starter that delivers 2,000Amps peak current for jump starting a flat 12V lead-acid battery in seconds. It supports quick and safe starts for 12V cars, boats, motorcycles, ATVs, lawnmowers, caravans, tractors, trucks, etc., up to 10-liter gasoline or 8-liter diesel engines, with 25-times boost capability on a single charge.
About Topdon Volcano2000
Powerful Car Jump Starter ➤ With its 2000A current, TOPDON V2000 car battery jump starter pack can start a 12-volt dead battery in seconds and offers about 25 jump starts on a single full charge for engines up to 10.0L Gasoline and 8.0L Diesel. The V2000 car jump starter is suitable for cars, trucks, motorcycles, boats, yacht, lawnmowers, pickups, vans, ATVs, SUVs, snowmobiles, watercrafts and more.
10W Wireless Charger ➤ Simply place your phone or other Qi-enabled devices on the center of the jump starter and V2000 jump starter will do the rest. Its 10W wireless charger with 20800mAh power bank is suitable for travel and business trips. The V2000's 10W wireless charging is compatible with all Qi-enabled devices.
Multi-Functional ➤ It's a car jump starter, portable power bank, battery charger, and LED flashlight. V2000 jump starter can power up 4 devices at the same time. Its 20800mAh battery can charge your phones, tablets, and cameras via a QC3.0 port, 5V/2.1A USB port, and 5V/3A Type-C port. Charge Qi-enabled devices with 10W wireless charging. power 12V auto devices via the DC to cigarette lighter converter. The built-in three light modes LED flashlight offers additional safety and convenience.
Heavy-duty Copper Clamps for Safety ➤ Premium copper clamps and 10 protections make V2000 car battery jump starter pack safe for anyone to use. Jump-start your vehicle without worrying about sparks if it's connected incorrectly. This jump starter has passed all UL2743, FCC, CE, PSE, and ROSH regulations. Protections include reverse polarity protection, reverse connection protection, reverse and overcharge charge protection, short circuit protection, and more.
Getting into your car and finding out the battery's dead can really throw a wrench in your day. Rather than waiting or call road assistance, TOPDON V2000 portable jump starters will get your car moving without needing another vehicle for a jump, making them a lot more convenient to use than jumper cables.

A Must-have For Every Driver
TOPDON V2000 portable jump starter is capable of starting all 12V batteries in seconds with up to 10.0L gas and 8.0L diesel engines. It can jump start 12V cars, trucks, vans, pickups, ATVs, SUVs, mowers, yacht, motorcycles, snowmobile, watercrafts or marine boats up to 25 times on a full charge. It's a lifesaver for camping, outdoors, emergencies and road trips.

Besides, it can be used to charge smartphones, tablets, and other electronic devices as well as performing other incredibly useful tasks like signaling with lights. It is small and light enough to fit inside an average glove box. Great gift idea for loved ones!

Back-Up Emergency Power
Packed with quick-charge 3. 0 USB outport and 10W wireless charge, with capacity 20800mAh, charges your devices faster and is compatible with almost smart devices – including cell phones, tablets, AirPods, or digital cameras, etc. Type-C in/out port can deliver fast charge for itself and other electronics as well. The 12~15V 10A DC output port can conveniently power car air pumps, car vacuums, and other car accessories. Ultra-bright LED flashlight with three light modes continuously provides light up to 72 hours for different emergencies, prevent you from getting stuck in the wild at night.

Rugged Yet Compact
TOPDON car jump starter has a rugged enclosure with IP65 waterproof rating to prevent scratching or marring of surfaces. Featuring high-discharge lithium technology for safe operation in any climate. Compact and lightweight design weighing just 3 pounds. And can be easily stored in glove boxes or bags.
LCD Screen: Intuitive display the remaining power and operating status of the jump starter, Make the operations more convenient.
2080mAh Power Bank: Deliver a boost of power to your phone, iPad, tablets, cameras, and other 12V auto device like car vacuum, car air pump, car refrigerator with various charging ports, ensuring your devices are ready for action in an emergency.
3 Mode LED Light: The LED light has 3 modes: flashlight mode, strobe mode, and SOS mode. It's great for camping, outdoors, indoors, emergencies, travel, etc.
Compact Design: Compact and lightweight design. Fits easily in your glove box and is convenient to store and carry anywhere.
IP65 Waterproof: Professional IP65 waterproof design, making it safe to jump start your vehicle even on rainy days.
Working on extreme weather: Whether it's hot in summer or snowy in winter, rest assured that with V2000 jump starter pack you can go anywhere anytime. Working temperature: -4°F~158°F (-20°C~70°C).
TECHNICAL SPECIFICATIONS
Peak Current: 2000A
Type-C: in/out 5V/3A
Output 1: QC3.0 5V/3A, 9V/2A
Output 2: USB2.0 5V/2.1A
DC Output: 12V/10A
Wireless charge:10W
Short Circuit Protection: Effective
Reverse Protection: Effective
The Operation Temperature: -20°C~70°C (-4℉~158℉)
Over Discharge Protection: 13V+/-0.5V
Dimensions: 206*95.5*42 mm (8.11*3.76*1.65 inches)
Weight: 600g (1.32 lb)
PACKAGE LIST
1*Lithium Jump Starter Volcano2000
1*Smart Battery Clamp
1*Type-C Cable
1*DC to Cigarette Lighter Converter
1*User Manual
1*Carrying Bag
We love to hear from you,our team is available to help answer questions and offer styling advice, so if there's anything you'd like to ask us, we're right here and ready to help in every way we can.
We're available to support you via
Service Tel: (+86) 16686410852
Whatsapp: (+86) 166 8641 0852

We strive to answer your questions within.12 hours
Customer service chat hours:
Monday - Sunday : 8am - 20pm EST
Now available in English.
Company address:
( Changde Innovation and Incubation Industry Park,
Zhangyao Road, Changde High-tech Industrial Development Zone )
Guanxi Town, Dingcheng District, Changde City, Hunan Province,China



Please kindly note: During peak seasons and promotional sales, our response time might take a little longer. Please use the same email address you used when placing your order when contacting us, and include your order number in your email.
Become a reseller of obd2direct
The more you buy, the lower the price. The more you save.
Join us as our small and medium retail client and help you gain more experience
What is a wholesale program?
Join us, become our wholesale customer, buy more quantity and enjoy great wholesale discount price!
Buy more, save more!
In the sideline business of helping you resell professional car diagnostic tools, but also help you make better use of car diagnostic tools, providing recommendations and the best resale services for workshops around you!
Benefits of becoming an obd2direct wholesale customer:
1. Get the biggest discount price.
2. The latest and most abundant product catalog.
3. Professionals will help you analyze the market according to the sales situation of the market, help you choose the most suitable resale products, and help you obtain the maximum profit.
4. Professional product descriptions, pictures, and professional product introduction DPF documents.
5. One-to-one service from professional aftersales- technicians.
6. Free delivery from overseas warehouses, providing the fastest and highest quality express service. We will prepare goods for you in advance according to your needs, and there will be no shortage of goods waiting.
Our goal:

The spark of continuous technological innovation and improved product inventions has stood the test of time, and the service provided and customer relationships in place are popular worldwide.
Whatsapp: (+86) 166 8641 0852

Email: sales@obd2direct.com
ADDRESS:
(Changde Innovation and Incubation Industry Park,
Zhangyao Road, Changde High-tech Industrial Development Zone)
Guanxi Town, Dingcheng District, Changde City, Hunan Province,China.