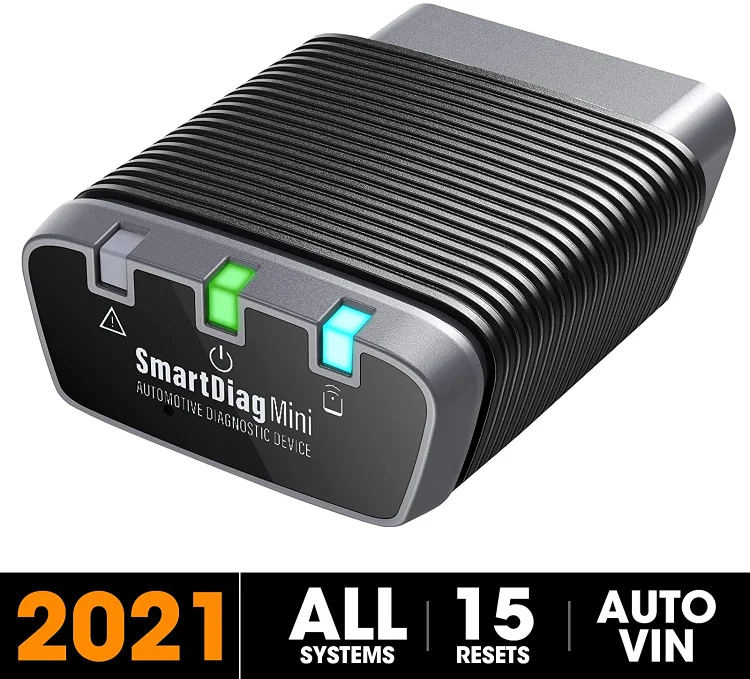 OBD2 Scanner Bluetooth TOPDON SmartDiag Mini Full Systems Car Code Reader 15 Reset Service Functions Check Engine Light Diagnostic Scan Tool.
TOPDON SmartDiag Mini turns your smartphones & tablets into a pro-level scan tool with outstanding features, offering an easy time diagnosing the car by simply installing the exclusive SmartDiag App. Just plug the mini-sized adapter into the OBD port, and enjoy feature-rich and easy diagnostics anytime, anywhere, free from bulky equipment and tangled cables.
About Bluetooth Topdon SmartDiag Mini
Access to All ECUs ➤ Go with Bluetooth OBD2 scanner SmartDiag Mini to make your smartphones a pro-level scan tool. Claiming the features of at least $150-200 range, the Bluetooth car diagnostic tool can diagnose all available car systems such as ABS, airbag, Engine, AT, EVAP, TPMS, BMS, EPB, etc. with data revealed in detailed text, merged graph for easy view. Diagnostic menus are depended on car's make, model and year. NO Active Test available. 📩 Email us for compatibility check.
15 Hot Functions ➤ Get everything you need in daily car diagnostic work with loads of reset functions for Oil, EPB, SAS, BMS, TPMS, IMMO, Gearbox, Sunroof, Suspension, AFS Headlamp, EGR; and guided maintenance procedures for ABS Bleeding, Injector Coding, DPF Regeneration, Throttle Body Adjustment, Gear Learning. IMMO service ONLY works on Asian cars with low-grade IMMO systems.
Fully Featured OBD2 Scanner ➤ Compatible with iPhone & Android devices, this Bluetooth professional OBDII scan tool can read, diagnose, and clear any OBD2 related error codes to help fix issues that happen frequently on most modern vehicles after 1996. It also allows Freeze Frame data retrieval, I/M Readiness check, O2 Sensor test, and more.
Bluetooth Connection ➤ Simply download and install the exclusive SmartDiag App in App Store / Google Play for free, and plug the mini-sized adapter into the OBD port, then run feature-rich and easy diagnostics anytime, anywhere on your iOS 9.0 / Android 5.0, or newer smart devices, without bulky equipment and tangled cables. ✏️Set up the Bluetooth connection in the SmartDiag App, NOT in the iOS / Android system settings.
Subscription Fee ➤ The car code reader offers 5 FREE choices to select the manufacturer software, or the reset maintenance software for the FIRST year (USERS NEED TO DOWNLOAD SOFTWARE BEFORE USE). It's $19.95 per year for each additional, or for renew manufacture. Each manufacturer software gives access to all diagnostic functions for all cars from the same manufacturer. Each reset maintenance software works on all cars in the supported list, regardless of its make, model, and year.
Features
Mini-sized. Portable and easy to carry in pocket.
Convert iOS 10.09 / Android 5.0 (or newer) smart device into a powerful diagnostic tool.
Retrieve ECU information, read / clear DTCs, and display live data stream in all available systems with one touch, without having to go into each individual system.
15 popular maintenance services with pop-up guidance for all supported car models.
Fully featured OBD2 test to take care of most emission-related issues.
Improved vehicle coverage of over 120 car brands across America, Europe, and Asia.
33ft. (10m) wireless Bluetooth 4.2 connection. Run easy diagnostics outside the car without tangled cables.
Free to use any car software / reset service of your choice (5 in total), for the first year.
One-Touch AutoVIN Technology: save manual selections to identify car make / model / year, and head you towards the proper diagnostics.
One-Touch Software Update: to cover the most recent vehicle makes and models.
Diagnostic results can be recorded, saved as a report, and shared via email.
"Feedback" feature offers timely technical assistance.
1-year free software update.
TECHNICAL SPECIFICATIONS
Operating Temperature: 0℃~50℃ (32℉~122℉)
Storage Temperature: -20℃~60℃ (-4℉~140℉)
Unit Dimension: 61.8*48.6*22.4mm (2.43*1.91*0.88 inch)
Package Size: 116*75*37mm (4.56*2.95*1.46 inch)
Net Weight: 40g (1.41 oz)
PACKAGE LIST
1*SmartDiag Mini
1*Quick Start Guide
We love to hear from you,our team is available to help answer questions and offer styling advice, so if there's anything you'd like to ask us, we're right here and ready to help in every way we can.
We're available to support you via
Service Tel: (+86) 16686410852
Whatsapp: (+86) 166 8641 0852

We strive to answer your questions within.12 hours
Customer service chat hours:
Monday - Sunday : 8am - 20pm EST
Now available in English.
Company address:
( Changde Innovation and Incubation Industry Park,
Zhangyao Road, Changde High-tech Industrial Development Zone )
Guanxi Town, Dingcheng District, Changde City, Hunan Province,China



Please kindly note: During peak seasons and promotional sales, our response time might take a little longer. Please use the same email address you used when placing your order when contacting us, and include your order number in your email.
Become a reseller of obd2direct
The more you buy, the lower the price. The more you save.
Join us as our small and medium retail client and help you gain more experience
What is a wholesale program?
Join us, become our wholesale customer, buy more quantity and enjoy great wholesale discount price!
Buy more, save more!
In the sideline business of helping you resell professional car diagnostic tools, but also help you make better use of car diagnostic tools, providing recommendations and the best resale services for workshops around you!
Benefits of becoming an obd2direct wholesale customer:
1. Get the biggest discount price.
2. The latest and most abundant product catalog.
3. Professionals will help you analyze the market according to the sales situation of the market, help you choose the most suitable resale products, and help you obtain the maximum profit.
4. Professional product descriptions, pictures, and professional product introduction DPF documents.
5. One-to-one service from professional aftersales- technicians.
6. Free delivery from overseas warehouses, providing the fastest and highest quality express service. We will prepare goods for you in advance according to your needs, and there will be no shortage of goods waiting.
Our goal:

The spark of continuous technological innovation and improved product inventions has stood the test of time, and the service provided and customer relationships in place are popular worldwide.
Whatsapp: (+86) 166 8641 0852

Email: [email protected]
ADDRESS:
(Changde Innovation and Incubation Industry Park,
Zhangyao Road, Changde High-tech Industrial Development Zone)
Guanxi Town, Dingcheng District, Changde City, Hunan Province,China.