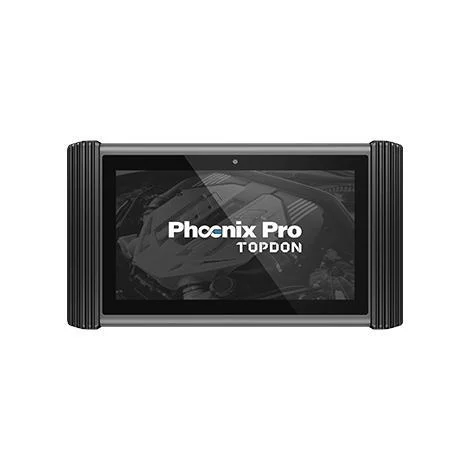 TOPDON Phoenix Pro serves as the newest addition to the all-in-one diagnostic tools. This advanced pro-level scanner stands apart from others with a full line of cutting-edge features, such as ECU online programming & coding, active tests, 21 most commonly-used service functions, with wide vehicle compatibility.
Features
One of the most intelligent automotive diagnostic tablets on earth, specially designed for mid-scale or large-scale workshops and vehicle repairing houses.

The most extensive complete system coverage for over 120 makes and models worldwide.

Cloud-based ECU Programming for BMW, BENZ, VW/AUDI/SKODA/SEAT, PORSCHE£¬LAND ROVER/JAGUAR£¬SUBARU, and NISSAN, without the need of the manufacture software.

Online ECU Coding for software modifications to a vehicle.

Guided Functions with simple step-by-step proceduresfor quick and accurate car diagnostics.

Supports Active Test, Module Replacement, Modification, Personalization, Anti-theft & Key Matching, and more (varies by the vehicle manufacturer, year, and model).

Access to all systems and subsystems.

Supports 21 Service Functions.

Multilingual menu support (23): Chinese Simplified, Chinese Traditional, English, Japanese, Korea, French, Spanish, Portuguese, Italian, Russian, Deutsch, Polish, Romanian, Dutch, Arabic, Czech, Danish, Greek, Farsi, Finnish, Hungarian, Swedish, Turkish, Serbian.

Modular design allows for future capability expansions.

Ultimate configurations: Android 5.1, 8-core 2.0GHz Processor, 12¡± Touch Screen (1920*1200), 2GB RAM & 64GB On-Board Memory (128GB Expandable), 2.0MP FrontCamera, 8.0MP RearCamera with AF, etc.

VCI Bluetooth wireless Diagnosis.

Instant remote technical support.

Abundant user-friendly and ergonomic designs.
We love to hear from you,our team is available to help answer questions and offer styling advice, so if there's anything you'd like to ask us, we're right here and ready to help in every way we can.
We're available to support you via
Service Tel: (+86) 16686410852
Whatsapp: (+86) 166 8641 0852

We strive to answer your questions within.12 hours
Customer service chat hours:
Monday - Sunday : 8am - 20pm EST
Now available in English.
Company address:
( Changde Innovation and Incubation Industry Park,
Zhangyao Road, Changde High-tech Industrial Development Zone )
Guanxi Town, Dingcheng District, Changde City, Hunan Province,China



Please kindly note: During peak seasons and promotional sales, our response time might take a little longer. Please use the same email address you used when placing your order when contacting us, and include your order number in your email.
Become a reseller of obd2direct
The more you buy, the lower the price. The more you save.
Join us as our small and medium retail client and help you gain more experience
What is a wholesale program?
Join us, become our wholesale customer, buy more quantity and enjoy great wholesale discount price!
Buy more, save more!
In the sideline business of helping you resell professional car diagnostic tools, but also help you make better use of car diagnostic tools, providing recommendations and the best resale services for workshops around you!
Benefits of becoming an obd2direct wholesale customer:
1. Get the biggest discount price.
2. The latest and most abundant product catalog.
3. Professionals will help you analyze the market according to the sales situation of the market, help you choose the most suitable resale products, and help you obtain the maximum profit.
4. Professional product descriptions, pictures, and professional product introduction DPF documents.
5. One-to-one service from professional aftersales- technicians.
6. Free delivery from overseas warehouses, providing the fastest and highest quality express service. We will prepare goods for you in advance according to your needs, and there will be no shortage of goods waiting.
Our goal:

The spark of continuous technological innovation and improved product inventions has stood the test of time, and the service provided and customer relationships in place are popular worldwide.
Whatsapp: (+86) 166 8641 0852

Email: sales@obd2direct.com
ADDRESS:
(Changde Innovation and Incubation Industry Park,
Zhangyao Road, Changde High-tech Industrial Development Zone)
Guanxi Town, Dingcheng District, Changde City, Hunan Province,China.