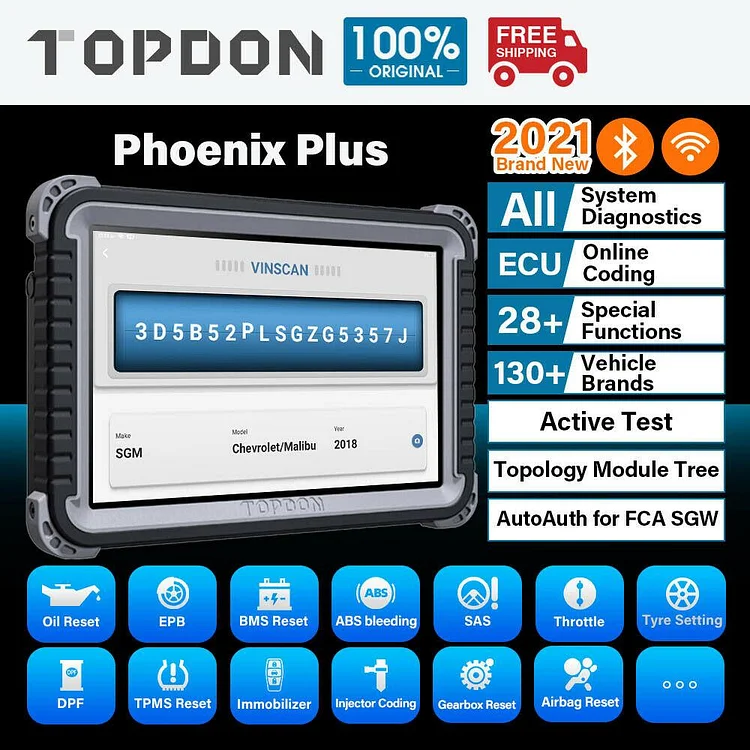 Diagnostic Tool TOPDON Phoenix Plus Bi-Directional Scan Tool Advanced ECU Coding, Guided Functional, All System Diagnostic Scanner, 34 Maintenance Service for Mechanics, AutoAuth for FCA SGW.
TOPDON Phoenix Plus- All System + 28 Reset Services+ECU Coding
High-End Diagnostic Tool ➤ This OE-level diagnostic tool featuring ECU Coding, which is compatible with Benz, VAG, Porsche, etc. Guided Function for VAG, Guided DTCs Trouble Shooting for Porsche (after 2011). Setting & Changeover for Benz and etc. Modification for Porsche and etc. Personalization for VAG, Toyota and other brands. AutoAuth Access, Bi-Directional Control, 28+ Hot Services, All Systems Diagnostics, AutoVIN & AutoScan, with non-16pin connector kit.
34 Hot Maintenance Services ➤ The maximum on the market. This scan tool can perform: Oil/ SAS/EPB/TPMS/DPF/IMMO/BMS/ETS/Gear/Brake/AFS/GEARBOX/EGR/SUNROOF/SUS Reset, ABS Bleed, Injector coding, etc. with scheduled procedures and smooth logical workflow to make maintenance a breeze in the workshop.
AutoVIN & AutoScan + All Available System Access + Active Test ➤ This diagnostic scanner can quickly make an automatic connection to the vehicle ECU modules in all available onboard systems such as transmission, emission, fuel, engine, body, power and many more, to perform a comprehensive automatic scanning to locate faulty area and retrieve DTCs related. Also a bi-directional car scanner to effortlessly determine a specific subsystem/component status instead of using vehicle's own controls.
Advanced Hardware ➤ This lastest-Android10.0 based diagnostic tablet boasts of its multitasking 4-core 2.0GHz processor, visually stunning 10.1" 1280*800 touchscreen, faster 4G RAM processing, larger 64G ROM storage, 6000mAh battery capacity, 8MP rear camera, with <60s boot time, backing up easy diagnostics for over 150 worldwide car brands (10,000+ models manufactured after 1996), and still expanding thanks to One-Touch Wi-Fi software free update for 2 years.
Warranty ➤ 10 non-16pin connectors: Benz-38, Fiat-3, Nissan-14+16, Chrysler-6, GM/VAZ-12, Honda-3, Mitsubishi/Hyundai-12+16, Toyota-17, Toyota-22 and etc. are well-packed in this scan tool's package to suit your needs. 1 year product assurance. NOTE: This bidirectional scan tool does not support key programming.
TOPDON Phoenix Plus
In keeping with aftermarket requirements to handle complex modern vehicle issues, TOPDON Phoenix Plus is unveiled being the latest addition to our Phoenix family. Now begin with this all-in-one diagnostic tool to have everything you need to diagnose, research, and manage any issues at fingertips with its smooth logical workflow, where fully optimized easy-to-use software allows advanced OE-level diagnostics of online ECU coding, complete bi-directional functions, access to all vehicle modules, etc. equipped with the latest Android 10.0, preparing you to take on the toughest jobs with confidence.
Global Version, No IP limited.
It is global version, no IP limited. You can use it everywhere in the world.
2 Years Free Update Online
It is easy to do update by One-Click on the tablet via wifi connection. All supported car brands softwares are included, you don't need to buy softwares separately. After two years, you can still use it without update. It will not be locked. If you want to buy update service after two years, we can give you a discount on it.
Supported Languages
English, French, Spanish, German, Russian, Italian, Portuguese, Traditional Chinese, Japanese.
ECU Coding
Phoenix Plus offers the ECU Coding feature, which is not available in conventional code readers, to allow you: -To perform the customer individual customization of the car such as setting alarms, doors locking, and outdoor lighting, etc., to improve vehicle performance, or stimulate high-end car functions. -To alter the configuration when a component is replaced, so the new actuators can be recognized by related vehicle systems. -To enable multiple car systems to recognize each other, and so the actuators can start to work.
Active Test
With this diagnostic tool's Active Test, you can output the command into the ECU in order to turn on/off actuators, to find faults in the subsystems of your car effortlessly, without using the vehicle's control: [ Turn on the radiator fan | Modulate the throttle | Open/close windows | Operate mirrors | Turn on/off the lights | Turn on/off the sound horn | Test door lock … ]
All Systems Diagnoses
This diagnostic scanner can establish a data link to all systems and subsystems of the vehicle being serviced to:
-Retrieve ECU information of the tested control units including unit type, version numbers, and other specifications, etc.
-Read & erase DTCs to locate problem areas and clear the codes.
-View Live Data of each parameter item.
The following is a list of modern vehicle systems that this scan tool can get access to:
-Engines / Auto Transmission / Airbags / Immobilizer / Key Coding / ABS / Cruise Control / Instruments / Self Leveling Suspension systems
-Seats / Doors / Gateway / Steering Angle / Air Suspension / Body Systems / Electronic Power Steering & Motor Assisted / Power Steering / Tyre Pressure / Rain Sensors / 4WD System
-Stabilizer / Intelligent Parking Assist/Door Motors / Audio Systems / Air Conditioning / Tiptronic / Anti Theft / Soft Top / Headlamp Leveling / Central Locking / Automatic Clutch / DPF Reset
-Electric Windows / Plip Programming / Heated Rear Window / Xenon Headlights / Wash Wipe / Fuel Burning Heater / Transfer Box / Seat Memory / Oil Life Service Reset / Sliding Doors / Electronic Throttle
-Navigation System / Rollover Sensor / Cruise Control / Multi Function Steering Wheel / Aux Heating / Electronic Parking Brake / Clutch Electronics ... and more.
This comprehensive scanning process is able to locate the faulty systems and retrieve the DTCs related easily. So you can work on all parts of the vehicle systems to enhance the performance, save energy, reduce emissions, and everything else.
28+ Special Reset Functions
1. Oil Reset Service
-Close the oil service light and reset service mileage & service interval after replacing the engine oil.
2. Steering Angle Calibration
-Clear memories of the previous steering angle sensor and store the replaced one.
3. Electronic Parking Brake Reset
-Reset the new electronic parking brake for braking wheels safely again.
4. Battery Register & Battery Maintenance
-Perform a reset on the vehicle battery for clearing the fault information and re-match the battery.
5. ABS Bleeding
-Get a firm brake pad after air exhaustion.
6. Electronic Throttle Position Reset & Learn
-Initialize the throttle actuators to the default state for regulating throttle (or idle engine) operations accurately.
7. Diesel Particulate Filter (DPF) Regeneration
-Clear particulate matter from the DPF filter to stabilize the filter performances
8. Tire Pressure Monitor System Reset
-Relearn TPMS sensors so that new sensors can be recognized by ECU.
9. Tooth Learning
-Finish tooth learning after changing crankshaft in the car engine, so the new part can be used.
10. Anti-Theft Matching (IMMOBILIZER)
- Add a new programmed key. PIN code is required.
11. Injector matching
-Write the new injector numbers into the ECU for accurate communication and injection control.
12. AFS Reset
It detects the light of the environment, then decides whether to automatically turn on the headlights or not. It can also adjust the headlights in time by monitoring the driving speed and body posture of the vehicle.
13. EGR Adaption
Reduce nitrogen oxides (NOx) in the exhaust gas and improve fuel economy at partial load.
14. Gearbox Matching
Test the gearbox based on the driving conditions after the gearbox is disassembled or repaired, for a more comfortable and ideal shift quality.
15. Sunroof Service
Set the sunroof lock switch to be on / off according to weather, temperature, and memory.
16. SUS Reset
When the body height sensor and control module in the air suspension system are replaced or the level of the car is wrong, this function needs to be performed to level the body height sensor.
More Functions
Windows Calibration, Seats Calibration, Tire Reset, Language Change, A/F Reset, Coolant Bleed, Transport Mode, NOx Sensor Reset, Dblue Reset, Stop/Start Reset. You can find 15 kinds of commonly used reset functions in the reset menu, and other special functions in the car brand diagnostic softwares menu. And more...
Wide Vehicle Coverage across the Global
-American Cars Buick; Cadillac; Chevrolet; Chrysler; Dodge; Ford; GM; Hummer; Jeep; Lincoln; (BRAZIL) BX-Fiat; BX-GM
-European Cars: Abarth; Alfa Romeo; Audi; Bentley; Benz; BMW; Bugatti; Citroen; Dacia; EU-Ford; Ferrari; Fiat; Jaguar; Lamborghini; Lancia; LandRover; Maserati; Maybach; Mini; Opel; Peugeot; Porsche; Renault; Rolls-Royce; Rover; Saab; Seat; Skoda; Smart; Sprinter; Vauxhall; Volvo; VW; (UKRAINE) ZAZ; (RUSSIA) GAZ; IZH; PAZ; SEAZ; UAZ; VAZ
-Asian Cars (JAPAN) Acura; Daihatsu; Honda; Infiniti; Isuzu; Jpisuzu; Lexus; Mazda; Mitsubishi; Nissan; Nissan GTR; Scion; Subaru; Subaru; Suzuki; Tlisuzu; Toyota; (KOREA) Daewoo; Hyundai; KIA; Samsung; Ssangyong; (CHINA) Baic; Beijing; Changan; Changan-Ford; Changcheng; Changhe; Chsuzuki; DF Peugeot; DF Honda; DF Nissan; DF XK; Flyer,BYD; Fukang; Futian,Foton; Geely; Gonow; GZ Honda; Hafei; Haoqing; HC BMW; Hmada; Huachen; Isuzu,JMC; Jacty; Jianghuai; Jiao; Jinlong; Joylong; Lifan; Liuwel-TY; Luxgen; NJ Fiat; Qirul-TY,chery; Qoros; Saicmg; Spark-TY; TJ Toyota; Trumpchi GAC; Weili; Xiaokang Dongfeng; Xili,Faw Tianjin; Xinkai; YQ Mazda; Zhongshun; Zhongtai,Zotye; Zhongxing; (INDIA) Mahindra; Maruti; Tata; (MALAYSIA) Perodua; Proton; (IRAN) MVM
-Australian Cars Au-Ford; Holden
Discover More User-Friendly Features
Remote Diagnosis
Users can carry out the remote diagnosis to ask for the remote control from other LAUNCH diagnostic tools (including but not limited to V+ 4.0), which are equipped with the remote diagnosis module as well, or from a PC client technician. This has realized the reality that a mechanic can diagnose an abnormal vehicle, which is even thousands of miles away.
Record & Playback
Another great feature about this automotive diagnostic scanner is that, it would allow you to view the Live Data Stream, and to record the data in Waveform. This would save you the hassle of reading through and digesting all the information which is being presented to you. You can even playback these data, for better analysis and rectification as well as the future use.
Share Report via Wi-Fi
Rather than taking the additional hassle, with this LAUNCH scanner, you would easily be able to share the diagnostics report to your clients or technicians via Wi-Fi. They would take a look at the full, clear and accurate diagnostic report, and then understand about what would need to be done. No more Googling unreliable fixes that would waste your energy.
Online Repair Resources
Over 1600 vehicle models' service & repair information, handbook, repair case and operation skills are included.
Health Report Generate and Share
With LAUNCH X431 V+, you can generate a full system Diagnostic Report by ONE-CLICK. The reports can be emailed to the office or directly to your customer. You can also print out the vehicle health report card.
Specifications
Operating System: Android 10.0

CPU: 2.0GHz Quad-core

Display: 10.1" Touch Screen (1280*800 Resolution)

RAM: 4GB

ROM: 64GB

Connectivity: Wi-Fi (802.11 b/g/n) / Bluetooth 5.0

Camera: 8.0MP Rear-Facing Camera with AF

Audio Output: Built-in Speakers

Input Voltage: DC 5V/2.5A

Working Temperature: 0℃~50℃ (32~122℉)

Storage Temperature: -20℃~ 60℃ (-4~ 140℉)

Built-in Battery: 6000mAh

Dimension: 277.3*190.8*44.5mm (10.92*7.51*1.75 inch)

Weight: 1555g (54.85 oz)
Package List for Phoenix Plus
1*Phoenix Plus

1*VCI Dongle

1*OBDI Adapter BOX Transfer Line

1*OBDII Extension Cable

1*Cigarette Lighter Cable

1*Type-C to USB Cable

1*Battery Clamps/Cable Set

1*Power Adaptor

1*User Manual

1*Password Envelope

1*Non-16pin Adaptor Cable Kit:


-BENZ-38
-FIAT-3
-NISSAN-14+16
-BMW-20
-CHRYSLER-6
-GM/VAZ-12
-HONDA-3
-MITSUBISHI/HYUNDAI-12+16
-TOYOTA-17 -TOYOTA-22

4*Fuse (φ5*20mm)

2*Fuse (φ6*30mm)
We love to hear from you,our team is available to help answer questions and offer styling advice, so if there's anything you'd like to ask us, we're right here and ready to help in every way we can.
We're available to support you via
Service Tel: (+86) 16686410852
Whatsapp: (+86) 166 8641 0852

We strive to answer your questions within.12 hours
Customer service chat hours:
Monday - Sunday : 8am - 20pm EST
Now available in English.
Company address:
( Changde Innovation and Incubation Industry Park,
Zhangyao Road, Changde High-tech Industrial Development Zone )
Guanxi Town, Dingcheng District, Changde City, Hunan Province,China



Please kindly note: During peak seasons and promotional sales, our response time might take a little longer. Please use the same email address you used when placing your order when contacting us, and include your order number in your email.
Become a reseller of obd2direct
The more you buy, the lower the price. The more you save.
Join us as our small and medium retail client and help you gain more experience
What is a wholesale program?
Join us, become our wholesale customer, buy more quantity and enjoy great wholesale discount price!
Buy more, save more!
In the sideline business of helping you resell professional car diagnostic tools, but also help you make better use of car diagnostic tools, providing recommendations and the best resale services for workshops around you!
Benefits of becoming an obd2direct wholesale customer:
1. Get the biggest discount price.
2. The latest and most abundant product catalog.
3. Professionals will help you analyze the market according to the sales situation of the market, help you choose the most suitable resale products, and help you obtain the maximum profit.
4. Professional product descriptions, pictures, and professional product introduction DPF documents.
5. One-to-one service from professional aftersales- technicians.
6. Free delivery from overseas warehouses, providing the fastest and highest quality express service. We will prepare goods for you in advance according to your needs, and there will be no shortage of goods waiting.
Our goal:

The spark of continuous technological innovation and improved product inventions has stood the test of time, and the service provided and customer relationships in place are popular worldwide.
Whatsapp: (+86) 166 8641 0852

Email: sales@obd2direct.com
ADDRESS:
(Changde Innovation and Incubation Industry Park,
Zhangyao Road, Changde High-tech Industrial Development Zone)
Guanxi Town, Dingcheng District, Changde City, Hunan Province,China.