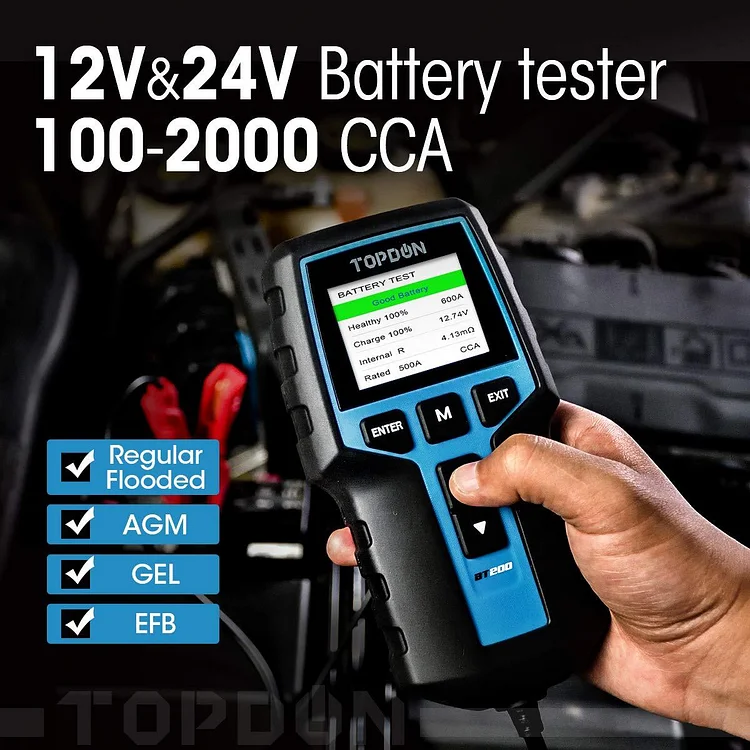 Car Battery Tester 24V 12V Load Tester, TOPDON BT200 100-2000CCA Automotive Alternator Tester Digital Auto Battery Analyzer Charging Cranking System Tester for Car Truck Motorcycle ATV SUV Boat Yacht
TOPDON BT200, a new-released automotive battery tester, combines quality and value for those who need to test 12V and 24V batteries up to 2000 CCA. It can test VRLA, GEL, AGM, EFB, and regular flooded batteries with reverse polarity protection to avoid fatal errors or damage on the battery. Results are presented fast and accurately after connection.
About Topdon BT200
🚗 24V & 12V Car Battery Tester ➤TOPDON BT200 automotive battery tester works on all 12 Volt and 24 Volt batteries with 100 to 2000 CCA, such as regular flooded, AGM flat plate, AGM spiral, GEL, and deep cycle batteries for vehicles, cars, motorcycles, trucks, RVs, ATVs, SUVs, boats, yachts, mowers and even golf carts.
🚗 2.4 Inch Color LCD Screen ➤ Unlike most monochrome LCD screen on market, TOPDON BT200 battery load tester is equipped with a 2.4-inch color LCD screen, which is eye-friendly and easy to read even in direct sunlight.
🚗 Battery & Cranking & Charging Test ➤ With this battery tester, you can check the overall health of the battery including the cranking test, and run a complete system charging test. Cranking test helps you test and analyze the starting motor to check it works properly or not, and the charging test is to check the charging system status to avoid damaging the battery because of overcharge or incomplete charge. It's much more convenient than driving miles to find the nearby auto repair shop.
🚗 A Must Tool For DIYers & PROS ➤ Applying the advanced conductance testing technology, TOPDON BT200 can give you accurate testing results in seconds. Fit in your glove box, it's a handy device for automobile factory, garage, auto battery manufacturer, and DIYer.
🚗 What You Get ➤ TOPDON BT200 Vehicle Battery Tester, User Manual, and TOPDON offers 30 days return & worry-free 12-month guarantee & friendly customer service. If you have any questions or doubts, please contact us.
Features
Test 12V and 24V batteries
Test multiple battery types¡ªVRLA, GEL, AGM, EFB, and regular flooded batteries
100-2000 CCA testing capacity
Ideal for cars, light trucks, RVs, motorcycles, ATVs, boats, etc.
Battery check, cranking check, charging check
Faster and more accurate result presentation
Reverse polarity protection
Firm and secure battery clamps
Small and compact design
Operation is guided through each step in the testing process
Ergonomic design for better grip
The latest test can be retrieved in the data review section
Multi-language support
Save a lot of money down the road
2.4" LCD for clear test results showing
No harm to batteries
TECHNICAL SPECIFICATIONS
Display: 2.4" LCD
Display Resolution: 320*240Pixels
Cable Reach: 920mm(36.22inches)
Storage Temperature: -20°C~70°C(-4°F~158°F)
Working Temperature: -20°C~65°C(-4°F~140°F)
Dimensions(L*W*H): 178mm*94.5mm*33mm(7*3.72*1.3inches)
Weight: 440g(0.97lb)
PACKAGE LIST
1*Topdon Battery Tester BT200
1*User Manual
We love to hear from you,our team is available to help answer questions and offer styling advice, so if there's anything you'd like to ask us, we're right here and ready to help in every way we can.
We're available to support you via
Service Tel: (+86) 16686410852
Whatsapp: (+86) 166 8641 0852

We strive to answer your questions within.12 hours
Customer service chat hours:
Monday - Sunday : 8am - 20pm EST
Now available in English.
Company address:
( Changde Innovation and Incubation Industry Park,
Zhangyao Road, Changde High-tech Industrial Development Zone )
Guanxi Town, Dingcheng District, Changde City, Hunan Province,China



Please kindly note: During peak seasons and promotional sales, our response time might take a little longer. Please use the same email address you used when placing your order when contacting us, and include your order number in your email.
Become a reseller of obd2direct
The more you buy, the lower the price. The more you save.
Join us as our small and medium retail client and help you gain more experience
What is a wholesale program?
Join us, become our wholesale customer, buy more quantity and enjoy great wholesale discount price!
Buy more, save more!
In the sideline business of helping you resell professional car diagnostic tools, but also help you make better use of car diagnostic tools, providing recommendations and the best resale services for workshops around you!
Benefits of becoming an obd2direct wholesale customer:
1. Get the biggest discount price.
2. The latest and most abundant product catalog.
3. Professionals will help you analyze the market according to the sales situation of the market, help you choose the most suitable resale products, and help you obtain the maximum profit.
4. Professional product descriptions, pictures, and professional product introduction DPF documents.
5. One-to-one service from professional aftersales- technicians.
6. Free delivery from overseas warehouses, providing the fastest and highest quality express service. We will prepare goods for you in advance according to your needs, and there will be no shortage of goods waiting.
Our goal:

The spark of continuous technological innovation and improved product inventions has stood the test of time, and the service provided and customer relationships in place are popular worldwide.
Whatsapp: (+86) 166 8641 0852

Email: sales@obd2direct.com
ADDRESS:
(Changde Innovation and Incubation Industry Park,
Zhangyao Road, Changde High-tech Industrial Development Zone)
Guanxi Town, Dingcheng District, Changde City, Hunan Province,China.