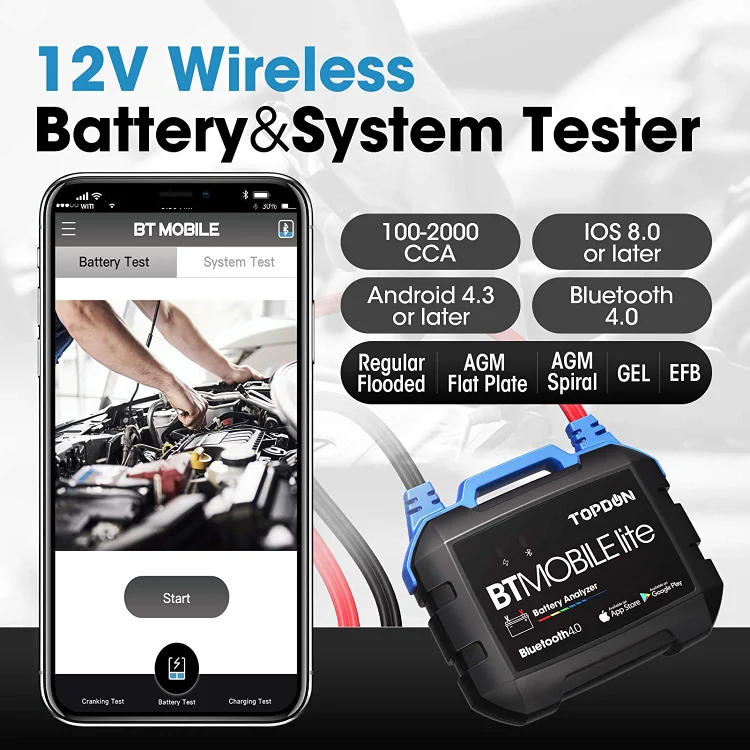 Car Battery Tester 12V Battery Load Tester, TOPDON BT Mobile Lite 100-2000CCA Wireless Automotive Alternator Tester Battery Analyzer Charging Cranking Tester for Car Truck Motorcycle ATV
Simply download and install the free intuitive BT Mobile App from Google Play or Apple Store to your iOS 8.0&Android 4.3 or newer smart devices, and then sync BT Mobile Lite tester to confirm the health of your primary electrical system in less than a minute by testing12V batteries, scan starting systems and charging systems to confirm issues. Compact, hand-held design with more secure clamp connection.Lightweight and mall enough to store in your glovebox or toolbox when needed most.
About Topdon BT Mobile Lite
🔋 Car Battery Tester ➤ You will get the battery test result immediately and identify whether your battery needs to be replaced or not through BT MOBILE Lite App. All in one test mode, knowing the overall test of the battery , including battery test, cranking test, and charging test for details.(NOTE: For Apple devices, update to iOS 8.0 or later; for Android devices, OS 4.3 or later.)
🔋 12V Car Battery Tester ➤ TOPDON BT Mobile Lite automotive battery tester works on 12 Volt batteries with 100 to 2000 CCA, such as regular flooded, AGM flat plate, AGM spiral, GEL, and deep cycle batteries for vehicles, cars, motorcycles, trucks, RVs, ATVs, SUVs, boats, yachts, mowers and even golf carts.
🔋 Battery & Cranking & Charging Test ➤ With BT Mobile Lite battery tester, you can check the overall health of the battery including battery test, cranking test, and charging test. Cranking test helps you test and analyze the starting motor to check it works properly or not, charging test is to check the charging system status to avoid damaging the battery due to overcharging or incomplete charging. It's much more convenient than driving miles to find the nearby auto repair shop.
🔋 Easy To Use ➤ Tired of pressing annoying buttons,you just need to clamp the battery terminal correctly,then go back to your seat and complete all the tests on your phone alone. System Test mode completes all tests including battery test, cranking test, charging test at the same time,make battery test more efficient.
🔋 A Must Tool For DIYers & PROS ➤ Applying the advanced conductance testing technology, TOPDON BT Mobile Lite battery load tester can give you accurate testing results quickly. Compact design fits in your glove box, it's a handy device for automobile factory, garage, auto battery manufacturer, and DIYer.
FEATURES
Feature: check battery health, alternator's charging, and starter's cranking conditions.
Work With: BT Mobile app installed in iOS 8.0&Android 4.3, or newersmart devices.
Advanced Conductive Detection: no need ofa fully charged battery before test.
Battery Coverage: 12V regularflooded, AGM flat plate, AGM spiral, GEL, and EFBbatteries.
Test Range: 100-2000 CCA; much wider than normal testers.
Rating System: CCA, BCI, CA, MCA, JIS, DIN, IEC, EN, SAE, and GB.
Built-in Protection: shortcircuit, reverse polarity, overvoltage protection.
Connection: Wireless Bluetooth 4.0;easily diagnose from a distance.
User Friendly: premium quality copper clamps and wire for stable communication.
2 LED Indicator: Blue - Bluetooth Connected; Green - Power.
Quick &Accurate: get reliable results in < 10 seconds.
Small &Compact:a handy wireless battery tester in any automotive toolbox.
7 Languages Setting: English, Japanese, Spanish, German, Russian, Italian, Portuguese.
TECHNICAL SPECIFICATIONS
Operating Temperature: -20°C~65°C (-4°F~140°F)
Storage Temperature: -20°C~70°C (-4°F~158°F)
Dimensions: 81*68*27mm (3.19*2.68*1.06 inch)
Weight: 250g (8.81 oz)
PACKAGE LIST
1*BT MOBILE Lite Wireless Battery Tester
1*User Manual
We love to hear from you,our team is available to help answer questions and offer styling advice, so if there's anything you'd like to ask us, we're right here and ready to help in every way we can.
We're available to support you via
Service Tel: (+86) 16686410852
Whatsapp: (+86) 166 8641 0852

We strive to answer your questions within.12 hours
Customer service chat hours:
Monday - Sunday : 8am - 20pm EST
Now available in English.
Company address:
( Changde Innovation and Incubation Industry Park,
Zhangyao Road, Changde High-tech Industrial Development Zone )
Guanxi Town, Dingcheng District, Changde City, Hunan Province,China



Please kindly note: During peak seasons and promotional sales, our response time might take a little longer. Please use the same email address you used when placing your order when contacting us, and include your order number in your email.
Become a reseller of obd2direct
The more you buy, the lower the price. The more you save.
Join us as our small and medium retail client and help you gain more experience
What is a wholesale program?
Join us, become our wholesale customer, buy more quantity and enjoy great wholesale discount price!
Buy more, save more!
In the sideline business of helping you resell professional car diagnostic tools, but also help you make better use of car diagnostic tools, providing recommendations and the best resale services for workshops around you!
Benefits of becoming an obd2direct wholesale customer:
1. Get the biggest discount price.
2. The latest and most abundant product catalog.
3. Professionals will help you analyze the market according to the sales situation of the market, help you choose the most suitable resale products, and help you obtain the maximum profit.
4. Professional product descriptions, pictures, and professional product introduction DPF documents.
5. One-to-one service from professional aftersales- technicians.
6. Free delivery from overseas warehouses, providing the fastest and highest quality express service. We will prepare goods for you in advance according to your needs, and there will be no shortage of goods waiting.
Our goal:

The spark of continuous technological innovation and improved product inventions has stood the test of time, and the service provided and customer relationships in place are popular worldwide.
Whatsapp: (+86) 166 8641 0852

Email: sales@obd2direct.com
ADDRESS:
(Changde Innovation and Incubation Industry Park,
Zhangyao Road, Changde High-tech Industrial Development Zone)
Guanxi Town, Dingcheng District, Changde City, Hunan Province,China.