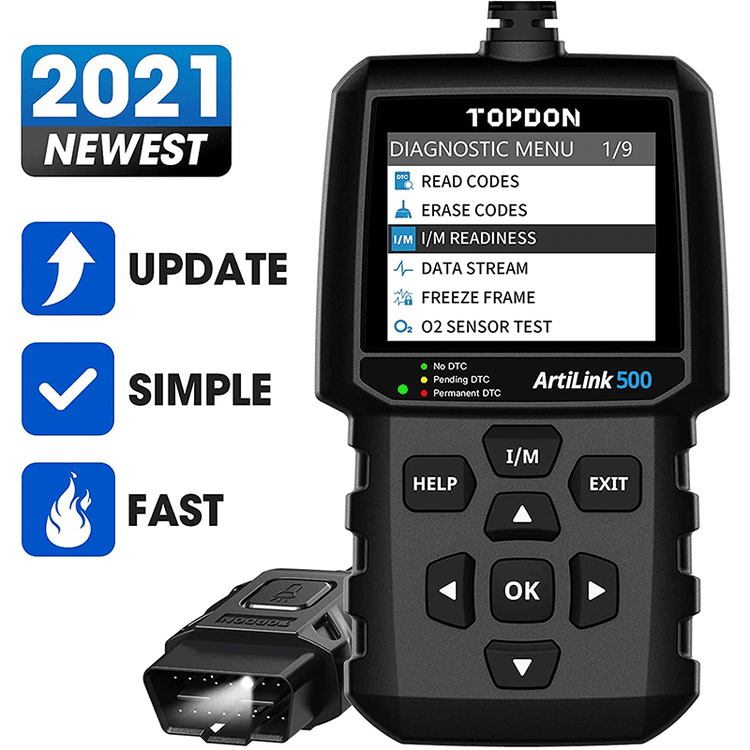 OBD2 Scanner TOPDON AL500 Code Reader, Car Check Engine Light CAN Diagnostic Tool with All OBD2 Functions, Turn Off MIL, O2 Sensor Test, Mode 6, EVAP Test, Free Update, DTC Lookup, LED on Connector
TOPDON ArtiLink500 serves as an excellent choice to turn off check engine light, help pass the smog test, and pinpoint basic car issues. Featuring full OBD2 functions with user-friendly features including LED light in the OBD2 cable, built-in help menus, DTC Lookup, I/M&HELP shortcut keys, LED for different DTCs, and printable diagnostic data, this code reader provides the best possible diagnostic experiences for DIY users and mechanics.
About Topdon ArtiLink500
TURN OFF CHECK ENGINE LIGHT ✔️ Check Engine Light on? AL500 OBD2 scanner is designed to inspect the emission-related problems and turn off the Check Engine Light. This OBD2 code reader can easily find out the causes and help you turn off it quickly after certain repairs.
PASS SMOG CHECK ✔️ Is my car ready for a smog test? With I/M Readiness function, this OBD2 scanner can tell you if the emission-related monitors are ready for the smog test or if the repairs has been performed correctly. I/M Shortcut Key enables you to get quick access to this function.
EFFECTIVE CAR STATUS SCAN ✔️ This code reader offers all OBD2 functions (10 modes): O2 Sensor Test, On-board Monitor, Freeze Frame, EVAP Test, etc., to keep car running safely. Among them, Read Vehicle Info allows you to retrieve the VIN quickly. No need to look for the long numbers and input.
EVERYTHING CONSIDERED FOR YOU ❤️ Plug and play; built-in DTC library with 3000+ detailed definition for your reference; a LED in different colors (green, yellow and red) intuitively showing different car health statuses; 🔦most differently, this OBD2 scanner is designed with a LED in the OBD2 cable for you to find the OBD port of the vehicle, especially in the dim light.
WIDE VEHICLE COVERAGE ✔️ This OBD2 code reader works on most US-based cars since 1996, EU-based cars since 2000, and Asian-based cars since 2008, and is compatible with OBD2 and CAN protocols: KWP2000, ISO9141, J1850 VPW, J1850 PWM, CAN (Controller Area Network). 🚩12-MONTH warranty to guarantee its quality.
WHY CHOOSE TOPDON AL500 OBD2 SCANNER?
TOPDON AL500, a fantastic vehicle CEL (Check Engine Light) doctor with useful diagnostic functions, provides quick and accurate diagnostics for DIY users to avoid costly repairs: ● locate the bad O2 sensor/gas cap/…; ● pass Smog Tests; ● check the repairs; ● turn off the MIL.

All-in-1 OBD2 Scanner ‒ Keep Cars Running Safely on the Road:
Support all OBD2 protocols: KWP2000, ISO9141, J1850 VPW, J1850 PWM, CAN;
Work with American vehicle after 1996, European vehicle after 2002, and Asian vehicles after 2006;
Support 10 modes of OBD2 test;
I/M and HELP shortcut keys for quick tests;
LED indicator in 3 colors for different DTCs;
Diagnostic connector with LED illumination;
Support data review & printing;
DTC Lookup & LCD Color Display;
Lifetime update included (for newer cars and more cars);
Multiple languages: English, French, German, Spanish, Portuguese, Russian, Japanese

WHAT CAN AL500 CODE READER DO FOR YOU?
TOPDON AL500 code reader can do all OBD2 scanners do with all the OBD2 functions you need. This check engine light code reader can read and clear OBD2 fault codes, view data stream, I/M Readiness, Freeze Frame and vehicle information, and run O2 sensor test, On-board monitor test, and EVAP system test.

Money Saver ‒ Avoid Being Charged More than Needed
Through these OBD2 functions, you can tell the difference between a faulty gas cap and a bad catalytic converter, which costs much more than a gas cap and get a wealth of information about which parts cause the light on, and save unnecessary money and time on driving to dealership and wait for days. Frequently needed information are below:
O2 Sensor
Gas Cap
Catalytic Converter
Air Fuel Ratio Sensor
Mass Air Flow Sensor
Ignition Coils
Spark Plugs
Spark Plugs Wires
Thermostat
EGR Valve
Evaporative Emission Canister Purge Valve (EVAP)

WHAT MAKES AL500 DIFFERENT?
In addition to the OBD2 functions, TOPDON AL500 car code reader is also designed with lots of additional functions, allowing DIY users to fix it on one's own and enabling mechanics to greatly improve their work efficiency.

Expand Your Capability-HELP Shortcut Key
Provides quick access to the built-in Help Menus associated with the current DTC;
Offers you advanced DTCs query to identify the detailed meaning, causes and tips of DTCs;
Enables you to troubleshoot and fix the issues by yourself.

Make Diagnostics Easier & Faster.
LED Light in OBD2 connector makes it easy for users to find the OBD2 DLC (16-PIN Data Link Connector) of the vehicle in the dim environment (at night, underground parking) and plug it into the DLC fast and firmly, speeding up the whole diagnostic progress.
We love to hear from you,our team is available to help answer questions and offer styling advice, so if there's anything you'd like to ask us, we're right here and ready to help in every way we can.
We're available to support you via
Service Tel: (+86) 16686410852
Whatsapp: (+86) 166 8641 0852

We strive to answer your questions within.12 hours
Customer service chat hours:
Monday - Sunday : 8am - 20pm EST
Now available in English.
Company address:
( Changde Innovation and Incubation Industry Park,
Zhangyao Road, Changde High-tech Industrial Development Zone )
Guanxi Town, Dingcheng District, Changde City, Hunan Province,China



Please kindly note: During peak seasons and promotional sales, our response time might take a little longer. Please use the same email address you used when placing your order when contacting us, and include your order number in your email.
Become a reseller of obd2direct
The more you buy, the lower the price. The more you save.
Join us as our small and medium retail client and help you gain more experience
What is a wholesale program?
Join us, become our wholesale customer, buy more quantity and enjoy great wholesale discount price!
Buy more, save more!
In the sideline business of helping you resell professional car diagnostic tools, but also help you make better use of car diagnostic tools, providing recommendations and the best resale services for workshops around you!
Benefits of becoming an obd2direct wholesale customer:
1. Get the biggest discount price.
2. The latest and most abundant product catalog.
3. Professionals will help you analyze the market according to the sales situation of the market, help you choose the most suitable resale products, and help you obtain the maximum profit.
4. Professional product descriptions, pictures, and professional product introduction DPF documents.
5. One-to-one service from professional aftersales- technicians.
6. Free delivery from overseas warehouses, providing the fastest and highest quality express service. We will prepare goods for you in advance according to your needs, and there will be no shortage of goods waiting.
Our goal:

The spark of continuous technological innovation and improved product inventions has stood the test of time, and the service provided and customer relationships in place are popular worldwide.
Whatsapp: (+86) 166 8641 0852

Email: sales@obd2direct.com
ADDRESS:
(Changde Innovation and Incubation Industry Park,
Zhangyao Road, Changde High-tech Industrial Development Zone)
Guanxi Town, Dingcheng District, Changde City, Hunan Province,China.