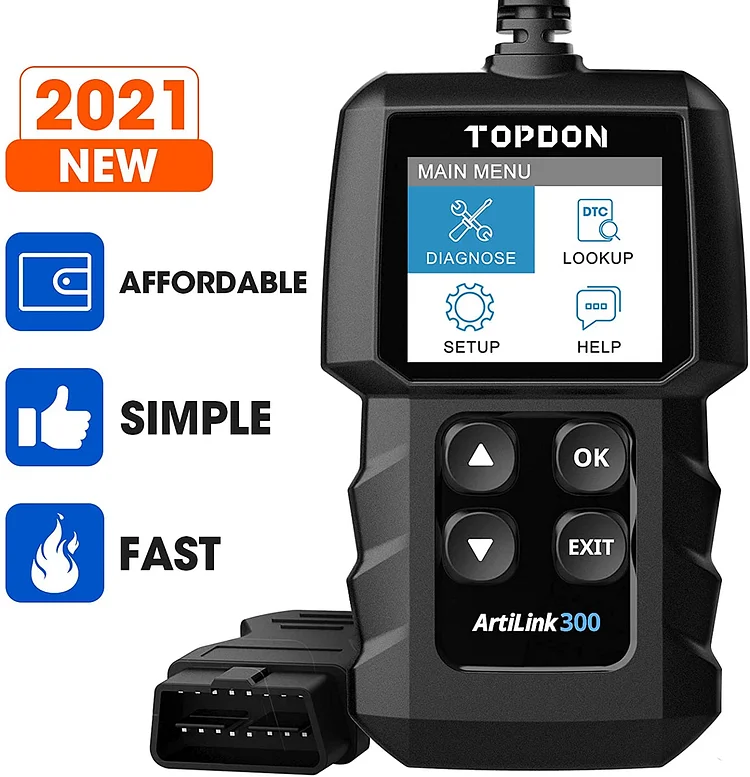 Topdon OBD2 Scanner, Code Reader TOPDON ArtiLink300 AL300 All OBD2 Functions, Vin Retrieval CAN Diagnostic Scan Tool for Check Engine Light, Smog Check, O2 Sensor Test, Mode 6, EVAP Test.
TOPDON ArtiLink300 servers as a quick, affordable car code reader featuring all 10 modes of OBD2 test. It can switch off the engine indicator light, help pass the smog test, keep the engine at peak performance, etc., and gives you peace of mind to skip the costly workshop for repairing most engine faults.
About Topdon ArtiLink300 AL300
Your Car Doctor ➤ Failed to pass the local smog test; Need 1,000+ bucks for catalytic converter replacement; And can't drive the car legally? Why not have this obd2 scanner in your glove box. Check I/M readiness status to help pass the test. Identify emission issues in advance and save repair costs. Works for most OBD2/EOBD/CAN-compliant cars worldwide.
Full Obd2 Test Modes ➤ Charge you 20 bucks to simply clear the code? Skip the dealer and use this obd2 code reader to pull/clear codes. Drive with this scan tool connected. Watch real-time sensor readings from emissions/ rpm/ mph/ fuel trim/ O2 sensors/ mass airflow and such, to easily find catalytic converter/ fuel delivery/ vacuum problems.
Safeguard You & Your Car ➤ EVAP test finds issues in your gas cap/ filler neck. Freeze frame data let you know what happened when the code sets. On-board monitoring detects potential leak trouble. Display VIN: very helpful when buying a used car. Take this obd2 scan tool with you to save time, money, and have safe driving.
Small & Easy Code Reader ➤ Plug & Play. No need to be an expert to use. Get error code in 5 minutes. Its internal code database lookup option gives definition directly saving you additional searching (e.g. P0456 - minor evap leak), and points you in right direction to fix car problems.
What You Get ➤ 12-Month Product Guarantee, a Quick Start Guide, a User Manual, and a pre-loaded software in this check engine code reader itself, so it's ready to go for any beginner. Reach out to our 24/7 thoughtful online support for any issues that arise when using the OBD2 scanner, with available return & replacement policy. We value your feedback to help us be even better!
Features
Effective entry-level code reader to help resolve basic car issues.
Full modes of OBD2 diagnostics.
Designed for most 1996 and newer vehicles (OBDII& CAN).
Compatible with protocols: CAN, ISO9141, KWP2000, J1859 PWM, J1859VPW.
Read & Clear Codes, turn off the check engine light.
I/M Readiness Check, help pass smog test.
Freeze Frame Data Retrieval, view records in a malfunction.
O2 Sensor Test, make the car fuel-efficient.
Live Data, monitor and evaluate running conditions.
DTC Lookup Library, request DTC definitions stored.
Multilingual Menu (7): English, French, Japanese, German, Portuguese, Russian, Spanish.
Unique Design, classic and solid design to withstand everyday shocks.
Plug & Play, no external battery required.
TECHNICAL SPECIFICATIONS
Display: 1.77 in Color Display
Operating Voltage: 9~18V
Storage Temperature: -20°C ~70°C (-4°F ~158°F)
Working Temperature: 0°C ~50°C (32°F ~122°F)
Dimensions: 118*68*22.3 mm (4.65*2.68*0.88 inch)
Length: 1050 mm (41.34 in)
Product Weight: <200g (0.44 lb)
PACKAGE LIST
1* ArtiLink300 Code Reader
1* Quick Start Guide
1* User's Manual
We love to hear from you,our team is available to help answer questions and offer styling advice, so if there's anything you'd like to ask us, we're right here and ready to help in every way we can.
We're available to support you via
Service Tel: (+86) 16686410852
Whatsapp: (+86) 166 8641 0852

We strive to answer your questions within.12 hours
Customer service chat hours:
Monday - Sunday : 8am - 20pm EST
Now available in English.
Company address:
( Changde Innovation and Incubation Industry Park,
Zhangyao Road, Changde High-tech Industrial Development Zone )
Guanxi Town, Dingcheng District, Changde City, Hunan Province,China



Please kindly note: During peak seasons and promotional sales, our response time might take a little longer. Please use the same email address you used when placing your order when contacting us, and include your order number in your email.
Become a reseller of obd2direct
The more you buy, the lower the price. The more you save.
Join us as our small and medium retail client and help you gain more experience
What is a wholesale program?
Join us, become our wholesale customer, buy more quantity and enjoy great wholesale discount price!
Buy more, save more!
In the sideline business of helping you resell professional car diagnostic tools, but also help you make better use of car diagnostic tools, providing recommendations and the best resale services for workshops around you!
Benefits of becoming an obd2direct wholesale customer:
1. Get the biggest discount price.
2. The latest and most abundant product catalog.
3. Professionals will help you analyze the market according to the sales situation of the market, help you choose the most suitable resale products, and help you obtain the maximum profit.
4. Professional product descriptions, pictures, and professional product introduction DPF documents.
5. One-to-one service from professional aftersales- technicians.
6. Free delivery from overseas warehouses, providing the fastest and highest quality express service. We will prepare goods for you in advance according to your needs, and there will be no shortage of goods waiting.
Our goal:

The spark of continuous technological innovation and improved product inventions has stood the test of time, and the service provided and customer relationships in place are popular worldwide.
Whatsapp: (+86) 166 8641 0852

Email: sales@obd2direct.com
ADDRESS:
(Changde Innovation and Incubation Industry Park,
Zhangyao Road, Changde High-tech Industrial Development Zone)
Guanxi Town, Dingcheng District, Changde City, Hunan Province,China.