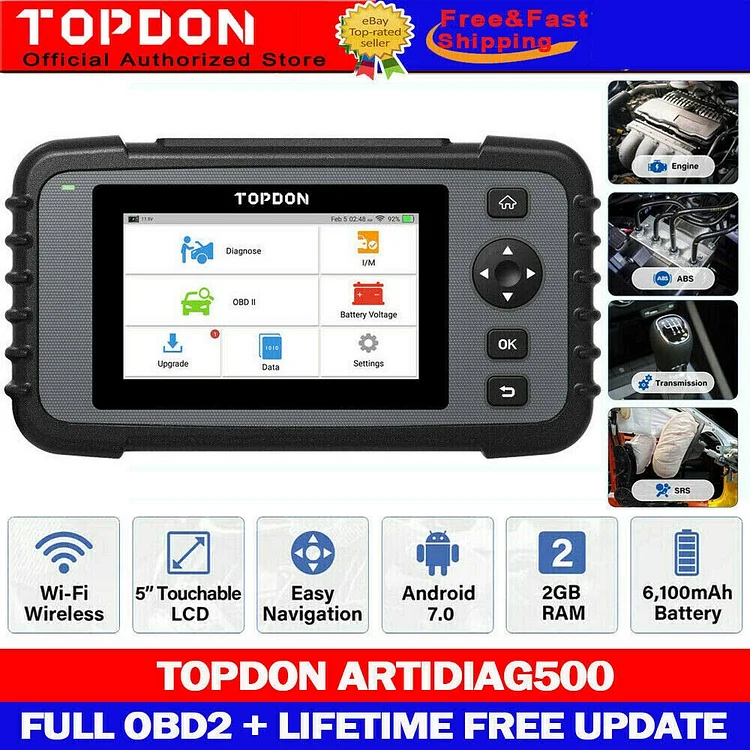 OBD2 Scanner
TOPDON ArtiDiag500 AD500
, Engine ABS SRS Transmission CAN Diagnostic Scan Tool, Full OBD2 Test Code Reader, AutoVIN Diagnostic Tool, Car Battery Voltage Test, Wi-Fi Free Update
Diagnose Engine, Transmission, ABS and SRS system with our pro-level Android based scan tool TOPDON ArtiDiag500. Quickly access all modes of OBDII. Featuring 5¡± touch screen and easy one-touch update, this automotive diagnostic scanner is a convenient and handy tool that makes collecting and reading diagnostic information fast and easy.
About Topdon ArtiDiag 500 AD500
TRY OBD2 SCANNER ArtiDiag500

🚗 ENG/AT/SRS/ABS diagnostics with 4-in-1 graphic live data; All OBD2 test; 54 brands / 10000+ models coverage; One-touch AutoVIN in 5 secs; One-touch lifetime update without costs via Wi-Fi; DTC library; 9 languages; Printable report auto-generated with email share ➤Smooth Android 7.0, 16GB ROM; Vivid 5" touchscreen; 6,100mAh battery (10+ hrs running).
4 SYSTEM OBD2 SCANNER 🚗 Access to 4 vital car systems Engine/ABS/SRS/Transmission. Get ECU version info; Pull DTCs with DTC library explanation and 4-in-1 graphic live data to pinpoint faults; Erase DTCs to shut off warning lights after repairs (**For cars made in 2005 and newer) // This code reader also brings all modes of obd2 test to handle most emission-related issues, to help you prolong car lifespan with improved performance.
USER-ORIENTED OBD2 SCANNER 🚗 Run across menus or procedures following a logical path effortlessly at your fingertips upon this scan tool's 5" 720P touchscreen + Rubberized buttons make navigation easy even when wearing gloves // Free lifetime one-touch software update via Wi-Fi for enhancing features + expanding car coverage // 16GB on-board memory allows recording tons of diagnostic reports, which can be shared via email and printed for consultation.
AUOTOVIN + 4-IN-1 GRAPHIC LIVE DATA + BATTERY VOLTAGE MONITOR + ONLINE FEEDBACK + DTC LOOKUP LIBRARY 🚗 Smart AutoVIN saves manual selections to identify car make, model, and year, and heads you towards the proper diagnostics // Max 4 Live Data streams merged for much easier data analysis // Diagnostic feedback Online via this diagnostic tool to help you get tricky repair works well-completed // Real-time car battery voltage monitor reveals the potential car faults.
WIDE COVERAGE 🚗 This car scanner works on most 1996 & newer OBDII compliant vehicles, covering 57 car brands, 10000+ models across America, Europe, and Asia (Malaysia, India, Iran included), with multilingual menu for hassle-free operation (EN, FR, ES, DE, IT, RU, PT, JP, KR). Extended 2 years for any product quality issues. Make sure this obd2 scanner works on your car before purchase. *NOTE: There is only a charging cable and no power adapter in the package.
Features
Thorough diagnostics on Engine, Transmission, ABS, Airbag (SRS) systems for 57 car brands across the global.
Access to ECU information, read & erase fault generic / manufacturer-specific codes, turns off warning lights, and display live data stream in merged graphic.
One-Touch AutoVIN Technology: save manual selections to identify car make / model / year, and head you towards the proper diagnostics.
One-Touch Free Lifetime Software Update: to cover the most recent vehicle makes and models.
Android 7.1 system; logically well-laid interface; DTC Lookup library.
5¡± touchable LCD with easy-to-read clarity; combined with button navigation.
History Function: run the previous diagnostic procedure, not to start from scratch.
Feedback Function: get timely online technical assistance.
Diagnostic result can be recorded, saved as a report, and shared via email.
Multilingual Support: English, French, German, Spanish, Italian, Russian, Portuguese, Japanese, and Korean.
TECHNICAL SPECIFICATIONS
Display: LCD 5-Inch; 1280*720 dpi
Operating System: Android 7.1
Operating Voltage: 9~18V
Operating Temperature: -10℃~50℃ (14℉~122℉)
Storage Temperature: -20℃~70℃ (-4℉~158℉)
Diagnostic Cable Length: 1185mm (46.65 inch)
Unit Dimension: 232*126*34mm (9.1*5.0*1.3 inch)
Package Size: 272*218*80mm (10.70*8.58*3.15 inch)
Net Weight: 565g (19.92 oz)
PACKAGE LIST
1*ArtiDiag500
1*OBD II Diagnostic Cable
1*DC 5V Charging Cable
1*User Manual
1*Quick Guide
1*Carrying Bag
We love to hear from you,our team is available to help answer questions and offer styling advice, so if there's anything you'd like to ask us, we're right here and ready to help in every way we can.
We're available to support you via
Service Tel: (+86) 16686410852
Whatsapp: (+86) 166 8641 0852

We strive to answer your questions within.12 hours
Customer service chat hours:
Monday - Sunday : 8am - 20pm EST
Now available in English.
Company address:
( Changde Innovation and Incubation Industry Park,
Zhangyao Road, Changde High-tech Industrial Development Zone )
Guanxi Town, Dingcheng District, Changde City, Hunan Province,China



Please kindly note: During peak seasons and promotional sales, our response time might take a little longer. Please use the same email address you used when placing your order when contacting us, and include your order number in your email.
Become a reseller of obd2direct
The more you buy, the lower the price. The more you save.
Join us as our small and medium retail client and help you gain more experience
What is a wholesale program?
Join us, become our wholesale customer, buy more quantity and enjoy great wholesale discount price!
Buy more, save more!
In the sideline business of helping you resell professional car diagnostic tools, but also help you make better use of car diagnostic tools, providing recommendations and the best resale services for workshops around you!
Benefits of becoming an obd2direct wholesale customer:
1. Get the biggest discount price.
2. The latest and most abundant product catalog.
3. Professionals will help you analyze the market according to the sales situation of the market, help you choose the most suitable resale products, and help you obtain the maximum profit.
4. Professional product descriptions, pictures, and professional product introduction DPF documents.
5. One-to-one service from professional aftersales- technicians.
6. Free delivery from overseas warehouses, providing the fastest and highest quality express service. We will prepare goods for you in advance according to your needs, and there will be no shortage of goods waiting.
Our goal:

The spark of continuous technological innovation and improved product inventions has stood the test of time, and the service provided and customer relationships in place are popular worldwide.
Whatsapp: (+86) 166 8641 0852

Email: sales@obd2direct.com
ADDRESS:
(Changde Innovation and Incubation Industry Park,
Zhangyao Road, Changde High-tech Industrial Development Zone)
Guanxi Town, Dingcheng District, Changde City, Hunan Province,China.