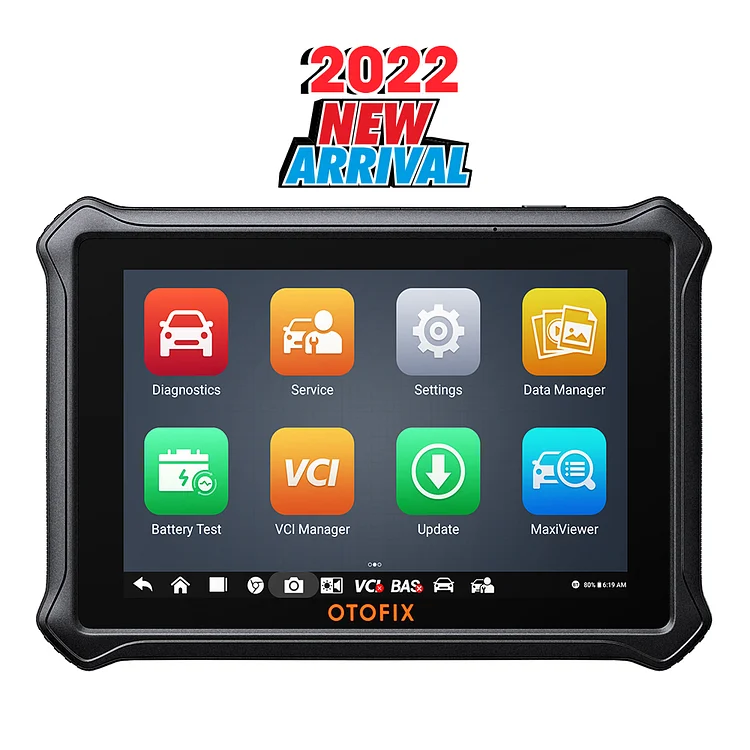 OTOFIX D1 Car Diagnostic Scan Tool, 2022 Update from Autel Scanner MP808 DS808 MS906, ECU Coding & Online IMMO Same as MS906BT MK906BT, VAG Guided, Bi-Directional, 30+ Services, OE Diagnosis


"OTOFIX" is designed for DIYERs with customized fucntions to create more cost-effective tools. The main characteristic of "OTOFIX" products is that the tool comes with free basic features, and SUBSCRIBABLE advanced features. Light-weight, handy, yet with elegant apperance, more friendly OS, unlock needed features by subscription, literally making every penny you spent worthy.




Full Bi-Directional Control: Send the commands to the system/ subsystem/ components to perform active tests like EVAP Test, Fuel Pump, Fuel Injector Test, Cycling A/C Clutch On/Off, Window/Door Lock/ Horn Test without vehicle controls.
31+ Special Functions: The most needed 30+ maintenance functions, like ABS Brake Bleeding, Injector Coding, Oil Reset, EPB Reset, BMS Reset, SAS Reset, Diesel Particulate Filter Regeneration, Crankshaft Relearn etc.
OE-Level Full System Diagnostics: Read & Clear Codes on all available systems, View Live Data in Graph/ Text/ Analogy , View Freeze Frame, Check ECU Information.
Advanced ECU Coding: Unlock the Hidden Functions for customization, Coding Components after repair or replacement, Improve Fuel Efficiency, Activate high-end functions.
VAG Guided Functions: Step By Step Detailed Operation Guidance and Operating Condition Statement, you can be an expert with OTOFIX D1.
Stable &Fast BT Connection: 33 Feet (10M) BT communication for remote diagnostics, no cable limitations.
Auto VIN & Auto Scan: Automatically identify the vehicle identification number, run comprehensive all available systems diagnostics with one tap.
1000+ Vehicle Models Coverage: Extensive diagnostics and repair services for thousands of Asian, European, American vehicles.
Hardware and OS Upgraded: 4x ARM Cortex-A35 (1.5GHz) Processor, Android 9.0 + 2GB DDR, 64G Storage for faster task processing. 5800 mAh and long time working hours lasts for up to 8 hours.
1-Year Free Updates: Frequently update to optimize the software performance and add the more vehicle coverage.
Cloud Services: Access seamlessly to cloud service to obtain remote expert support and share diagnostic reports easily.
Dealership Level 31+ Service Functions
OBD2 Scanner OTOFIX D1 being a professional automotive scan tool Services include:
Oil Reset: Reset the oil life system and turn off the oil light after replacing the oil or oil filter.
ABS Bleeding: Bleed the air of a brake system to restore ABS brake sensitivity.
Airbag Reset: reset the Airbag data and clear the collision data.
EPB Reset: Maintain the electronic braking system safely and effectively by deactivating and activating the brake control system, setting brakes after disc or pad replacement, etc.
BMS: Battery registration after replacing the new battery.
IMMO K~eys: Disable the lost vehicle k-eys and program a new k-ey fob.
SAS Calibration: Match the steering angle after replacing the steering angle position sensor, restore the current steering wheel position, clear SAS warning light.
DPF Regeneration: Perform the regeneration procedure to clear particulate matter from the DPF filter through continuous combustion oxidation mode to stabilize the filter performance.
Injector Coding: Code the injector after replacing or adjusting to correct the fuel injection volume of each cylinder more accurately.
Suspension Calibration: Adjust the vehicle height sensor for level calibration when replacing the vehicle height sensor or control module in the air suspension system.
And Throttle, WIN DR ROOF, Seats, Odometer, Lang Change, Headlamp, CHG Tire Size, TEC Learn, Trans Adaption, etc.
Made for VAG vehicles: ECU Coding, VAG Guided, Online K-eys Programming
OTOFIX car diagnostic tool D1 supports advanced features for VAG vehicles (Volkswagen, Škoda, Seat, Audi) including online coding, online IM-MO, VAG guided functions and advanced ECU Coding.
VAG Guided Functions
Targeted on different car models and configurations, there are related operation guidance that provides corresponding tips, auto log-in, matching, setting and coding. Having guided functions means having the company of an expert who can provide idea, help looking up maintenance manual and test functions while repairing a car.
ECU Coding
Recode the adaptive for certain components after making repairs or replacements
Improve fuel efficiency and the durability of mechanical parts, reduce power loss
Change the chimes on your car, set the mirrors automatically folding and unfolding, deactivate the Start/Stop function
Online IM-MO
Programming k~ey FOB programming on VAG vehicles: Add New K-ey, Delete The Lost K-ey, Write Smart K-eys, Smart K-eys Lost, Remote Learning. (Note: the k~ey programming function is NOT universally compatible, please check compatibility before you get the software).
Note: If you will need to unlock ECU Coding & Online IMMO functions, you can purchase it via your scanner with 69USD first year and only 10USD next every year. But please do check with us to for compatibility before you purchase the software, we want to make sure that what you need can be fulfilled via subscription.
Bi-directional Control/ Active Tests, Updated from OTOFIX D1 Lite
Automotive diagnostic scan tool OTOFIX D1 allows you to request information or command the module to perform specific tests and functions without on-broad systems, such as:
Door/ Window Lock
Horn/ Light/ Headlamp Test
Injector Kill Test
EVAP Test/ Fuel Pump/ Fuel Injector Test
Cycling A/C Clutch On/Off
Check the feedback of the modules or parts to for instant troubleshoot and repair results, OTOFIX D1 is a good, handy tool save you numerous time and with boosted efficiency.
OBD2 Car Diagnostic Expert: OTOFIX D1: OE Level Full System Diagnosis
The advanced automotive diagnostic scanner OTOFIX D1 is an all-in-one handheld tool for all car diagnosis and services. It can run professional OE-grade full system scanning to diagnose the working status for all the systems and perform 30+ regular automotive maintenance functions which are formerly only available at your dealership, OTOFIX D1 being an advanced scanner also supports bi-directional control test for sub-system, components for more quickly troubleshooting.
OTOFIX D1 runs a deep disgnosis on all the systems and moduldes like Engine/ Transmission/ Airbags/ Immobilizer/ ABS/Cruise Control /Instruments/ Leveling Suspension/ Seats/ Doors/ Gateway/ Steering Angle/ Air Suspension/ Body System/ Electronic Power Steering/ Tyre Pressure/ Stabilizer/Intelligent Parking Assist/ Windows/ Door Motors/ Audio Systems/ Air Condition system/ Headlamp Leveling/ Clutch /Headlight etc.
OTOFIX D1 Car Scan Tool: A Huge Leap Forward in Hardware
A major improvement in car diagnostic scan tool OTOFIX D1 is made in hardware to ensure a much more fluent operation experience. With the VAG cars advanced functions optional, you will only need to pay for functions you need, no more wasted payment bills. Only 699USD, you save 600USD at best!
Premium Hardware :
OS: Android 9.0 Operating System
Processor: 4x ARM Cortex-A35 (1.5GHz) processor
DDR: 2GB
Memory: 64G
7" LCD capacitive touchscreen
Camera: 8M rear camera, clear details captured of every question
Battery: 5800mAh battery, supports 8h continues operation



We love to hear from you,our team is available to help answer questions and offer styling advice, so if there's anything you'd like to ask us, we're right here and ready to help in every way we can.
We're available to support you via
Service Tel: (+86) 16686410852
Whatsapp: (+86) 166 8641 0852

We strive to answer your questions within.12 hours
Customer service chat hours:
Monday - Sunday : 8am - 20pm EST
Now available in English.
Company address:
( Changde Innovation and Incubation Industry Park,
Zhangyao Road, Changde High-tech Industrial Development Zone )
Guanxi Town, Dingcheng District, Changde City, Hunan Province,China



Please kindly note: During peak seasons and promotional sales, our response time might take a little longer. Please use the same email address you used when placing your order when contacting us, and include your order number in your email.
Become a reseller of obd2direct
The more you buy, the lower the price. The more you save.
Join us as our small and medium retail client and help you gain more experience
What is a wholesale program?
Join us, become our wholesale customer, buy more quantity and enjoy great wholesale discount price!
Buy more, save more!
In the sideline business of helping you resell professional car diagnostic tools, but also help you make better use of car diagnostic tools, providing recommendations and the best resale services for workshops around you!
Benefits of becoming an obd2direct wholesale customer:
1. Get the biggest discount price.
2. The latest and most abundant product catalog.
3. Professionals will help you analyze the market according to the sales situation of the market, help you choose the most suitable resale products, and help you obtain the maximum profit.
4. Professional product descriptions, pictures, and professional product introduction DPF documents.
5. One-to-one service from professional aftersales- technicians.
6. Free delivery from overseas warehouses, providing the fastest and highest quality express service. We will prepare goods for you in advance according to your needs, and there will be no shortage of goods waiting.
Our goal:

The spark of continuous technological innovation and improved product inventions has stood the test of time, and the service provided and customer relationships in place are popular worldwide.
Whatsapp: (+86) 166 8641 0852

Email: sales@obd2direct.com
ADDRESS:
(Changde Innovation and Incubation Industry Park,
Zhangyao Road, Changde High-tech Industrial Development Zone)
Guanxi Town, Dingcheng District, Changde City, Hunan Province,China.