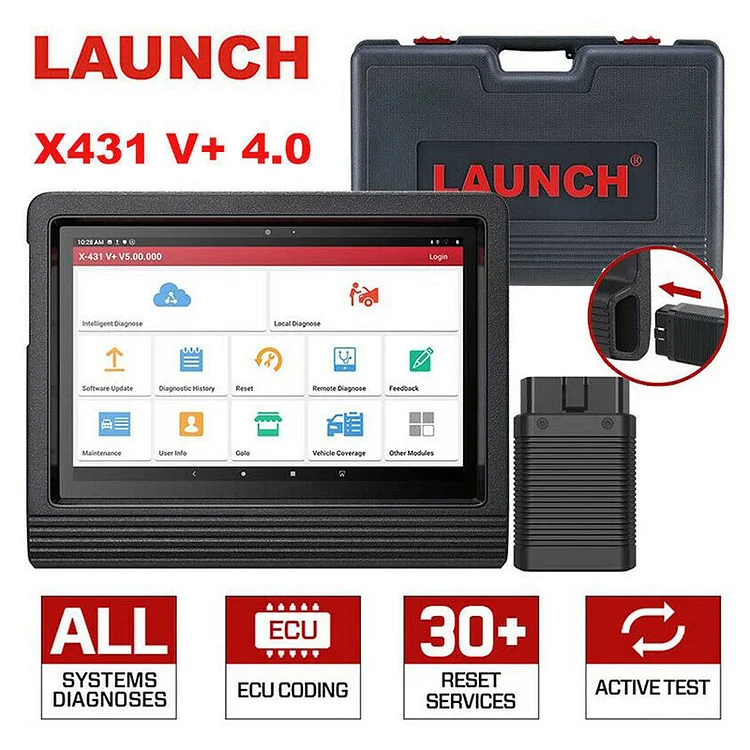 Launch X431 V+
is a typical diagnostic device contributed by Launch to diagnostic industry concerning internet application. Launch X431 V+ with Bluetooth/Wifi based on Android system, is a new car malfunction diagnostic device developed by Launch Tech for internet application. X-431 V+ completely substitutes X431 IV and X431 Diagun III.
Launch X431 V+
Highlight:1. THE MOST ADVANCED UI:
Utilizes Android 9.0 which can be upgrade to provide you with an easy to use interface that has powerful functions, quick auto scanning and vehicle diagnosis, and a touchscreen user interface that is easy to learn.
2. BEST HARDWARE:
The Launch X431 V+ is the newest version of the X431 standard and is the successor to the V, IV and X431 Diagun III versions. This model has a higher hardware configuration, larger storage capacity, faster processor, latest display technology (10 inch capacitive touch screen), and bigger battery for a longer use time between recharging.
3. WIRELESS CONVENIENCE:
With a Bluetooth OBDII connector module& wifh function, you can wirelessly communicate directly with any vehicle. Since you do not need to be wired into the dashboard when using the Launch X431 V+, you are now free to run the scanning, repair and diagnostic tests while you are working under the hood or while doing other maintenance tasks at your workbench.
4. POWERFUL FUNCTIONS:
Diagnosis functions include: Read DTCs, Clear DTCs, Read Datastream, Maintenance Recommendations, Special Repair Functions.
5. DIAGNOSTIC TOOL FOR EVERY SITUATION:
Supports over 98 car brands and 220 car models from America, Europe, Asia.

31+ Mechanics Frequently Used Special Service Reset Functions
ECU CODING – The Coding function is used to re-flash the vehicle control modules, it allows you to reprogram adaptive data for certain components after making repairs or replacements.
OIL RESET – Reset the oil life systems every time the oil and oil filter are changed;
INJECTOR CODING– Code new injector numbers to replace the previous one when fitting the new injectors or after the replacement is completed;
BRAKE RESET – Deactivate and activate the brake control system, assist with brake fluid control, open and close brake pads, etc.;
SAS RESET – Perform steering angle sensor calibration and clear records;
BAT.RESET – Evaluate the battery charge state, monitor the closed-circuit current, register the battery replacement, etc.;
ABS BLEEDING– When the ABS contains air, the ABS bleeding function must be performed to bleed the brake system to restore ABS brake sensitivity;
ELEC.THROTTLE RLRN – Initialize the throttle actuators so that the "learned" values stored on ECU are returned to the default state;
TPMS RESET – Tire pressure resetting is required to be performed after maintenance is performed;
Key Coding- Help ECU to recognize the new keys when you need to add new keys.
DPF REG – Clear PM (Particulate Matter) from the DPF filter through continuous combustion oxidation mode to stabilize the filter performance;
GEAR LEARN – Perform gear learning for the car when the engine ECU, the crankshaft position sensor, or the crankshaft flywheel is replaced;
MORE ADVANCED FUNCTIONS ADDED: AutoAuth for FCA, SGW+Windows Calibration + Seats Calibration + Tyre reset + Language Change + A/F Reset A/F + Coolant Bleed + Transport Mode + Adblue Reset + NOx Sensor Reset NOx + Stop/Start Reset + SCN Codin

Launch X431 V+ Vehicle Coverage:
Aisa: Compatible with Changcheng, Daewoo, Huachen, Zhongxing, Indian Tata, JAC, Maruti, Perodua, Chery, Isuzu, Jinlong, Suzuki, Saipa, HM, Hmazda, Ikco, Malaysia Proton, Luxgen, Toyota, Changan, Futian, Honda, Wuling, V-class, Jpisuzu, Kia, Indian Maruti, Indian Mahindra, Malaysia Perodua, Hafei, Lifan, Mahindra, Nissan, Xiali, Zhongshun, Tata, Changhe, China GM, Saicmg, Mazda, Zhongtai, Daihatsu, BYD Flyer, Hyundai, Proton, Subaru, Ssangyong, Joylong, Mitsubishi,Gonow, Qoros, Maxus, Mvm
Europe: Compatible with Vaz, Porsche, Maserati, BMW, Seat, VW, Audi, Citroen, Landrover, Smart, Renault, Skoda, Sprinter, Land Rover, Benz, Fiat, Opel, Volvo, Peugeot, Ferrari, Saab, Gaz, DR
USA: Compatible with Gm, USAFord, Chrysler, Willy; Australia: Compatible with Austford, Holden; Brazil: Compatible with BXFiat, BXGM
X431 V+ Scanner work with HDIII Model can test 12V gasoline vehicles and 24v trucks
Launch X431 V+ work with X431 Heavy Duty Module, enabling it to test gasoline vehicles and trucks with 12V or 24V battery, and trucks with diesel engines. When testing 24V truck, battery conversion is not required. Supports 68 brands and over 220 models from America, Europe, Asia.
Support Language
Italian, English, Chinese simplified, Chinese traditional, German, Japanese, Russian, French, Spanish, Portuguese, polish, Turkish, Dutch, Greek, Hungarian, Arabic, Danish, Korean, Persian, Romania, Serbia, Finnish, Swedish, Czech.
Launch X431 V+ Update & Warranty:
2 Years Free Update + 5 Year Warranty + Lifetime Free Tech Supportted
Launch X431 V+ Specifications:
Operating System: Android 9.0
CPU: Qualcomm Snapdragon 450, 8-core 1.8GHz
Battery: 7000mAh rechargeable polymer lithium battery
Memory: 3GB
Storage Capacity:32GB (New 2020 Version)
LCD: 10.1 inch
LCD Resolution: 1920*1200
IPS Touch Screen: Capacitive Touch Screen
Cameras: 5.0 mega pixels front and 8.0 mega pixels rear.
Wi-Fi: 802.11a/b/g/n/ac (2.4GHz / 5GHz)
Bluetooth: Supported
Working Temperature: 0 ~ ℃ 45℃
Storage Temperature: -20 ~ ℃ 70℃
Dimensions (L*W*H): 265*214.5*50.5 mm (10.43*8.44*1.99 inches)
Weight (NW): 1.05 kg (2.31 lb)
Launch X431 V+ Package List:
1*LAUNCH X431 V+ 4.0
1*DBScarII Bluetooth OBD2 Connector
1*AUDI-4 Adapter
1*BENZ-14 Adapter
1*BENZ-38 Adapter
1*BMW-20 Adapter
1*CHRYSLER-6 Adapter
1*DAEWOO-12 Adapter
1*DAIHATSU-4 Adapter
1*FIAT-3 Adapter
1*FORD-6+1 Adapter
1*GAZ Adapter
1*GEELY-22 Adapter
1*HONDA-3 Adapter
1*KIA-20 Adapter
1*MAZDA-17 Adapter
1*MITSUBISHI/HYUNDAI-12+16 Adapter
1*NISSAN-14+16 Adapter
1*SSANGYONG-14 Adapter
1*SSANGYONG-20 Adapter
1*SUBARU-9 Adapter
1*SUZUKI-3 Adapter
1*TOYOTA-17 Adapter
1*TOYOTA-22 Adapter
1*UNIVERSAL-3 Adapter
1*Storage Case
1*OBD 1 Adapter BOX
We love to hear from you,our team is available to help answer questions and offer styling advice, so if there's anything you'd like to ask us, we're right here and ready to help in every way we can.
We're available to support you via
Service Tel: (+86) 16686410852
Whatsapp: (+86) 166 8641 0852

We strive to answer your questions within.12 hours
Customer service chat hours:
Monday - Sunday : 8am - 20pm EST
Now available in English.
Company address:
( Changde Innovation and Incubation Industry Park,
Zhangyao Road, Changde High-tech Industrial Development Zone )
Guanxi Town, Dingcheng District, Changde City, Hunan Province,China



Please kindly note: During peak seasons and promotional sales, our response time might take a little longer. Please use the same email address you used when placing your order when contacting us, and include your order number in your email.
Become a reseller of obd2direct
The more you buy, the lower the price. The more you save.
Join us as our small and medium retail client and help you gain more experience
What is a wholesale program?
Join us, become our wholesale customer, buy more quantity and enjoy great wholesale discount price!
Buy more, save more!
In the sideline business of helping you resell professional car diagnostic tools, but also help you make better use of car diagnostic tools, providing recommendations and the best resale services for workshops around you!
Benefits of becoming an obd2direct wholesale customer:
1. Get the biggest discount price.
2. The latest and most abundant product catalog.
3. Professionals will help you analyze the market according to the sales situation of the market, help you choose the most suitable resale products, and help you obtain the maximum profit.
4. Professional product descriptions, pictures, and professional product introduction DPF documents.
5. One-to-one service from professional aftersales- technicians.
6. Free delivery from overseas warehouses, providing the fastest and highest quality express service. We will prepare goods for you in advance according to your needs, and there will be no shortage of goods waiting.
Our goal:

The spark of continuous technological innovation and improved product inventions has stood the test of time, and the service provided and customer relationships in place are popular worldwide.
Whatsapp: (+86) 166 8641 0852

Email: sales@obd2direct.com
ADDRESS:
(Changde Innovation and Incubation Industry Park,
Zhangyao Road, Changde High-tech Industrial Development Zone)
Guanxi Town, Dingcheng District, Changde City, Hunan Province,China.