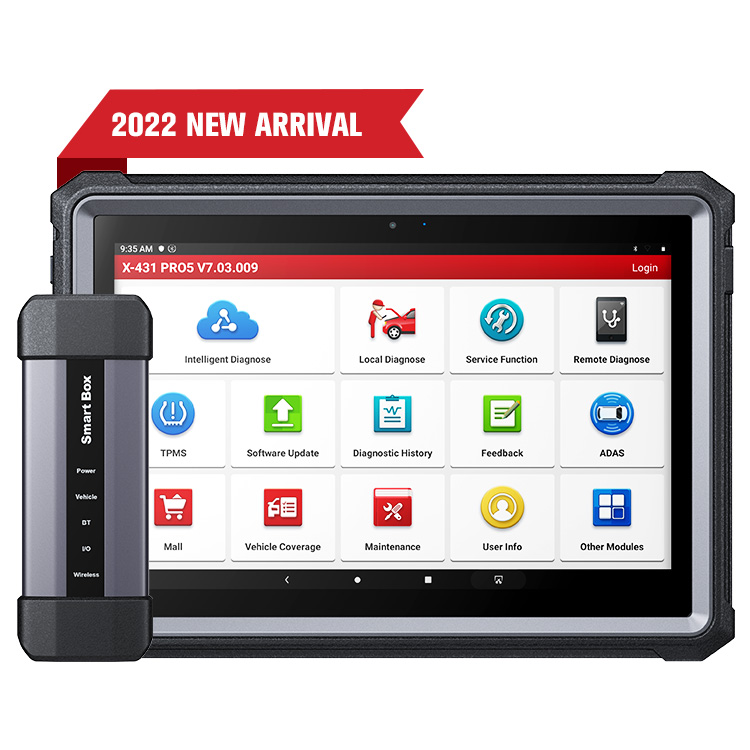 2022 Newest LAUNCH X431 PRO 5 Automotive Diagnostic Scanner: One-Stop Repair & Diagnosis Solution
Exceeds Most of Your Professional Needs
Worry about the increasing complex automotive diagnostics Gain confidence and get everything you need to diagnose, research and repair any vehicle issues with LAUNCH X-431 PRO 5, a one-stop automotive diagnostic solution merged all cutting-edge technology:
2022 New Arrivals

– The genuine X431 diagnostic scanner officially authorized from LAUNCH; No IP restrictions; Extra-long 2 years software updates at no costs; Extended 5 years quality backup.

Upgraded from LAUNCH X431 V+/PRO3/PROS/TURBO/Throttle

– A rich array of future-proof functions for productive works: 1) SmartBox 3.0, J2534 ECU Programming, Intelligent AutoVIN & AutoScan, Active Tests, All System Diagnostics, VAG Guided Function, FCA AutoAuth Access, etc.; 2) advanced Online ECU Coding & Adaptations brings more personal settings; 3) 50+ service functions with more frequent updates to support more vehicles.
J2534 Reprogramming Tool LAUNCH X431 SmartBox 3.0

– 1) Fix the most vehicles' problems with broad vehicle coverage; meet SAE standards for J2534-1 & -2, CANFD, DOIP and support DC9-36V for HD Vehicles; 2) also serves as a wireless VCI.

Advanced Intelligent Diagnostics

– AutoVIN & AutoScan accelerates all-systems DTC scans that clock in at an average of < 3 minutes.

Send Commands with Bi-directional Controls

– Effectively test car components on demand.
FCA AutoAuth Access

– Bypass SGM in FCA vehicles seamlessly and within seconds; works on 2017 and later Chrysler, Dodge, Jeep, Alfa Romeo, Fiat, etc.

*Need AutoAuth subscriptions.

VAG Guided Function

– Skip the routine procedure of entering the security access code & channel number for VW, Audi, Skoda, Seat vehicles.
Add Modules to Expand Features

– ADAS Calibration Toolkit; VSP-600 VideoScope; X431 TPMS TSGUN; BTS360 Bluetooth Battery Tester; X-PROG & X-PROG3 Immobilizer.

Non-16pin Connectors & Cables Kit

– enable to work on varied vehicles across the world.
User-Oriented

– One-touch software updates; 24/7 online feedback; save, record data, and automatically generate reports to share via email; 12-channel graphic live data stream displayed in one screen with max. 4 streams can be merged; 25 languages menu.
Great Combination

– Android 9.0 OS, 8-core 1.8GHz processor, 4GB RAM & 64GB ROM (128G expandable), 10.1" HD 1920*1200 touchscreen, 8MP rear & 5MP front camera, 7000 mAh battery, etc.
LAUNCH X431 SmartBox 3.0: As a J2534 Reprogramming Tool, Easy to Manage Wider Vehicles
Introducing SmartBox 3.0. The optimization to the LAUNCH X431 scan tool's software communication with the vehicles of today and of the future, dramatically improves scanning, coding, and reprogramming performance.
Serve as J2534-Compliant VCI – Support J2534 protocol, compatible with Toyota, Honda, Volvo, VW, GM, Chrysler, Benz, Jaguar, Land Rover; offering cost-effective access to data and OE programming downloads from vehicle manufacturers.

Serve as the VCI Box for Wireless Diagnostics – Transmit vehicle data to the diagnostic tablet without a physical connection.

Compatible with new communication protocols of CANFD (compatible with some GM car models), and DOIP (compatible with BMW E/F/G Chassis, Jaguar, Land Rover), and support DC9-36V for HD Vehicles (need the extra purchase of HD software, non-16pin HD adaptors).
How to Use SmartBox 3.0 as a J2534 Reprogramming Tool?
Download the OEM software in Automakers' Service Webs to your computer. You can reach us to get web sites.

Connect the SmartBox 3.0 to your computer with the included USB cable, or via the stable and solid 5G Wi-Fi network.

Connect the SmartBox 3.0 to your vehicle's DLC port with/without the included extended OBDII cable.

Download and install the drivers for SmartBox 3.0 at the LAUNCH official site.

Run "SmartBox Tool 3.0" and there you go.
ECU Coding: Change Preprogrammed Car Settings
Reprogram the adaptive data for newly-installed ECU module after repair or replacement.

Fix issues of Drivability, Fuel Efficiency, Power Loss, Fault Codes, and Durability of mechanical parts.

Activate higher-level car functions, like

making the pointer move and perform self check etc.

Disable the unneed car functions such as the Automatic Start/Stop etc.

Online ECU Coding is compatible with Volkswagen, Audi, BMW, Porsche, etc.
Hot Reset & Relearn Maintenance Services
You can easily choose multiple commonly-used service functions, follow their clear and precise instructions to complete complex projects much faster, including but not limited to the following:
Oil Maintenance Light Reset: reset the oil service lamp; re-calculate the optimal oil life change interval.

Steering Angle Reset: reset the steering angle to zero to keep the car running straight.

Injector Coding: write the new injector code into the system to correct cylinder injection quantity.

Electronic Parking Brake Reset: help replace and reset the brake pad.

ABS Bleeding: help exhaust the air in ABS system in an easy way.

Throttle Matching: initialize the throttle actuators to the default state.

Battery Matching: register the battery after replacement.

DPF Regeneration: help remove the particulate matter to keep the trap stable.

Tire Pressure Reset: reset the tire pressure.

Suspension Level Calibration: adjust the vehicle body height sensor for level calibration.

Headlight Matching: initialize the adaptive headlamp system.
And many more with expanding. Function menus vary by manufacturer, year, and model. Reach us for compatibility check.
Break Your Language Barrier
This diagnostic tool comes programmed in 25 languages: Chinese (SC/TC), English, Japanese, Korean, French, Spanish, Portuguese, Italian, Russian, German, Polish, Romanian, Dutch, Arabic, Czech, Danish, Greek, Persian, Finnish, Hungarian, Swedish, Turkish, Serbian, and Croatian.
Easy switch steps: go to "Setting" -> select the language -> go to "Upgrade" -> download & install the car software pack translated in the selected language. *No costs involved.
We love to hear from you,our team is available to help answer questions and offer styling advice, so if there's anything you'd like to ask us, we're right here and ready to help in every way we can.
We're available to support you via
Service Tel: (+86) 16686410852
Whatsapp: (+86) 166 8641 0852

We strive to answer your questions within.12 hours
Customer service chat hours:
Monday - Sunday : 8am - 20pm EST
Now available in English.
Company address:
( Changde Innovation and Incubation Industry Park,
Zhangyao Road, Changde High-tech Industrial Development Zone )
Guanxi Town, Dingcheng District, Changde City, Hunan Province,China



Please kindly note: During peak seasons and promotional sales, our response time might take a little longer. Please use the same email address you used when placing your order when contacting us, and include your order number in your email.
Become a reseller of obd2direct
The more you buy, the lower the price. The more you save.
Join us as our small and medium retail client and help you gain more experience
What is a wholesale program?
Join us, become our wholesale customer, buy more quantity and enjoy great wholesale discount price!
Buy more, save more!
In the sideline business of helping you resell professional car diagnostic tools, but also help you make better use of car diagnostic tools, providing recommendations and the best resale services for workshops around you!
Benefits of becoming an obd2direct wholesale customer:
1. Get the biggest discount price.
2. The latest and most abundant product catalog.
3. Professionals will help you analyze the market according to the sales situation of the market, help you choose the most suitable resale products, and help you obtain the maximum profit.
4. Professional product descriptions, pictures, and professional product introduction DPF documents.
5. One-to-one service from professional aftersales- technicians.
6. Free delivery from overseas warehouses, providing the fastest and highest quality express service. We will prepare goods for you in advance according to your needs, and there will be no shortage of goods waiting.
Our goal:

The spark of continuous technological innovation and improved product inventions has stood the test of time, and the service provided and customer relationships in place are popular worldwide.
Whatsapp: (+86) 166 8641 0852

Email: sales@obd2direct.com
ADDRESS:
(Changde Innovation and Incubation Industry Park,
Zhangyao Road, Changde High-tech Industrial Development Zone)
Guanxi Town, Dingcheng District, Changde City, Hunan Province,China.