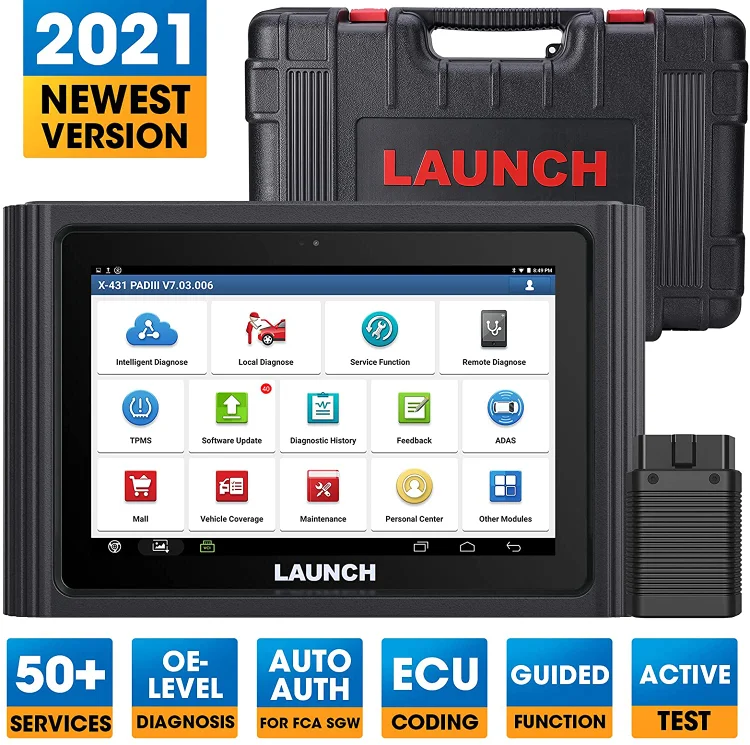 Why buy from us ?
Ship form US/EU/UK
Worldwide 3-7 Business Days Delivery
15-days return or replacement
2 Year Free Update
Launch Official Authorized
ALL IN ONE ADVANCED OE-LEVEL X431 PADIII- An Ideal Choice for Auto Mechanic and Repair Shop
40+ Reset Services +Adaptation+ Matching+ + Initialization+IMMO Function

ECU Coding + ECU Online Coding+ECU Replacement

Full Systems Diagnoses + Active Test (Bi-directional Control)

OE-Level Function: Guided Functions +Online Coding +Setting & Changeover +Modification +Offline Coding + Customization + Personalization+AutoAuth for FCA SGW+ SCN Coding+Guided Functions+Variant Coding+Modification+Flash Hidden Functions

Diagnostic Report + Diagnostic Feedback+ 24 Languages

150+ Brands and 10000+ Cars supported + 2 Years Update+Auto VIN + One Click Update

Online Maintenance Resources: Operating skills, DTC Help, Automotive Technology handbook, Repair Case and How-to Videos.

Extended Modules: support ADAS, Oscilloscope, Sensor, Multimeter, Battery Test, Endoscope, and Ignition Analysis, helping technicians perform more in-depth vehicle inspections.
Improved Configurations
WIFI and Bluetooth Connect

Branded Tablet,10.1-inch full-fit HD Touch Screen: A brighter, clearer Screen let you " Deep Dive into Diagnostics"

Andriod 5.11 System with 8-core 1, 2.0GHz., make you smooth operation

15000mAh rechargeable battery (up to 20Hours NON-STOP Using Time+ Long Standby Time

64GB memory (supports extended to 128GB).

The device settings have been simplified to facilitate customers to solve problems.
2021 NEWEST PROFESSIONAL HIGH-END DIAGNOSTIC SCANNER - LAUNCH X431 PADIII V2.0
2021 New Added OE-LEVEL Function of LAUNCH X431 PADIII V2.0
For 2017 and later FCA Vehicles with Secure Gateway Module (SGW)

Guided Functions

Online Coding: Compatible with Volkswagen / Audi / Benz / BMW / Seat / Porsche etc.

Online Calibration: Compatible with Volkswagen / Audi / Skoda / Seat etc.

Power Balance: Compatible with Chrysler / GM / Ford etc.

Online Account Login Service: Compatible with Volkswagen / Audi / Skoda / Seat etc.

Online Parameterization: Compatible with Volkswagen / Audi / Skoda / Seat etc.

Anti-theft IMMO Serivce: Compatible with Volkswagen / Audi / Skoda / Seat etc.

Guided Functions: Compatible with Volkswagen / Audi / Skoda / Seat etc.

Programmable Module Installation: Compatible with Ford / Mazda

Flash Hidden Functions: Compatible with BMW / Porsche / Toyota / Subaru etc.
More and more functions will be improved and optimized...
ECU Coding for Functionality
LAUNCH X431 PADIII offers the ECU Coding feature, which is not available in conventional code readers, to allow you:
To perform the customer individual customization of the car such as setting alarms, doors locking, and outdoor lighting, etc., to improve vehicle performance, or stimulate high-end car functions.

To alter the configuration when a component is replaced, so the new actuators can be recognized by related vehicle systems.

To enable multiple car systems to recognize each other, and so the actuators can start to work.
Active Test / Bidirectional Control
The X431 PAD III V2.0 automotive diagnostic scanner performs the active test, thus you can bypass the electronic control module and directly communicate with the control unit. By monitoring actuators response, you can precisely locate the faults, shortening the troubleshooting time without tearing the vehicle apart
Full Systems Diagnosis
This LAUNCH diagnostic scanner can establish a data link to all systems and subsystems of the vehicle being serviced to:
Retrieve ECU information of the tested control units including unit type, version numbers, and other specifications, etc.

Read & erase DTCs to locate problem areas and clear the codes.

View Live Data of each parameter item.
40+ Special Functions
Injector Coding:

Code a new injector to replace the previous one to control the injection amount.

Oil Reset:

Reset the oil life to start a new maintenance cycle.

Throttle Adaptation:

Initialize the throttle actuators to turn the learning value of the ECU to the initial state.

Steering Angle Reset::Calibrate the steering angle after replacing the steering angle position sensor, replacing the mechanical parts of the steering system and completing the four-wheel positioning, etc.,

Battery Matching: Reset the monitoring unit of the car battery after replacing a battery or a battery monitoring sensor.

TPMS Service:

Relearn TPMS sensors so that new sensors can be recognized by ECU.

AFS Reset:

It detects the light then decides whether to automatically turn on the headlights or not. It can also adjust the headlights in time by monitoring the driving speed.

EGR Adaption:Reduce nitrogen oxides (NOx) in the exhaust gas and improve fuel economy at partial load.

Gearbox Matching:Test the gearbox based on the driving conditions after the gearbox is disassembled or repaired, for a more comfortable and ideal shift quality.

Sunroof Service: Set the sunroof switch to be on/off according to weather, temperature, and memory.

SUS Reset:When the height sensor and control module in the system is replaced or the level of the car is wrong, this function needs to be performed to level the height sensor.
More Special Functions:AdBlue Reset / AFS Reset / A/F Reset / ABS Bleeding / Gearbox Learn / EGR Adaption / IMMO / NOx Sensor Reset / ODO Meter / Seats Calibration / Sun Roof / TPMS Reset / Windows Calibration, etc.
Vehicle Coverage
It can diagnose 99% of models from all over the world, like America/ Europe/ Asia/ Australia. What's more, the one-click update feature is available for more models. Compatibility would not be an issue.
ECU coding, flash hidden functions, modification, customization, component matching, parameterization, programmable module installation, personalization, calibration
Multilingual Support
Italian, English, Chinese Simplified, Chinese Traditional, German, Japanese, Russian, French, Spanish, Portuguese, Polish, Turkish, Dutch, Greek, Hungarian, Arabic, Danish, Korean, Persian, Romania, Serbia, Finnish, Swedish, Czech, etc.
Who Is It Suitable For
If you are a professional technician in repair shops, LAUNCH X431 PADIII fully meets your daily needs. This pro-level scanner functions the same as thousands of dollars valued diagnostic tools but at a much lower.

If you are tired of expensive repairs and have the hands-on ability, LAUNCH X431 PADIII V 2.0 breaks down problems into simple and understandable terms, being your own car doctor, right on your hands.

Bottom line is, it is the best ever car diagnostic assistance for:
Technician | Advance DIY | Garage | Car Dealer | Used Car Dealer | Auto Repair Shop | Automotive Engineer | Diagnostic Tech | Truck Man | Automobile Tech | Home Mechanic | DIY Beginner | Automotive Student | Backyard Mechanic | Retired Mechanic | Weekend DIY | Individuals -
Maintenance Help:Including How-to Videos, operation skills, and user manual, Q&A, Quick start guide, etc.
We love to hear from you,our team is available to help answer questions and offer styling advice, so if there's anything you'd like to ask us, we're right here and ready to help in every way we can.
We're available to support you via
Service Tel: (+86) 16686410852
Whatsapp: (+86) 166 8641 0852

We strive to answer your questions within.12 hours
Customer service chat hours:
Monday - Sunday : 8am - 20pm EST
Now available in English.
Company address:
( Changde Innovation and Incubation Industry Park,
Zhangyao Road, Changde High-tech Industrial Development Zone )
Guanxi Town, Dingcheng District, Changde City, Hunan Province,China



Please kindly note: During peak seasons and promotional sales, our response time might take a little longer. Please use the same email address you used when placing your order when contacting us, and include your order number in your email.
Become a reseller of obd2direct
The more you buy, the lower the price. The more you save.
Join us as our small and medium retail client and help you gain more experience
What is a wholesale program?
Join us, become our wholesale customer, buy more quantity and enjoy great wholesale discount price!
Buy more, save more!
In the sideline business of helping you resell professional car diagnostic tools, but also help you make better use of car diagnostic tools, providing recommendations and the best resale services for workshops around you!
Benefits of becoming an obd2direct wholesale customer:
1. Get the biggest discount price.
2. The latest and most abundant product catalog.
3. Professionals will help you analyze the market according to the sales situation of the market, help you choose the most suitable resale products, and help you obtain the maximum profit.
4. Professional product descriptions, pictures, and professional product introduction DPF documents.
5. One-to-one service from professional aftersales- technicians.
6. Free delivery from overseas warehouses, providing the fastest and highest quality express service. We will prepare goods for you in advance according to your needs, and there will be no shortage of goods waiting.
Our goal:

The spark of continuous technological innovation and improved product inventions has stood the test of time, and the service provided and customer relationships in place are popular worldwide.
Whatsapp: (+86) 166 8641 0852

Email: sales@obd2direct.com
ADDRESS:
(Changde Innovation and Incubation Industry Park,
Zhangyao Road, Changde High-tech Industrial Development Zone)
Guanxi Town, Dingcheng District, Changde City, Hunan Province,China.