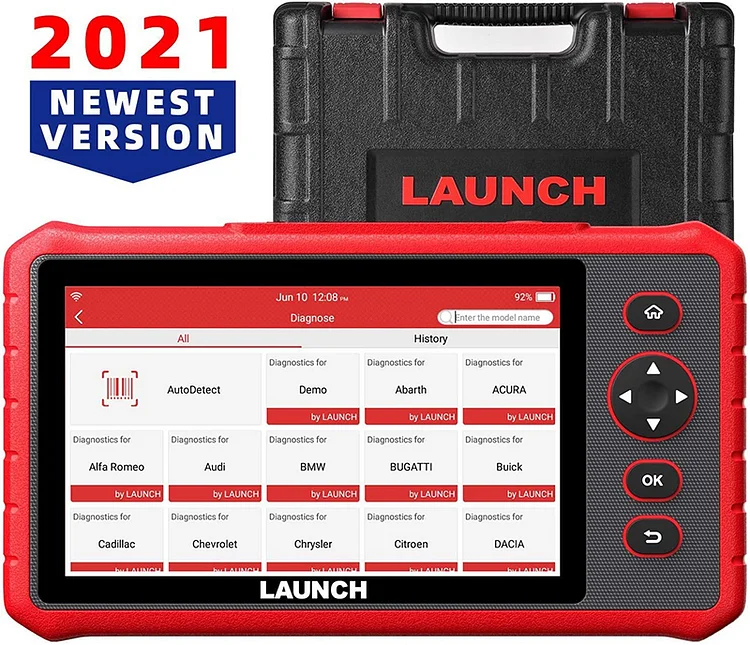 Launch X431 CRP909X
is an evolutionary smart diagnostic tool designed for DIYers and mechanics to quickly find out the root causes of the Check Engine Light and help you fix the issues efficiently.
Provides 15 commonly-used service functions;
Supports all systems diagnoses;
Covers 54+ mainstream vehicle brands in the market;
Supports 10 modes of OBD2 tests;
Auto VIN for the vehicle information;
Live data displayed in text, graph and merged;
Dignostic history & feedback;
Displays vehicle battery real-time voltage;
Diagnostic report automatic generation and uploading;
One-click update, free for 1 year;
7-inch touch screen & keypad input;
Built-in 6000 mAh lithium battery
Launch X431 CRP909X 15 Commonly-Used Service Reset Functions:
LAUNCH CRP909X, which comes with 15 commonly-used service reset functions, makes it possible for beginners or mechanics to perform car maintenances easily and quickly.
Oil Reset: Close the oil service light and reset service mileage & service interval after replacing the engine oil.
Throttle Reset: Initialize the throttle actuators to the default state for regulating throttle (or idle engine) operations accurately.
EPB Reset: Reset the new electronic parking brake for braking wheels safely again.
BMS Reset: Perform a reset on the vehicle battery for clearing the fault information and re-match the battery.
Suspension Calibration: adjusts the height of the body.
SAS Reset: Perform calibration for the Steering Angle Sensor, and clear fault memory.
DPF Regeneration: Specially works for Diesel Particulate Filter system with DPF regeneration,DPF component replacement teach-in and DPF teach-in after replacing the engine control unit.
ABS Bleeding: The auto bleed procedure is used on brake pump equipped vehicles.
IMMO Service: Read pin code from vehicle security immo system,mainly used to disable the lost vehicle keys and program a new replacement key fob.
Injector Coding: Code new injector numbers to replace the previous one when fitting the new injectors or after the replacement is completed.
Gear Learning: Perform gear learning for the car when the engine ECU, the crankshaft position sensor, or the crankshaft flywheel is replaced.
TPMS Reset: Makes TPMS sensor in displaying sensor IDs from the vehicle's ECU,inputting TPMS sensor replacement IDs and testing sensors.
Sunroof Initialization + Gearbox Matching + AFS Headlamp Reset
Launch X431 CRP909X Support Languages:
English, French, German, Spanish, Portuguese, Russian, Japanese, Italian, Korean.
Launch X431 CRP909X Update & Warranty:
1 Year Free Update & 1 Year Warranty
Launch X431 CRP909X Specifications:
Display: LCD 7-Inch
RAM: 2G, ROM 16G
Battery: 6000 mAh
Operating Voltage: 9~18V
Storage Temperature: -20℃~70℃(-4℉~158℉)
Working Temperature: 0℃~50℃(32℉~122℉)
Dimension: 246*139.5*34 mm(9.64*4.86*1.45 inch)
Package Size: 296*230*76 mm (11.65*9.05*2.99 inch)
Length: 1200mm (47.24 inch)
Net Weight: <600g (21.16 oz)
Launch X431 CRP909X Package Lists:
1 * CRP 909X Handset
1* OBDII Diagnostic Cable
1 * 5V DC Charging Cable
1 * Power Adaptor
1 * Quick Start Guide
1 * User Manual
We love to hear from you,our team is available to help answer questions and offer styling advice, so if there's anything you'd like to ask us, we're right here and ready to help in every way we can.
We're available to support you via
Service Tel: (+86) 16686410852
Whatsapp: (+86) 166 8641 0852

We strive to answer your questions within.12 hours
Customer service chat hours:
Monday - Sunday : 8am - 20pm EST
Now available in English.
Company address:
( Changde Innovation and Incubation Industry Park,
Zhangyao Road, Changde High-tech Industrial Development Zone )
Guanxi Town, Dingcheng District, Changde City, Hunan Province,China



Please kindly note: During peak seasons and promotional sales, our response time might take a little longer. Please use the same email address you used when placing your order when contacting us, and include your order number in your email.
Become a reseller of obd2direct
The more you buy, the lower the price. The more you save.
Join us as our small and medium retail client and help you gain more experience
What is a wholesale program?
Join us, become our wholesale customer, buy more quantity and enjoy great wholesale discount price!
Buy more, save more!
In the sideline business of helping you resell professional car diagnostic tools, but also help you make better use of car diagnostic tools, providing recommendations and the best resale services for workshops around you!
Benefits of becoming an obd2direct wholesale customer:
1. Get the biggest discount price.
2. The latest and most abundant product catalog.
3. Professionals will help you analyze the market according to the sales situation of the market, help you choose the most suitable resale products, and help you obtain the maximum profit.
4. Professional product descriptions, pictures, and professional product introduction DPF documents.
5. One-to-one service from professional aftersales- technicians.
6. Free delivery from overseas warehouses, providing the fastest and highest quality express service. We will prepare goods for you in advance according to your needs, and there will be no shortage of goods waiting.
Our goal:

The spark of continuous technological innovation and improved product inventions has stood the test of time, and the service provided and customer relationships in place are popular worldwide.
Whatsapp: (+86) 166 8641 0852

Email: sales@obd2direct.com
ADDRESS:
(Changde Innovation and Incubation Industry Park,
Zhangyao Road, Changde High-tech Industrial Development Zone)
Guanxi Town, Dingcheng District, Changde City, Hunan Province,China.