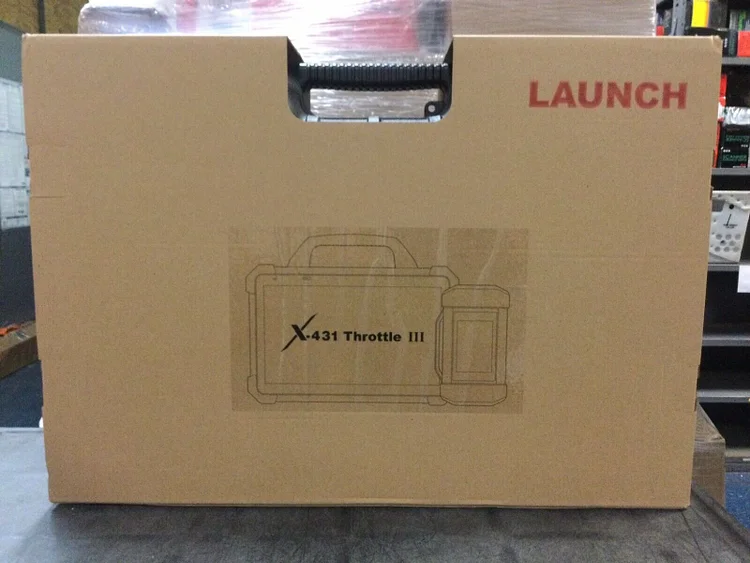 Launch X-431 Throttle III is a Wi-Fi enabled and super advanced scan tool with upgraded all-in-one Smartlink VCI. One is enough for most of repair shops who has business in relation with ADAS calibration, Commercial and Medium Duty Truck diagnosis, Remote diagnostic, OE-level vehicle diagnosis, IMMO functions and more.
Features
OE-level U.S. vehicle coverage as well as Asian, European coverage from 1996 and newer.
OE-Level bi-directional functionality
Smartlink allows for rapid diagnostics of light, medium and heavy-duty vehicles
QC quick charge technology(Battery Charges Fully in 2.5 to 3 hours)
Optional ADAS calibration application to calibrate LDW, RCW, AVM, NV, BSD and ACC system accurately.
Guided VW&AUDI functions
Support communication protocols CAN/CAFD/DoIP and automotive communication standards J/D-PDU/RP1210
TECH 2 TECH remote diagnosis and technician collaboration
Vehicle health report feature gives comprehensive status on all onboard systems of vehicle
Auto Detect VIN to access to vehicle info within seconds
OE vehicle approved Security Gateway access by FCA certified(NEW) ( AutoAuth subscription sold separately )
Code Assist by Identifix, access most common fixed and repair solutions with corresponding DTC (NEW)
Monitors vehicle's voltage by real-time displaying the data during diagnosing(NEW)
Topology module mapping overview virtually the all-systems communication status(NEW)
"NEW" Pin detection function to detect pin volt, data rate and protocols.
Coverage
OE-level scan tool diagnostics for U.S., Asian, and European vehicles from 1996 and newer, including exotic vehicles, coverage details. Add-on modules (sold separately) available for ADAS, battery testing, immobilizer, signal simulator, TPMS, videoscope and WiFi printer.
Specifications
- Android 9.0 OS
- CPU: 2.0GHz Octa-core
- Display: 13.3-inch Groilla Glass touch screen, IPS 1920*1080 resolution
- RAM: 8GB
- Storage: 256GB
- Camera: Front 8 MP, Rear 13 MP1.Operation System Android 9.0
- Dual Band WiFi 2.4 & 5Ghz
- (2) 1.5W speakers
- 9360mAh Battery
Contents
- X-431 Throttle III Tablet
- Smartlink J2534 VCI device
- Power Adapter
- Type A to Type B data cable (VCI to tablet)
- Type A to Type C USB cable (tablet to PC)
- HDMI Cable
- OBD1 Adapter Cable (Non-16pin adapter kit sold separately)
- OBD1 Battery Clamps Cable
- Cigarette Lighter Adapter
- Password Envelope
- 1-year Update Subscription
- 1-year warranty

Optional
- Non-16pin adapter kit
We love to hear from you,our team is available to help answer questions and offer styling advice, so if there's anything you'd like to ask us, we're right here and ready to help in every way we can.
We're available to support you via
Service Tel: (+86) 16686410852
Whatsapp: (+86) 166 8641 0852

We strive to answer your questions within.12 hours
Customer service chat hours:
Monday - Sunday : 8am - 20pm EST
Now available in English.
Company address:
( Changde Innovation and Incubation Industry Park,
Zhangyao Road, Changde High-tech Industrial Development Zone )
Guanxi Town, Dingcheng District, Changde City, Hunan Province,China



Please kindly note: During peak seasons and promotional sales, our response time might take a little longer. Please use the same email address you used when placing your order when contacting us, and include your order number in your email.
Become a reseller of obd2direct
The more you buy, the lower the price. The more you save.
Join us as our small and medium retail client and help you gain more experience
What is a wholesale program?
Join us, become our wholesale customer, buy more quantity and enjoy great wholesale discount price!
Buy more, save more!
In the sideline business of helping you resell professional car diagnostic tools, but also help you make better use of car diagnostic tools, providing recommendations and the best resale services for workshops around you!
Benefits of becoming an obd2direct wholesale customer:
1. Get the biggest discount price.
2. The latest and most abundant product catalog.
3. Professionals will help you analyze the market according to the sales situation of the market, help you choose the most suitable resale products, and help you obtain the maximum profit.
4. Professional product descriptions, pictures, and professional product introduction DPF documents.
5. One-to-one service from professional aftersales- technicians.
6. Free delivery from overseas warehouses, providing the fastest and highest quality express service. We will prepare goods for you in advance according to your needs, and there will be no shortage of goods waiting.
Our goal:

The spark of continuous technological innovation and improved product inventions has stood the test of time, and the service provided and customer relationships in place are popular worldwide.
Whatsapp: (+86) 166 8641 0852

Email: sales@obd2direct.com
ADDRESS:
(Changde Innovation and Incubation Industry Park,
Zhangyao Road, Changde High-tech Industrial Development Zone)
Guanxi Town, Dingcheng District, Changde City, Hunan Province,China.