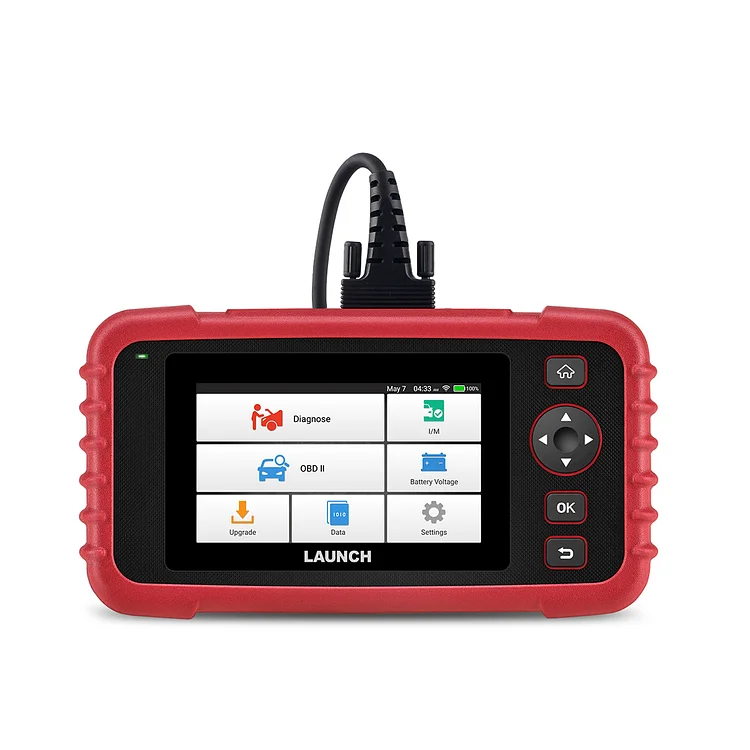 This newly released 2022 version LAUNCH CRP123X diagnostic tool also brings more surprises like One-click Updating, One-tap Operations, Newer Hardware Configuration, Wider Vehicle Compatibility, Lifetime Free Updating, etc.
1. Fixed more bugs and Upgrade car makes up to 2021 models, Updated car software to 2019/2020/2021, including cars, SUVs, minivans, 12v light-duty trucks. Expanded vehicle coverage can grow your customer base.
2. ONE-CLICK Update software obd2 scanner anytime and anywhere !!! No IP limited. Easier to upgrade, one-click update online by connecting wifi.
3. 7.0 Android systems code reader and the running memory of up to 1.1Ghz to avoid the flashback issue of another scanner, run Faster, Smoother, and More Stable.
4. Fixed battery life issue of the 2021 year. Upgrade the battery from 4000mAh to 6100mAh, CRP123X will work for a long time. the battery life on the unit is exceptional.
5. The storage of CRP123X from 8G to 16G memory for more vehicle models program.
6. 5.0-inch touchscreen code reader and 720P resolution deliver outstanding image quality, allowing you to easily analyze problems.
7. Online Maintenance Resources: Operating skills, DTC Help, Automotive Technology Handbook, Repair Case, and How-to Videos.
8. AutoVin tech scan tool, make you identify cars quickly. To shorten the diagnostic time and help you solve the problem accurately, can quickly scan the vehicle identification number.
9. Live data can be recorded/played back in text format or graph format. Playback supports two graphs (independent) or 4 PIDs graphed (combined).
10. With both HD Touch Screen and Keypad Input design, the Launch CRP123X diagnostic tool is more convenient than CRP129/FOXWELL NT604 ELITE/ANCEL FX2000.
11. Support More Vehicle Models ( Update car software to 2019/2020/2021 ): 10000+ Vehicle Coverage; 57+ Car Brands Support including cars, SUVs, minivans, 12v light-duty trucks, gasoline cars, diesel cars, etc.
12. More Stronger and More Resistant to Fall. The anti-slip handle design and anti-fall shell greatly extend the lifetime of the launch scanner.
LAUNCH CRP123X SCAN TOOL is the Best Diagnoses Assistance for:
Technician, advanced DIY, garage, car dealer, used car dealer, auto repair shop, automotive engineer, diagnostic tech, truckman, automobile tech, home mechanic, DIY beginner, automotive student, backyard mechanic, a retired mechanic, weekend DIY, individual.
Regarding the "Mall" menu, we want to make an explanation:
In view of the feedback from many customers that sometimes they need other special functions, such as DPF regen, but they don't want to buy additional equipment. So our LAUNCH engineers updated the CRPAPP and added the Mall menu. Users can purchase the desired Reset function in the Mall menu according to their needs. After the purchase is successful, you can view and use them in the "Reset" menu.
It should be noted that you have to confirm with the seller whether the functions are compatible before purchasing additional functions.
The serial number is not registered:
1. Please try to fix the firmware. Path: Data>>>Firmware Fix.
2. Please provide seller with the serial number to debug.

LAUNCH CRP123X scanner has been selected as 1 of the top 10 favorite diagnostic tools in 2021. LAUNCH team is dedicated to listening to consumers' voices and producing first-rate products & experiences for all. In the past 5 years, this LAUNCH OBD scanner has received hundreds of good reputations. Your satisfaction is the source of power for us to keep moving forward.
2-in-1 Tool

: System diagnostic scanner + OBD2 code reader, perfect choice for technicians and DIYers. Even a beginner can hold on to it.

One-tap Operations

: Include one-click Auto VIN, one-click data printing & sharing, one-click software updating, etc. Saving your time without boring steps.

One-click Updating

: 15 seconds for software upgrades and new model data additions with one click. No extra fee.

One-click Auto VIN

: Quickly identify vehicle information to offer help for your car diagnostics.

4 Systems Diagnostics

: Serve for

 

ABS/SRS/Engine/Transmission

 

systems, read codes, view live data, clear code, and recover vehicle performance.

 

Newer Hardware Configuration: Loaded Android7.0, new chips, 6100mAh battery, and 16GB internal memory, bring your 4 faster diagnostics than others.

Wider Vehicle Compatibility

: Extend more businesses to Passenger Cars, SUVs, 12V Light-duty Trucks, Pickups, etc. American, Asian, European 1996-2022 vehicle models covered.

Code Search, Help, Online Feedback, Real-time Data in Text & Graph, Battery Voltage Monitoring, etc.

 

Each plays an important role in the diagnostic process. Wait for more exploring.
These 4 systems with the highest appealing to customers:
ABS System: The ABS system prevents skidding and allows the drivers to keep steering control, protecting safe driving.
SRS System: The SRS system in good condition can provide a soft cushioning and restraint for the drivers and passengers in a crash, reducing injuries.
Transmission: The transmission system provides the right amount of power and speed to the wheels to make sure the car runs smoothly on the road.
Engine: When the check engine light pops on the car dashboard, there is no doubt that something goes wrong with the car's engine, and then the car's running will be limited and emission-related issues may be affected.


Life-Time Update!
We provide you a life-time update to meet your various needs. You do not have to pay for it. The I.T. department will update and maintain the scanning system occasionally so that the CRP123X OBD2 scanner can compatible with more car models and more scenarios. BTW, the update can be done online!

Package included:
-CRP123X*1
-Carrying Bag*1
- User Manual *1
- OBDII Cable*1
-Charging Cable*1
We love to hear from you,our team is available to help answer questions and offer styling advice, so if there's anything you'd like to ask us, we're right here and ready to help in every way we can.
We're available to support you via
Service Tel: (+86) 16686410852
Whatsapp: (+86) 166 8641 0852

We strive to answer your questions within.12 hours
Customer service chat hours:
Monday - Sunday : 8am - 20pm EST
Now available in English.
Company address:
( Changde Innovation and Incubation Industry Park,
Zhangyao Road, Changde High-tech Industrial Development Zone )
Guanxi Town, Dingcheng District, Changde City, Hunan Province,China



Please kindly note: During peak seasons and promotional sales, our response time might take a little longer. Please use the same email address you used when placing your order when contacting us, and include your order number in your email.
Become a reseller of obd2direct
The more you buy, the lower the price. The more you save.
Join us as our small and medium retail client and help you gain more experience
What is a wholesale program?
Join us, become our wholesale customer, buy more quantity and enjoy great wholesale discount price!
Buy more, save more!
In the sideline business of helping you resell professional car diagnostic tools, but also help you make better use of car diagnostic tools, providing recommendations and the best resale services for workshops around you!
Benefits of becoming an obd2direct wholesale customer:
1. Get the biggest discount price.
2. The latest and most abundant product catalog.
3. Professionals will help you analyze the market according to the sales situation of the market, help you choose the most suitable resale products, and help you obtain the maximum profit.
4. Professional product descriptions, pictures, and professional product introduction DPF documents.
5. One-to-one service from professional aftersales- technicians.
6. Free delivery from overseas warehouses, providing the fastest and highest quality express service. We will prepare goods for you in advance according to your needs, and there will be no shortage of goods waiting.
Our goal:

The spark of continuous technological innovation and improved product inventions has stood the test of time, and the service provided and customer relationships in place are popular worldwide.
Whatsapp: (+86) 166 8641 0852

Email: sales@obd2direct.com
ADDRESS:
(Changde Innovation and Incubation Industry Park,
Zhangyao Road, Changde High-tech Industrial Development Zone)
Guanxi Town, Dingcheng District, Changde City, Hunan Province,China.