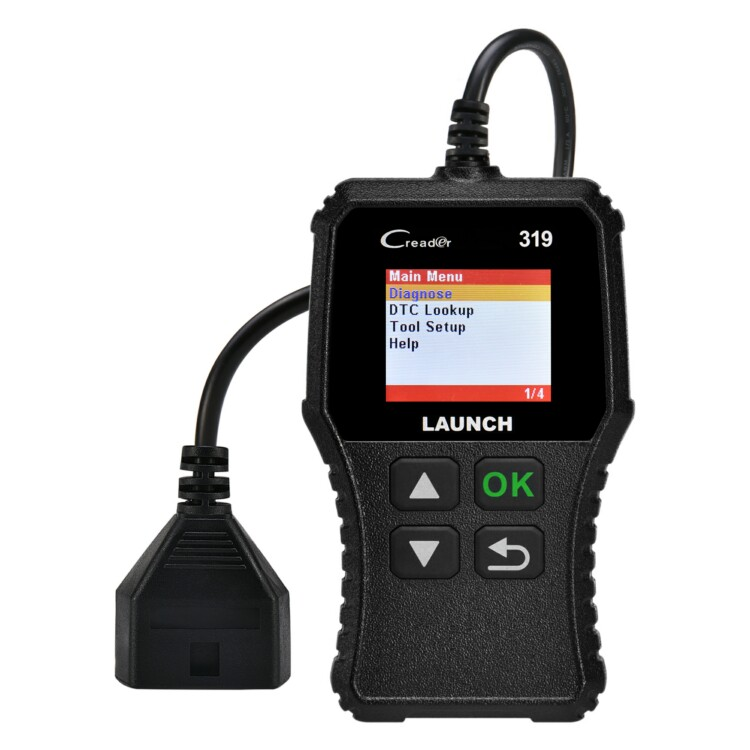 LAUNCH CR319, featuring all modes of OBDII functions, DTC Look up, Plug and Play etc., it is truly the ultimate entry-level choice in ease and affordability, enabling DIY users to verify repairs, road test, check state emission monitor status and solve basic engine and driver ability problems. 
Launch cr319 FEATURES:
[Functional All Modes of OBDII Diagnostics]
This tool works on MOST OBDII/CAN protocol compliant 1996 US-Based, 2000 EU-Based and Asian cars. It can check all engine related trouble codes from Vehicle ECU (Electronic Control Unit) via check engine light, I/M monitor readiness test, view live data, view freeze frame data, read and clear codes etc, which is to say, it gets the complete 10 modes of OBDII test for technicians to diagnose the trouble fast and accurately as follows:
Mode 01: Request current power train diagnostic data.
Mode 02: Request freeze frame information.
Mode 03: Request emissions-related diagnostic trouble codes.
Mode 04: Clear/reset emissions-related diagnostic information.
Mode 05: Request oxygen sensor monitoring test results.
Mode 06: Request on-board monitoring test results for specific monitored systems.
Mode 07: Request emission-related diagnostic trouble codes detected during current or last completed driving cycle.
Mode 08: Request control of on-board system, test or component.
Mode 09: Request vehicle information.
Mode 0A: Request emissions-related diagnostic trouble codes with permanent status after a clear/reset emission-related diagnostic information service.
[Turning off the Check Engine Light]
Malfunction Indicator Light (Service Engine Soon, Check Engine) is a term used for the light on the instrument panel, which is designed for alerting the drivers or the repair technicians that there is a problem with one or more vehicle's systems and those problems may cause emissions to exceed federal standards. 
The main purpose of Launch CR319 is to scan the engine systems, and tell you about the nature of the issue. The result is quite accurate and gives an exact reason why the engine check light is on to help you detect any potential problems and to effectively avoid excessive costs for unnecessary repairs.
However, it falls on the owner to fix the cause of the problem. The warning light does not turn off till you fix the issue. But when the fault has been attended to, Launch CR319 enables you to clear the warning light after completing the full diagnoses with ease.
[For Passing Emission Test Smoothly]
With this scan tool, you don't have to drive around endlessly, continuously coming back to the repair shop for the retest to check if all required tests by the ECU are completed. And you could also do a quick check of the vehicle to determine if it is ready to receive an emission test without the hassle of connecting your vehicle to the analyzer or having to use a complicated scan tool. It allows you to perform:
1.I/M readiness is used to check the readiness of the monitoring system. It is an excellent function to use prior to having a vehicle inspected for compliance to a state emissions program;
2.O2 Sensor Test allows retrieval and viewing of O2 sensor monitor test results for the most recently performed tests from the vehicle's on-board computer.
3.On-Board Monitor allows you to view the results of On-Board Monitor tests. The tests are useful after servicing or after erasing a vehicle's control module memory.
[Quick Get Effective Diagnostic Result]
Your repair work can be facilitated and then accomplished in a short time by using CR319 in the conformity of checking out the live data, freeze frame data, EVAP test and vehicle information as follows:
1.Live Data Stream: displays the real time PID data from ECU. The displayed data include analog inputs and outputs, digital inputs and outputs, and system status information broadcast on the vehicle data stream. This data ranges from system status information to information on value. The live data produced is accurate and tells you exactly what you require to know about your vehicle.
2.Freeze Frame Data: When an emission related fault occurs, the OBD II system not only sets a code but also records a snapshot of the vehicle operating parameters to help identify the problem. This is a special memory area in your car's diagnostic system that will record the precise conditions of the car when a fault code triggers the check engine light.
3Evap Test: This is a specific mode $08 command that tells your car to start a test of the "evaporative emission control system" that prevents fuel from evaporating out of your tank and contributing to smog. Triggering this test won't fix anything by itself, but once you do fix a problem with the fuel system it's nice to be able to manually trigger a test. This way you can verify your fix right away, without waiting a few days (or longer) for your car to run it automatically.
4.Vehicle Information: The option displays the vehicle identification number (VIN), the calibration identification, and the calibration verification number (CVN), and other information of the test vehicle.
[Useful & Practical DTC Lookup Library]
One of the best things about using the Launch CR319 as an engine code reader is that it has a lookup library, which is used to search for definitions of DTCs stored in the build-in DTC library and for DTC Guide information. Every code comes with a description to aid technicians in efficient vehicle diagnostics and repair. This will save you the trouble of having to go online to look for the meaning of a diagnostic trouble code. And you can also simply click on the error code selected so as to get an in-depth definition.
[Vehicle Coverage & Languages Supported]
If you have an OBDII compliant vehicle, then chances are that Launch CR319 can help you diagnose it. This is because the scanner is compatible with most American, European, and Asian models manufactured as from 1996.It supports all OBDII protocols: KWP2000, ISO9141, J1850 VPW, J1850 PWM and CAN (Controller Area Network).
It also supports seven languages that include English, Portuguese, Russian, Italian, Spanish, French, and German. The DIYers needs no effort in trying to get translations in as far as the code meanings and repair formulas are concerned.
[Plug & Play, Not Require Any Battery]
Launch CR319 OBD2 Scanner is "Plug and Play", an independent device, doesn't need to be powered from an external source, because it's using the OBD connector supply voltage pins. You just need to connect the diagnostic cable into the vehicle's DLC socket, and the code reader gets the power directly from the vehicle, which is very easy to use for beginners.
[Other Abundant User-Friendly Features]
The design tends to look strong and nice. In addition, several other enabling features will mean that you will be able to get a more enjoyable feel:
1.Easy-to-use keypad: The reader has four button keypad buttons that make the menu super easy to scroll. CR319 users can operate up and down, press OK or use the enter button pretty easily with a solid and effective touch to his delight.
2.Compact design: The reader has an compact ergonomic design which makes it fit in the palm quite comfortably, especially made for people who don't want bulky devices. So that you can easily pack and carry it to anywhere.
We love to hear from you,our team is available to help answer questions and offer styling advice, so if there's anything you'd like to ask us, we're right here and ready to help in every way we can.
We're available to support you via
Service Tel: (+86) 16686410852
Whatsapp: (+86) 166 8641 0852

We strive to answer your questions within.12 hours
Customer service chat hours:
Monday - Sunday : 8am - 20pm EST
Now available in English.
Company address:
( Changde Innovation and Incubation Industry Park,
Zhangyao Road, Changde High-tech Industrial Development Zone )
Guanxi Town, Dingcheng District, Changde City, Hunan Province,China



Please kindly note: During peak seasons and promotional sales, our response time might take a little longer. Please use the same email address you used when placing your order when contacting us, and include your order number in your email.
Become a reseller of obd2direct
The more you buy, the lower the price. The more you save.
Join us as our small and medium retail client and help you gain more experience
What is a wholesale program?
Join us, become our wholesale customer, buy more quantity and enjoy great wholesale discount price!
Buy more, save more!
In the sideline business of helping you resell professional car diagnostic tools, but also help you make better use of car diagnostic tools, providing recommendations and the best resale services for workshops around you!
Benefits of becoming an obd2direct wholesale customer:
1. Get the biggest discount price.
2. The latest and most abundant product catalog.
3. Professionals will help you analyze the market according to the sales situation of the market, help you choose the most suitable resale products, and help you obtain the maximum profit.
4. Professional product descriptions, pictures, and professional product introduction DPF documents.
5. One-to-one service from professional aftersales- technicians.
6. Free delivery from overseas warehouses, providing the fastest and highest quality express service. We will prepare goods for you in advance according to your needs, and there will be no shortage of goods waiting.
Our goal:

The spark of continuous technological innovation and improved product inventions has stood the test of time, and the service provided and customer relationships in place are popular worldwide.
Whatsapp: (+86) 166 8641 0852

Email: sales@obd2direct.com
ADDRESS:
(Changde Innovation and Incubation Industry Park,
Zhangyao Road, Changde High-tech Industrial Development Zone)
Guanxi Town, Dingcheng District, Changde City, Hunan Province,China.