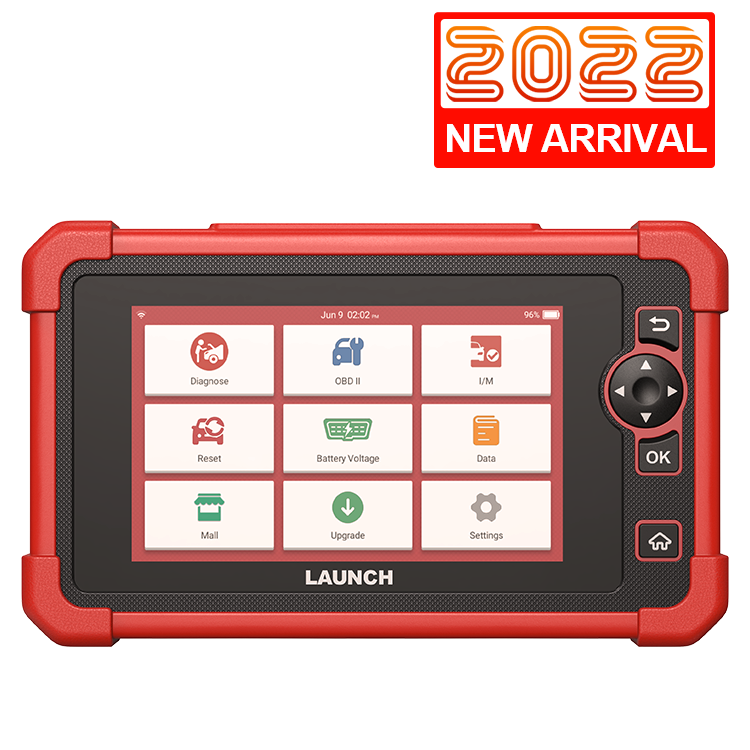 LAUNCH OBD2 Scanner CRP919X: 2022 Bi-directional Scan Tool with 29+ Service Functions, All System Diagnostic Scanner, IMMO, CAN FD/DoIP, 100+ Brands, Upgrade of CRP909X with Level-Up Hardware
📢📢 [2022 Newest 🅻🅰🆄🅽🅲🅷 CRP919X] Specially designed for professionals. Based on the LAUNCH CRP909X, 2022 New released CRP919X diagnostic scanner upgrades all the configurations and makes everything new: ✅29 Repair Functions, ✅Newly added Bi-directional control, ✅Advanced Hardware loads powerful Android 10.0 OS, 3+32 GB extended memory, and lasting 6100mAh battery, ✅New Protocols DoIP&CAN FD, ✅Extended 100+ Brands Worldwide Vehicles and covers 2022 models.
📢📢 [New Feature Bi-directional Control] Good news! The bi-directional control is finally released on CRP919X scan tool! You don't have to struggle to take apart the dashboard or the door just to find the window malfunction. You can utilize this active test to locate all the possible problems in a short time and repair them. Widely applied to injectors/doors/windows/wipers/radiator fans/headlamps/etc. Note: Updating software to get it and send your VIN to check compatibility.
🙌[Spend Less Time to Scan ALL Systems] Launch diagnostic tool scan ALL Control Modules just 1 min and root out problem hidden in PCM, ECM, EPS, PDM, BCM, TPMS Light system, etc. help you troubleshoot the root cause quickly, and clear the fault code.
🙌 [29 Services with LAUNCH CRP919X] As the new model of LAUNCH CRP909X, LAUNCH scanner CRP919X has updated service functions from 26 to 29 and more vehicle data. Including Oil, SAS, EPB, BMS, DPF, ABS, Injector Coding & Power Balance, EGR Reset, and High Voltage Battery Diagnostics, which are enough to solve daily repair business for repair shops. And functions of OBD2 scanner CRP919X vary by model, you'd better check the compatibility first.
🙌 [100+ Brands & DoIP/CAN FD Supported] To break function limitations and language barriers, the newly released LAUNCH CRP919X OBD2 scanner covers 100+ mainstream brands (including 2022 models) and 10 worldwide languages (EN, FR, ES, DE, IT, RU, PT, JP, KR, POL) for you to repair correctly. The application of new protocols DoIP/CAN FD boosts 2x faster vehicle communication between modules. Technicians would never wait for too long to get diagnostic results.
🙌 [5 Years W-arranty & No-Risk Purchase] Choosing LAUNCH CRP919X equals choosing no-risk online shopping. 🚩LAUNCH Original Diagnostic Scan Tool, 🚩5-Year Quality Undertaking, 🚩60-Day Return & Replace, 🚩12-Month Updating (No charge), and 🚩24/7 Post-sales, available for all needs. One-tap WiFi updating is also easy to use. * Tap "Upgrade" on the Job menu- Select certain software to "Updating". Our professional tech instruction team is ready for you for a lifetime.
🙌 [More User-friendly Features] LAUNCH CRP919X provides great convenience for diagnostics: 4-in 1 Live Data displays various data streams in text/graph to get problems quickly be found; WiFi Report Printing no longer needs a PC; Online Feedback allows you report to problems to the LAUNCH team for troubleshooting; For complicated issues, Online Resource offers abundant reference & tips to improve work efficiency such as DTC Library, How-to Videos, Repair Cases, etc.
🙌[IMMO KEYS] LAUNCH car diagnostic scanner CRP919X is cost-effective with a nice price. The scanner automotriz can remotely disable the lost car keys and add new keys ▲*ONLY available for cars equipped with old IMMO antitheft systems.
LAUNCH CRP919X Diagnostic Scan Tool Be Your Ideal Choice
To acquire more profitable businesses is to construct a higher-level diagnostic scanner with wider vehicle compatibility & quicker diagnostics for all users or customers. Now the LAUNCH scan tool CRP919X could do it. It loads super Android10.0 OS & 3+32GB memory, which can run faster vehicle diagnostics than ever.
Optimized combination of LAUNCH Creader VII/ CRP123/ CRP123X/ CRP129/ CRP129X/ CRP129E/ CRP Touch pro elite/ CRP909E/ CR909X, LAUNCH CRP919X builds on their strengths and acts on its unique features: Superior hardware configuration, Added repair functions, Bi-directional control (Active test), 20000+ worldwide models, New Protocols DoIP & CAN FD, etc., making all disadvantages perish and achieving itself an essential entry-level diagnostic tablet for beginners, technicians, repair workshops, and advanced DIYers.
Reasons for Choosing LAUNCH CRP919X:
29 Repair Functions
Bi-directional Control (Active Test)
DoIP & CAN FD Compatible
1996-2022 Vehicle Coverage
Updated Hardware Configuration
OE-Level All System Diagnostics
Auto VIN Scan
One-click WiFi Updating
Full 10 OBD Modes
Abundant Online Repair Database
29+ Reset Functions for 99% of Common Repair and Maintenance
Have you ever been bothered by these troubles?
The reset functions of your diagnostic scanners are not enough.
Limited vehicle compatibility of your automotive scan tools cannot recruit more business
Don't feel bad! LAUNCH CRP919X OBD2 scanner can drive your trouble away. This entry-level diagnostic tablet provides 29+ maintenance functions for worldwide 1996-2022 vehicles (over 100 brands compatible), which can perfectly solve common repair needs in your workshops. And the CRP909X car scanner will also bring more compatible vehicle brands and features via constant updating later.
✔️3 Newly Added Functions Than CRP909X: EGR Reset / Power Balance / High Voltage Battery Diagnostic
✔️5 Hot Repair Functions:
Oil Reset (for 53 brands): Reset the oil life system and turn off the oil light to start a new cycle.
TPMS Reset (for 36 brands): Reset tire pressure and turn off the TPMS light after replacement.
EPB Reset (for 41 brands): Maintain the electronic braking system safely and effectively by deactivating and activating the brake control system, setting brakes after disc or pad replacement, etc.
BMS Reset (for 31 brands): Re-match the battery control module and motoring sensor.
Throttle Matching (for 37 brands): Cycle the motorized throttle body through various states (idle, part throttle, WOT) to relearn their positions.
✔️More Maintenance Functions: SAS Reset, Gearbox Reset, DPF Regeneration, Gear Learning, IMMO, Injector Coding, Suspension, Sunroof, Headlamp, A/F Reset, AC System Relearn, AdBlue Reset, Coolant Bleeding, Lang Change, NOx Sensor Reset, Seat, Stop/Start Reset, Transport Mode, Tyre Reset, Windows Calibration, etc.
*Menu varies by vehicle's make, model, and year.
Outstanding New Feature--Bi-directional Control (Active Test)
LAUNCH constantly optimizes and raises its diagnostic level & functions on all the diagnostic scan tools. Now the 2022 upgraded version of LAUNCH CRP919X scan tool is released.--It is based on the CRP123X/ CRP129X/ CRP909X and could meet various repair needs for technicians, repair workshops, and advanced DIYers.
The newly added "Bi-directional Control" is practical for finding out what's wrong with a car. The CRP919X bi-directional scan tool can actuate solenoids and actuators for active test and send commands to systems/components to test their working status, without using the vehicle controls or tearing the vehicle into parts. For examples:
Injector Buzz Test
Fuel Pump & Valve Tests
Acceleration Device Test
A/C Compressor Activation
Switch Cylinder Correction On/Off
Turn the Radiator Fan On/Off
Modulate Throttle On/Off
Widely applied to Windows, Doors, Sunroof, Headlamps, etc
* Note: PLs update the software to get this function and send us the VIN for check compatibility firstly. It's is not universal to all vehicles
OE-level All Systems Diagnostic for Accurate DTC Detection
LAUNCH CRP919X automotive scanner can access all available systems to perform OE-level all systems diagnostics on Engine, AT, ABS, SRS, TPMS, BCM, Network, Steering, EPB, Chassis, etc. This car diagnostic scan tool roots out the hidden problems under the hood and saves diagnostic time and reduces the diagnostic fee. The complete systems vary from different cars.
Retrieve ECU Information - display unit type, version numbers, and more specifications.
Read Codes - show you detailed code definition and useful information for diagnostics
Clear Codes - erase the faulty codes after repairing and turn off the check engine light.
View the Live Data - provide live data and parameters from the vehicle's ECU to help you quickly find potential problems in the vehicle.
Note: Specific systems vary by model, make, year, etc. You can check function compatibility by messaging our post-sales team.
Advanced Auto VIN Identification
Instead of manually inputting VIN codes one by one for reading vehicle information, this CRP919X diagnostic scanner is equipped with advanced Auto VIN functions allowing you to start VIN scanning on the car's ECU with one click and in this case, you can directly access vehicle diagnostic screen to complete the diagnostic work.
CAN FD & DoIP New Communication Protocols: Same as the X431 Series
2022 LAUNCH CRP919X car scanner introduces new protocols CAN FD & DoIP into vehicle communication and diagnostics, which optimizes the communication with the vehicles of today and of the future. The LAUNCH CRP919X OBD scan tool with a large number of model data could alone handle almost 90% of mainstream model maintenance (1996-2022).
CAN FD
CAN with flexible data rate (CAN FD) overcomes the limitations of the classical CAN bus in terms of data transfer rate. In practice, the data throughput of CAN FD is 6x higher than classical CAN, depending on the network topology. Compatible with GM models (2021 and later).
DoIP
With Diagnostics over DoIP, diagnostics introduced over UDS are used over TCP/IP and Ethernet. This enables much higher data rates than with CAN. That makes LAUNCH CRP909X save both in terms of time and expenses in the case of complex diagnostic tasks and flash applications. Compatible with BMW (F&G chassis), Volvo models (2018 later), Land Rover & Jaguar models (2017 later).
Worldwide Coverage: Work on 100+ brands and 20000+ models.
[America]: Compatible with Chevrolet, Buick, Cadillac, Chrysler, Dodge, Ford, GMC, etc.
[Asia]: Compatible with Infiniti, Acura, Kia, Lexus, Hyundai, Subaru, Daewoo, Daihatsu, Mitsubishi, Honda, Mazda, Suzuki, Toyota, etc.
[Europe]: Compatible with BMW, Benz, Audi, Porsche, Abarth, Alfa Romeo, Bugatti, Citroen, Dacia, Volvo, VW, Land Rover, Opel, Peugeot, Renault, Fiat, Jaguar, Lancia, Mini, Saab, Seat, Skoda, Smart, Sprinter, Vauxhall, etc.
Global Languages: English, French, Spanish, German, Italian, Russian, Portuguese, Japanese, Korean, and Polish.
Full 10 OBD Modes

Working as an OBD2 code reader, LAUNCH CRP919X provides complete OBD2 functions including Read/Clear Codes, O2 Sensor Test, etc. as well as DTC lookup, which enables you to know what's wrong with the car and find available solutions accurately. This OBD2 function makes you smoothly pass the inspection and avoid high fines.

One-click WiFi Updating

What makes this LAUNCH CRP919X outperform other scanners in the aftermarket? The One-click Auto-Updating can be nominated. We offer 1-year no-charge updating via a WiFi connection to extend diagnostic vehicle coverage and fix the potential software bugs. No updating will not affect normal use.

Super-fast Android 10.0 OS

Paired with Android 10.0OS, LAUNCH OBD2 Scanner CRP919X keeps your diagnostic data private with more control. So you can decide how and when data on your device is shared. And in Android 10 OS, you'll get regular security updating, faster application response for quick diagnostics, smooth network speed signals, and high frame rate refreshing.
We love to hear from you,our team is available to help answer questions and offer styling advice, so if there's anything you'd like to ask us, we're right here and ready to help in every way we can.
We're available to support you via
Service Tel: (+86) 16686410852
Whatsapp: (+86) 166 8641 0852

We strive to answer your questions within.12 hours
Customer service chat hours:
Monday - Sunday : 8am - 20pm EST
Now available in English.
Company address:
( Changde Innovation and Incubation Industry Park,
Zhangyao Road, Changde High-tech Industrial Development Zone )
Guanxi Town, Dingcheng District, Changde City, Hunan Province,China



Please kindly note: During peak seasons and promotional sales, our response time might take a little longer. Please use the same email address you used when placing your order when contacting us, and include your order number in your email.
Become a reseller of obd2direct
The more you buy, the lower the price. The more you save.
Join us as our small and medium retail client and help you gain more experience
What is a wholesale program?
Join us, become our wholesale customer, buy more quantity and enjoy great wholesale discount price!
Buy more, save more!
In the sideline business of helping you resell professional car diagnostic tools, but also help you make better use of car diagnostic tools, providing recommendations and the best resale services for workshops around you!
Benefits of becoming an obd2direct wholesale customer:
1. Get the biggest discount price.
2. The latest and most abundant product catalog.
3. Professionals will help you analyze the market according to the sales situation of the market, help you choose the most suitable resale products, and help you obtain the maximum profit.
4. Professional product descriptions, pictures, and professional product introduction DPF documents.
5. One-to-one service from professional aftersales- technicians.
6. Free delivery from overseas warehouses, providing the fastest and highest quality express service. We will prepare goods for you in advance according to your needs, and there will be no shortage of goods waiting.
Our goal:

The spark of continuous technological innovation and improved product inventions has stood the test of time, and the service provided and customer relationships in place are popular worldwide.
Whatsapp: (+86) 166 8641 0852

Email: sales@obd2direct.com
ADDRESS:
(Changde Innovation and Incubation Industry Park,
Zhangyao Road, Changde High-tech Industrial Development Zone)
Guanxi Town, Dingcheng District, Changde City, Hunan Province,China.