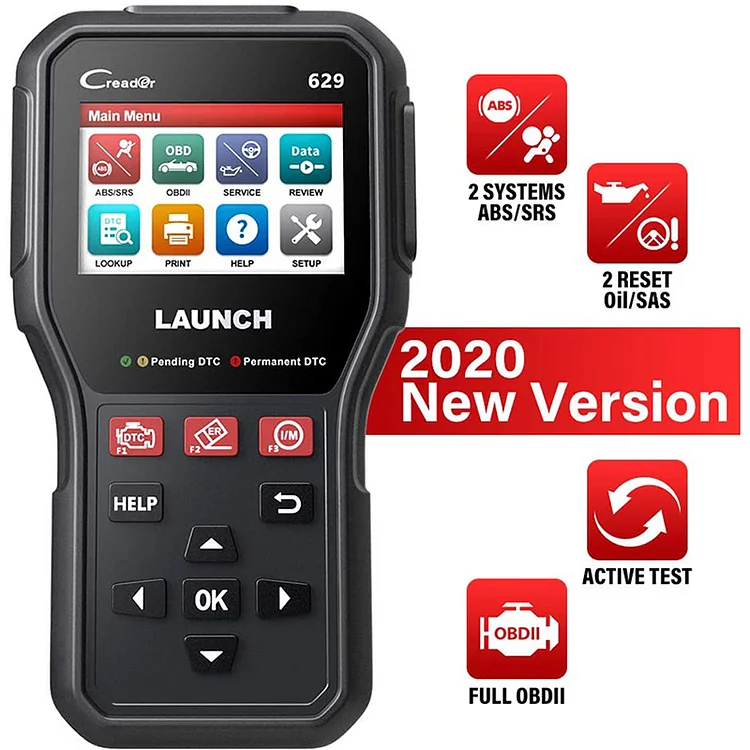 Launch CR629
is an Enhanced OBD2 scanner designed for Engine, ABS, and SRS monitoring. You can troubleshoot emission-related issues via the full obd2 functions. Built with top-level Actives tests and ABS & SRS diagnoses, this scanner monitors the running condition of ABS and SRS, to better keep your car in peak performance. If you want an easy-to-use and feature-rich car scanner, LAUNCH CR629 equipped with a 3.5-in display is the first tool you need to have.
Launch CR629 Features and Benefits:
1. Support full modes of OBDII test. for most 1996 and newer vehicles(OBDII & CAN)
2. Support ABS/SRS system diagnostics: Read & Clear DTCs,Data Steams Display,Actuation Test(Bi-directional Control)
3. Support two maintenance services: Oil Reset,SAS Reset,BMS Reset
4. Support printing out the diagnostic reports via PC
5. Advanced DTC Query and HELP
6. Shortcuts of Read & Clear DTCs,I/M Test and HELP
7. Green,Yellow,Red LED for different DTC status
8. 3.5-inch bright and sharp color screen
9. Lifetime free software update
10. Multilingual Menu:English,French,Spanish,German,Italian,Russian,Portuguese and Japanese
11. Car model coverage more than 41 brands
Why Choose Launch CR629?
This diagnostic tool is specially designed to figure out not only the engine emission-related problems, but also the faults of two most commonly systems in cars, the ABS ‒ "Anti-lock Braking System" and SRS ‒ "Supplemental Restraint System".
Precisely Locate Potential ABS/SRS Faults
What's the difference between our CR629 and other ABS/SRS diagnostic tools? They are limited to Read DTCs, Clear DTCs and Live Data functions, while LAUNCH CR629 supports not only those but also advanced Version Information and Active Tests, to fullycheck Anti-lock Braking System and Supplemental Restraint System.
Active Tests
Bidirectional Control-Save Diagnostic Time – Active Tests
Getting Down to Diagnosis
Read Version InformationRead / Clear DTCs
Read Live Data
How Does CR629 Help You Save Money & Time?
With the full OBD2 function, this OBD2 scanner enables car owners, DIYers, and mechanics to figure out cars' issues, turn off the Check Engine Light and pass the Smog Test successfully.
Locate Emission Problems
– Full Obd2 functions are significant for figuring out what the root cause is. The diagnostic information is comprehensive, reliable, accurate, and valuable for reference.
Turn off the Check Engine Light
Reading / Erasing Codes finds out the problem and clear the code.
Freeze Frame allows vehicle to snapshot data once a code is stored.
Data Stream offers merges graphs for easy and intuitive diagnosis.
Vehicle Info reads the vehicle's VIN, CIN, and CVN to save time.
Pass the Smog Test
O2 Sensor Test troubleshoots O2 sensors to improve fuel efficiency.
I/M Readiness checks if the car is ready for a smog test to avoid being fined.
On-Board Monitor Test reads the results of on-board diagnostic monitoring tests.
EVAP System Test commands the vehicle's on-board computer to start the leak test.
Launch CR629 Multilingual Support:
English, French, German, Spanish, Portuguese, Russian, Japanese, and Italian.
Launch CR629 Car Coverage:Europe:
Audi, Benz, BMW, Citroen, Dacia, Fiat, Jaguar, Land Rover, Mini, Opel, Peugeot, Porsche, Renault, Saab, Seat, Skoda, Smart, Sprinter, Volvo, VW, Europe Ford, Alfa Romeo, Vauxhall.
Asia:
Acura, Daewoo, Honda, Hyundai, Infiniti, JP Isuzu, Kia, Mazda, Mitsubishi, Nissan, Subaru, Suzuki, Toyota.
America:
Chrysler, GM, USA Ford.
Australia:
Holden, Australia Ford.
Launch CR629
Update & Warranty:
Lifetime Free Update, 1 Year Warranty
Launch CR629 Specifications:

Display: LCD 3.5-Inch, 320*480
Operating Voltage: 9~18V
Storage Temperature: -20℃~70℃(-4℉~158℉)
Working Temperature: -10℃~50℃(14℉~122℉)
Dimension: 215*114.1*34.5 mm(8.46*4.49*1.36 inch)
Length: 1185 mm (46.65 inch)
Net Weight: 535g (18.87oz)
Launch CR629 Package Lists:

1* CR629 Code Reader
1* Quick Start Guide
1* User Manual
We love to hear from you,our team is available to help answer questions and offer styling advice, so if there's anything you'd like to ask us, we're right here and ready to help in every way we can.
We're available to support you via
Service Tel: (+86) 16686410852
Whatsapp: (+86) 166 8641 0852

We strive to answer your questions within.12 hours
Customer service chat hours:
Monday - Sunday : 8am - 20pm EST
Now available in English.
Company address:
( Changde Innovation and Incubation Industry Park,
Zhangyao Road, Changde High-tech Industrial Development Zone )
Guanxi Town, Dingcheng District, Changde City, Hunan Province,China



Please kindly note: During peak seasons and promotional sales, our response time might take a little longer. Please use the same email address you used when placing your order when contacting us, and include your order number in your email.
Become a reseller of obd2direct
The more you buy, the lower the price. The more you save.
Join us as our small and medium retail client and help you gain more experience
What is a wholesale program?
Join us, become our wholesale customer, buy more quantity and enjoy great wholesale discount price!
Buy more, save more!
In the sideline business of helping you resell professional car diagnostic tools, but also help you make better use of car diagnostic tools, providing recommendations and the best resale services for workshops around you!
Benefits of becoming an obd2direct wholesale customer:
1. Get the biggest discount price.
2. The latest and most abundant product catalog.
3. Professionals will help you analyze the market according to the sales situation of the market, help you choose the most suitable resale products, and help you obtain the maximum profit.
4. Professional product descriptions, pictures, and professional product introduction DPF documents.
5. One-to-one service from professional aftersales- technicians.
6. Free delivery from overseas warehouses, providing the fastest and highest quality express service. We will prepare goods for you in advance according to your needs, and there will be no shortage of goods waiting.
Our goal:

The spark of continuous technological innovation and improved product inventions has stood the test of time, and the service provided and customer relationships in place are popular worldwide.
Whatsapp: (+86) 166 8641 0852

Email: sales@obd2direct.com
ADDRESS:
(Changde Innovation and Incubation Industry Park,
Zhangyao Road, Changde High-tech Industrial Development Zone)
Guanxi Town, Dingcheng District, Changde City, Hunan Province,China.