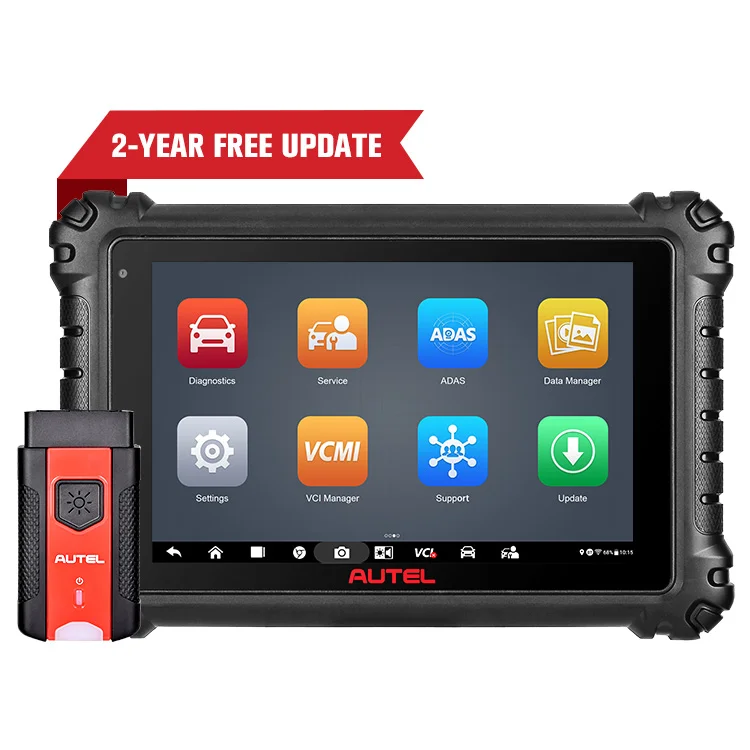 Autel Scanner MaxiSYS MS906 Pro is 2022 full systemdiagnostic tool Updated of MS906BT/MK906BT/MS906TS/MS908 ,Same ECU Coding as MK908P, MS908S, Elite, Active Test, 33+ Services,Bi-Directional,All-System Diagnostics, Top-end Configuration OBD2 & OBD1 Scan Tool. is  a perfect choice for repair workshop/Mechanics/Car DIYers.
Why it is called MS906 "Pro"? What makes MS906 Pro diagnostic tool a perfect choice for repair workshop/Mechanics/Car DIYers ?
First, as 2022 Newer Model of Autel MS906 / MS906S / MS906BT/ MK906BT/ MS906TS, automotive diagnostic scan tool MS906 Pro greatly enhanced its Hardware, almost the same configuration as Autel MaxiSys Ultra (Worth 4999 USD). Most Powerful Hardware:
✔ Android 7.0;
✔ 8-Core Processor, Super Fast Processing Speed;
✔ 4G RAM /128 ROM, Enough Memory for you;
✔ 11600mAh battery For 8 hours of continuous operation;
✔ 16M & 5M Dual Camera for ultra clear and detailed testing results;
And more...
Second, 2022 MS906 Pro comes with incorporates All features of All Autel products, such as:
✔ Same Advanced ECU Coding & Adaptation as MK908P, MS908S, Elite, MS909, MS919; ✔ Personalization Setting; ✔ Flash Hidden Features
✔ Bi-directional Control; ✔ OE-Level All system diagnostics; ✔ 33+ Services & Initialization & Adaptation & Calibration, etc.
Third, 2022 newly added hot functions:
Support D-PDU / RP1210 / DoIP / CAN FD Protocol;

Guided Function; Battery Tests with BT506; WiFi Printing; Autel Report Management;

 

Remote Expert Service;
33+ Maintenance Functions to Meet All Your Needs
When repairing/maintaining vehicles, there are 2 problems often faced by large/mid-sized auto repair shops:
1)The functions of their diagnostic tools are NOT enough.
2)Their diagnostic tools CANNOT fully cover all the vehicles in the repair shop.
Take it easy. Autel MaxiSys MS906 Pro can save you from these two troublesome situations. Based on the principle that an OBD2 diagnostic scanner can meet all the needs of a repair shop, this Autel flagship diagnostic tool provides 31+ maintenance functions to cover almost all vehicle problems in the repair shop. With Autel MS906 Pro, you don't need to keep buying different diagnostic tools to obtain more functions and cover different cars. Meantime, it can also be updated constantly for more models and functions.
5 Most Commonly Used Maintenance Functions:
Oil Reset (support 61 brands): reset the oil life system after oil or oil filter replacements; compatible with VAG, Benz, BMW, GM, etc.

EPB (support 45 brands): reset the brake pad after replacing the brake pad, servo motors, etc.; compatible with VAG, Benz, BMW, GM, etc.

TPMS (support 49 brands): reset the tire pressure and turn off the tire pressure fault indicator; compatible with Toyota, Chrysler, VAG, Benz, etc.

BMS (support 45 brands): reset the battery after replacing battery or battery monitoring sensors; compatible with VAG, Benz, BMW, etc.

ABS Bleeding (support 44 brands): bleed the brake system when the ABS contains air; compatible with GM, Ford, Honda, etc.
More Hot & Advanced Maintenance Functions for Fast Maintenance:
Airbag Reset, DPF Reg., IMMO Service, Injector Coding, SAS Calibration, Suspension Calibration, Throttle Adaption, ABS/SRS, Gear Learning, Sunroof Initialization, Seats Calibration, Language Change, Headlight Matching, A/F Setting, WIN DR Roof, Odometer, CHG Tire Size, Cylinder, Turbocharging, Limit, Trans Adaption, Power Balance, Component Matching, etc.

Note: Constantly Updating for More & Vary Depending on the Make, Model, and Year.
Advanced ECU Coding & Adapdation
Autel MS906 Pro diagnostic tool can perform many advanced features that previously only available on dealership tool, such as refresh hidden functions, disable the annoying functions, enhance vehicle performance, customize OE-settings, reprograms the adaptive data for certain components after repairs or replacements, customized configurations for high-end models and so on to enhance fuel efficiency and ensure safe driving
Refresh hidden functions: stimulate hidden functions like Auto Park function, tilting rear-view mirrors, one-button lift window, start and stop memory, cancel power-on rule statement, display digital speed, residual temperature control, adjust turn signal flashing times, single door opening function, automatic window closing function for VW, BMW, Seat, Porsche, Renault, etc.
Customize Configurations: After component replacement and configuration change, the relevant vehicle system can re-recognize the new driver.

Customize Individual Customization

:

 

Set up functions only available in high-end vehicles, such as adaptive cruise holding system, vehicle positioning, remote start and air conditioning, etc.

Online ECU Coding:

 

Compatible with Volkswagen, BMW, Seat, Porsche, etc. Obtain the online data from the server and no need to match ECU manually; Code your car fast and easily via Internet to solve your car's problems; Restore the vehicle functional status after replacing the on-board modules

ECU Module Replacement:

 

Compatible with Asian cars like Honda, Nissan, Toyota, Hyundai, Kia, etc. Introduce the new ECU module replacement to the car system and make the cars running smoothly
Bi-Directional Control (Active Test) : Pinpoint Car Problems in Minutes !
As 2022 newest upgraded version of MP808 / MK808 / MS906 / MS906S / MS906BT, Autel MS906 Pro is able to perform Bi-directional Control (Active test) to control various sub-systems or components to perform active tests (also known as component tests) like turn fuel pump on/off, cycling the A/C Clutch on/off, EVAP test, windows, doors, sunroofs, wipers, to determine the integrity, monitor the operations to check whether they are functioning properly or not and quickly locate the fault causes, which can not be achieved on these old models.
Note:
The active test function is car-specific and not all cars support all the above mentioned component test.
All System Diagnosis Same as MaxiSys Elite/MS908/ MK908/ MK908P
Autel MS906 Pro has greatly improved from MS906/MK906BT/MS906BT/MS906TS, now it has the same ability in terms of all system diagnosis and have gone through thousands of test on various of car models.
Out test results shows that it has a much wider compatibility and can even support some of latest car models in 2021, able to access all electrical systems like ABS, SRS, TPMS, Engine, IC, Transmission, BCM, Chassis, Steering, Airbags, Air Conditioning, IMMO, Air Suspension, Air Suspension, Cruise Control etc. , able to scan all vehicle systems to

 

read/ clear codes, view live data, freeze data frame, turn off the light

 

to resolve vehicle issues.
Its all system diagnosis ability is equal to

 

Same as MaxiSys Elite/MS908/ MK908/ MK908P.
Note: Functions are not universally compatible, please send car make, year, model, VIN# and functions you need to us to check vehicle compatibility.
Extensive Coverage (10000+ Models)
This Autel OBD1 OBD2 diagnostic scanner supports 99% of cars worldwide, almost fully covering all the cars in repair shops.
Support 10000+ models worldwide from 1996-2022;

Cover American, European, and Asian makes and models;

Compatible with both OBD2 & OBD1 compliant vehicles

Being updated for more models and the latest models
Key Fob Programming
Autel obd2 scanner MS906 Pro can support simple IMMO services for most Asian and American low anti-theft vehicles, for example, program a k~ey, add a new ke-y, disable lost key, etc.
IMMO Keys
This OBD2 diagnostic scanner can disable the lost vehicle keys, add new keys, and program the replacement key fob. Note: The IMMO keys function is available for vehicles that come with low-grade anti-theft systems, not intended for the vehicles with advanced IMMO systems.
Remote Expert (Coming Soon)
Developed by Autel, Remote Expert of this Autel smart diagnostic scanner is a cloud-based solution offering connections to experienced experts for your remote programming needs.
Easily contact a trusted expert directly from your MaxiSYS tools, such as MS906 Pro, MS909, MS919, MaxiSys Ultra, etc.

Communicate to the experts through integrated instant messaging and voice;

Monitor vehicle vitals while programming.
We love to hear from you,our team is available to help answer questions and offer styling advice, so if there's anything you'd like to ask us, we're right here and ready to help in every way we can.
We're available to support you via
Service Tel: (+86) 16686410852
Whatsapp: (+86) 166 8641 0852

We strive to answer your questions within.12 hours
Customer service chat hours:
Monday - Sunday : 8am - 20pm EST
Now available in English.
Company address:
( Changde Innovation and Incubation Industry Park,
Zhangyao Road, Changde High-tech Industrial Development Zone )
Guanxi Town, Dingcheng District, Changde City, Hunan Province,China



Please kindly note: During peak seasons and promotional sales, our response time might take a little longer. Please use the same email address you used when placing your order when contacting us, and include your order number in your email.
Become a reseller of obd2direct
The more you buy, the lower the price. The more you save.
Join us as our small and medium retail client and help you gain more experience
What is a wholesale program?
Join us, become our wholesale customer, buy more quantity and enjoy great wholesale discount price!
Buy more, save more!
In the sideline business of helping you resell professional car diagnostic tools, but also help you make better use of car diagnostic tools, providing recommendations and the best resale services for workshops around you!
Benefits of becoming an obd2direct wholesale customer:
1. Get the biggest discount price.
2. The latest and most abundant product catalog.
3. Professionals will help you analyze the market according to the sales situation of the market, help you choose the most suitable resale products, and help you obtain the maximum profit.
4. Professional product descriptions, pictures, and professional product introduction DPF documents.
5. One-to-one service from professional aftersales- technicians.
6. Free delivery from overseas warehouses, providing the fastest and highest quality express service. We will prepare goods for you in advance according to your needs, and there will be no shortage of goods waiting.
Our goal:

The spark of continuous technological innovation and improved product inventions has stood the test of time, and the service provided and customer relationships in place are popular worldwide.
Whatsapp: (+86) 166 8641 0852

Email: sales@obd2direct.com
ADDRESS:
(Changde Innovation and Incubation Industry Park,
Zhangyao Road, Changde High-tech Industrial Development Zone)
Guanxi Town, Dingcheng District, Changde City, Hunan Province,China.