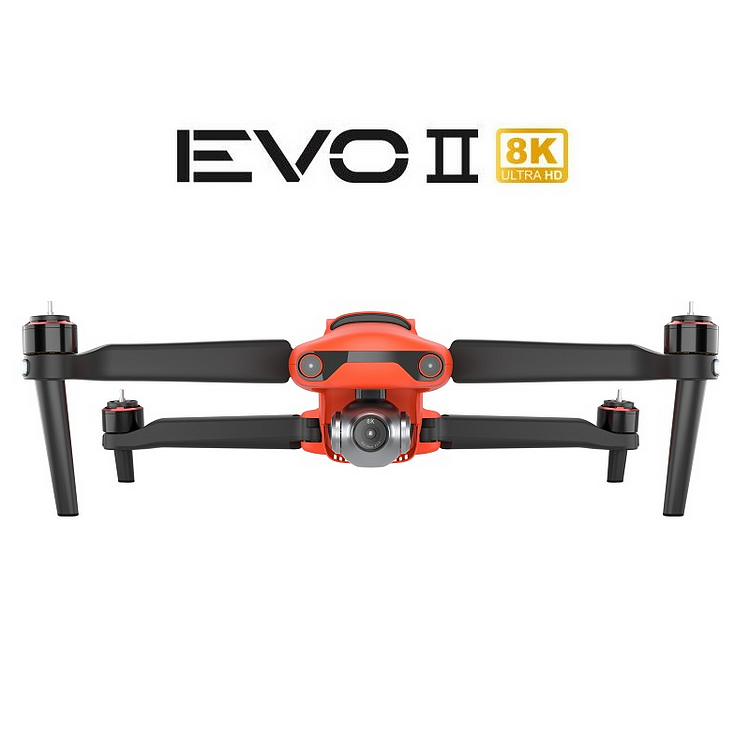 Autel EVO II
EVO 2 Drone is the only 8K folding drone on the planet. Capture content at resolutions up to a massive 8000 x 6000. This resolution gives users the flexibility to print images over 100 inches wide. Grab incredible screenshots, punch-in, scale or display on massive monitors up close. Lossless in-camera zoom up to 4x. With 8k there are no limitations.
Why Choose Autel EVO 2?
1. Super Battery Life
Autel EVO 2 comes standard with a 7100mAh rechargeable battery. Providing up to 40min of flight time in forward motion and 35min at a hover. EVO II also uses our patented Battlock system to guard against battery ejection in high-speed maneuvers or hard landings.
2. 360° Obstacle Avoidance
EVO 2's front, rear, left, right, top, and bottom binocular vision sensing systems use image data to calculate the distance between the aircraft and potential obstacles. Begin detecting potential hazards at up to 30m away and let EVO II accurately control the speed of the drone to avoid a collision.
3. 9KM Extended Range
EVO 2 can control your drone up to 9km away. Not all users will ever need to travel this far. But a longer range, also means a stronger signal, keeping you connected in crowded urban environments and thick forests.
4. AI Enhanced Dynamic Track
EVO 2 smart tracking uses deep learning algorithms to automatically track the seleced subject while avoiding obstacles during flight. The function ca track the subject in tree modes: behind, side-by-side, pr fixed position.
5. Cameras interchangeable
Autel EVO II series drone is one aircraft with three camera options. All cameras for Evo II can be purchased separately and are interchangeable!
6. Variety of shooting modes
EVO 2 Series, all three camera modules support a variety of shooting modes, including: Single-shot; Burst shooting; Auto exposure bracketing (AEB); Time-lapse; High-dynamic-range (HDR) imaging; NIGHTBEAT (high signal-to-noise ratio)
7. Displaying live on any device
A high-definition live feed from the EVO 2 drone camera can be displayed on your remote control's screen or connect with Autel Live Deck to displayed on any device including computer, tv, phone, etc. Of course, Images and videos can be stored in the aircraft's onboard memory or on a micro SD card.
8. Adjustable angle from 0° to 90° while flying
EVO II Drone contains a high-precision 3-axis gimbal that keeps the camera steady while the aircraft is flying, ensuring image stability and clarity. Also, You can use the remote control's gimbal pitch dial to adjust the pitch axis to any angle from 0° to 90° at any time.
9. Auto go home & Accurate Landing
EVO 2 will return home automatically when Low Aircraft Battery Level and Communication Lost. Additionally, EVO 2's bottom binocular vision camera to create a density depth map. Then, it calculates the depth map's flatness and angles to ensure an accurate and safe landing.
10. View Point
Viewpoint allows the user to send the aircraft to a selected destination by touching a point on the screen. Featured with the same waypoints function as EVO to program autonomous flight routes. EVO 2 can even save multiple waypoint missions making it easy for surveying.
Autel EVO 2 Specifications:
Autel EVO 2 Standard Bundle:
1x Aircraft, Battery and Gimbal Holder
1x Remote Control
1x Charger
1x Remote Control Cable - Type B
6x Propellers (3 pairs)
2x USB Connection Cable (Micro Type B & Type C)
1x Packing List
1x Quick Guide
1x Disclaimer & Safty Instructions
1x Battery Safe Use Guide
We love to hear from you,our team is available to help answer questions and offer styling advice, so if there's anything you'd like to ask us, we're right here and ready to help in every way we can.
We're available to support you via
Service Tel: (+86) 16686410852
Whatsapp: (+86) 166 8641 0852

We strive to answer your questions within.12 hours
Customer service chat hours:
Monday - Sunday : 8am - 20pm EST
Now available in English.
Company address:
( Changde Innovation and Incubation Industry Park,
Zhangyao Road, Changde High-tech Industrial Development Zone )
Guanxi Town, Dingcheng District, Changde City, Hunan Province,China



Please kindly note: During peak seasons and promotional sales, our response time might take a little longer. Please use the same email address you used when placing your order when contacting us, and include your order number in your email.
Become a reseller of obd2direct
The more you buy, the lower the price. The more you save.
Join us as our small and medium retail client and help you gain more experience
What is a wholesale program?
Join us, become our wholesale customer, buy more quantity and enjoy great wholesale discount price!
Buy more, save more!
In the sideline business of helping you resell professional car diagnostic tools, but also help you make better use of car diagnostic tools, providing recommendations and the best resale services for workshops around you!
Benefits of becoming an obd2direct wholesale customer:
1. Get the biggest discount price.
2. The latest and most abundant product catalog.
3. Professionals will help you analyze the market according to the sales situation of the market, help you choose the most suitable resale products, and help you obtain the maximum profit.
4. Professional product descriptions, pictures, and professional product introduction DPF documents.
5. One-to-one service from professional aftersales- technicians.
6. Free delivery from overseas warehouses, providing the fastest and highest quality express service. We will prepare goods for you in advance according to your needs, and there will be no shortage of goods waiting.
Our goal:

The spark of continuous technological innovation and improved product inventions has stood the test of time, and the service provided and customer relationships in place are popular worldwide.
Whatsapp: (+86) 166 8641 0852

Email: sales@obd2direct.com
ADDRESS:
(Changde Innovation and Incubation Industry Park,
Zhangyao Road, Changde High-tech Industrial Development Zone)
Guanxi Town, Dingcheng District, Changde City, Hunan Province,China.