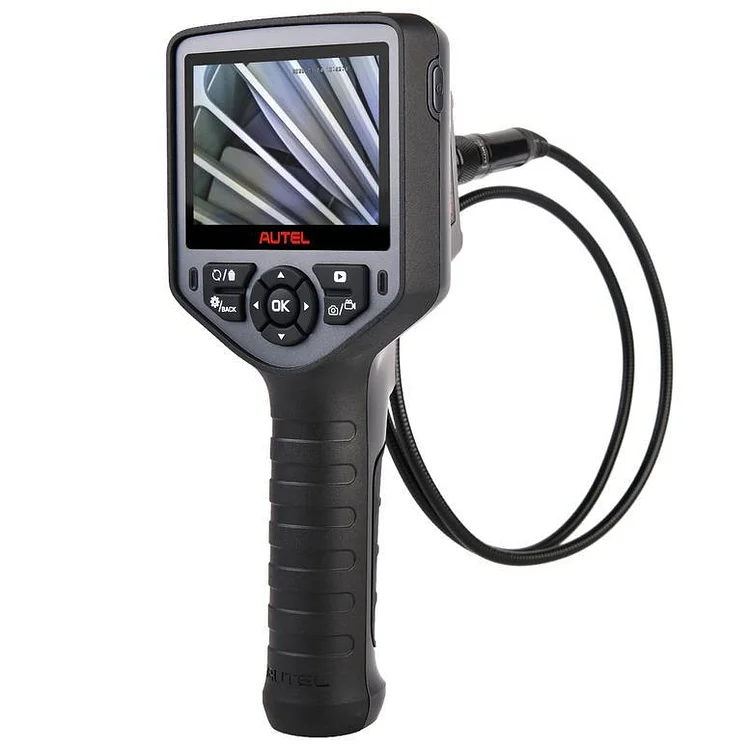 About Autel MaxiVideo MV460
2MP HD 1080P & 3.5 FULL COLOR SCREEN: Autel MV460 Industrial Endoscope comes with 2 Megapixels camera capable of recording 1080P(1920*1080) HD video or viewing live inspection image on the 640 X 480 full color HD screen. With HMDI 1.4 cable included, it supports video HD video output to inspect on bigger screens. No phone, App or wifi connection needed! MV460 comes with 12 Months Seller Warranty. If any questions, please contact sales@obd2direct.com directly.
ONE BUTTON PHOTO/VIDEO RECORDING: Autel MV460 borescope comes with one button taking photo and video recording design. With handheld design, its easy to operate with one hand. With 2600 mAh built-in battery, it provides up to 5 hours working time. With 8GB Micro SD card included and 128G expandable, no need to worry about not enough memory space for HD freeze frame stills or videos.
10 LEVEL ADJUSTABLE LEDS: The MV460 waterproof inspection camera comes with 6 LEDs that are 10 level adjustable. With 10,000 lux, the light can be set as dim to daylight bright at a single touch of a button for clear image/video inspection.
360ROTATION & 7 X ZOOM FOR EASY INSPECTION: MV460 professional handheld endoscope comes with on-screen horizontal and vertical image reverse for the best viewing angle. And you can zoom the image up to 7X for close inspection.
PROFESSIONAL INSPECTION EXPERIENCE: MV460 comes with 39.4 semi-rigid flexible IP67 waterproof cable with 8mm camera head. You get professional inspection experience with wider 70field of view, closest inspection range of 20-30 mm and magnet, mirror and hook attachment heads for various inspection scenarios like engine repair, air condition repair, drain, house inspection and etc. If any question, please feel free to contact us via sales@obd2direct.com.
Autel MaxiVideo MV460
The MaxiVideo MV460, the next generation of digital videoscope, is ideal for inspecting difficult-to-reach areas with its semi-rigid flexible cable and 10-level adjustable LED light. It features a 1920 x 1080 high resolution camera, a 3.5-inch 640 x 480 full color LCD display, an 8.5mm camera probe, and a built-in 2600mAh battery with up to 4 hours of continuous use. This multipurpose videoscope is an economical solution to inspect machinery, facilities, and infrastructure in the safest, quickest and most cost-effective manner possible.
Autel MaxiVideo MV460 Features:
High resolution images and videos (1920 x 1080)
3.5-inch full color LCD display (640 x 480)
1-button quick image capture and video recording
70-degree field of view for expanded viewing angle
Micro HDMI-output enables streaming to larger monitors
Freeze-frame camera stills or video recording
On-screen horizontal/vertical reverse
Records and plays back images and video clips
7X digital zoom for increased viewing
8GB Micro SD card (included), supports up to 128GB
Mini-USB cable (included) for uploading images and videos
More than 10,000 lux, adjustable 10-level LED illumination
Built-in, rechargeable 2,600 mAh battery for 4 hours of continuous use
1m (39.4") semi-rigid, flexible watertight cable
Includes magnet, hook, and mirror cable accessories
8.5mm (0.33) probe fits most spark plug holes
Compatible with 5.5mm (0.22) camera head (not included)

Autel MaxiVideo MV460 Specification:
Optimal Viewing Distance
0.79" to 2" (2 cm to 5 cm)
Image Capture
JPG images (1920 x 1080 pixels)
MP4 videos (1920 x 1080 pixels)
Display
3.5" TFT LCD
Display Resolution
640 x 480 pixels
Power Supply
Built-in rechargeable lithium-ion battery pack (3.7V/2600 mAh)
Tested Battery Life
Approximately 4 hours of continuous use
Dimensions
235 x 97 x 125mm (9.3" x 3.8" x 4.9" )
Weight

0.393kg (0.87lbs)

Recording Medium
Micro SD card (8GB Standard/128GB Max)
Image Controls
Zoom, low light vision
Lighting
Fully adjustable LED
Cable Reach
1m (39.4")
Imager Head
8.5mm (0.33"), 2 megapixel (1920 x 1080 pixels)
Waterproof
To a depth of 1m (39.4") (Imager heads and cable only)
Additional Ports
TF, Mini USB, Micro HDMI
Operating Temp
Main unit: 14F to 122F (-10C to 50C);
Cable: 14F to 140F (-10C to 60C)
Storage Temp
-4F to 158F (-20C to 70C)
Operating Humidity
5% - 95% non-condensing
Autel MV460 Package List:
1x Maxivideo MV460 main unit
1x User Manual
1x Imager head and cable (8.5mm)
1x Protective carrying case
1x Micro SD card
1x Mini USB Cable
1x Charger
1x Magnet
1x Hook
1x Mirror
We love to hear from you,our team is available to help answer questions and offer styling advice, so if there's anything you'd like to ask us, we're right here and ready to help in every way we can.
We're available to support you via
Service Tel: (+86) 16686410852
Whatsapp: (+86) 166 8641 0852

We strive to answer your questions within.12 hours
Customer service chat hours:
Monday - Sunday : 8am - 20pm EST
Now available in English.
Company address:
( Changde Innovation and Incubation Industry Park,
Zhangyao Road, Changde High-tech Industrial Development Zone )
Guanxi Town, Dingcheng District, Changde City, Hunan Province,China



Please kindly note: During peak seasons and promotional sales, our response time might take a little longer. Please use the same email address you used when placing your order when contacting us, and include your order number in your email.
Become a reseller of obd2direct
The more you buy, the lower the price. The more you save.
Join us as our small and medium retail client and help you gain more experience
What is a wholesale program?
Join us, become our wholesale customer, buy more quantity and enjoy great wholesale discount price!
Buy more, save more!
In the sideline business of helping you resell professional car diagnostic tools, but also help you make better use of car diagnostic tools, providing recommendations and the best resale services for workshops around you!
Benefits of becoming an obd2direct wholesale customer:
1. Get the biggest discount price.
2. The latest and most abundant product catalog.
3. Professionals will help you analyze the market according to the sales situation of the market, help you choose the most suitable resale products, and help you obtain the maximum profit.
4. Professional product descriptions, pictures, and professional product introduction DPF documents.
5. One-to-one service from professional aftersales- technicians.
6. Free delivery from overseas warehouses, providing the fastest and highest quality express service. We will prepare goods for you in advance according to your needs, and there will be no shortage of goods waiting.
Our goal:

The spark of continuous technological innovation and improved product inventions has stood the test of time, and the service provided and customer relationships in place are popular worldwide.
Whatsapp: (+86) 166 8641 0852

Email: sales@obd2direct.com
ADDRESS:
(Changde Innovation and Incubation Industry Park,
Zhangyao Road, Changde High-tech Industrial Development Zone)
Guanxi Town, Dingcheng District, Changde City, Hunan Province,China.