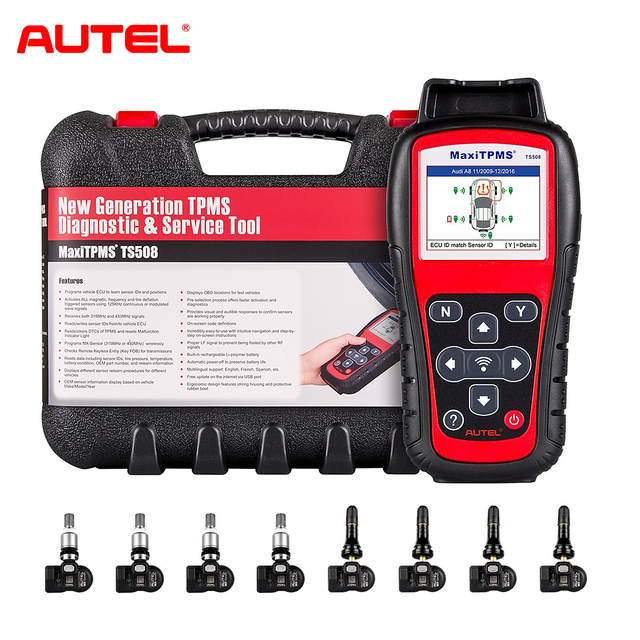 Autel MaxiTPMS TS508K is a new generation complete TPM tool that receives 315MHz and 433MHz signals, with 8% sensors for winter and four season tire replacements.
AUTEL MAXITPMS TS508K
Autel TS508K ( TS508 + 4PCS 315MHz Sensors (metal stem) + 4PCS 433MHz Sensors (rubber stem) ) is a new generation complete TPMS tool that offers the option to choose one of two service modes from the home screen, to provide faster and smarter TPMS repairs.Based on the TPMS service type needed, the option to choose the basic Quick Mode or the complete Advanced Mode will decrease repair time.
WHY BUY AUTEL MAXITPMS TS508K ?
1. 100% Orginal, we are Autel Authorized Dealer;
2. Free Lifetime updates online;
3. US/CA Free Shipping!
4. Comes with 4pcs 315MHz tpms sensors and 4pcs 433MHz tpms sensors
5. Supports Multi-language: English, Spanish, French, Dutch, German, Swedish, Polish, Korean, Japanese, Italian
One Year Warranty
AUTEL MAXITPMS TS508K FEATURES:
1. Vehicle Specific Database (Domestic, Asian and European)
2. Auto Selection of Frequency for Fast Scanning
3. Two TPMS Service Modes to Use: Quick Mode for Fast Installs designed for tire / wheel shops; Advanced Mode To diagnose, repair and replace TPMS for repair shops
4. TPMS Status Screens for Easy Diagnosis
5. Shows ID matching in color
6. Low Sensor Battery Indicator
7. Code Notification
8. Information C relearn procedures at the touch of help button
9. Batch Programming C Program multiple sensors with one touch (up to 16 12. sensors at a time). Programs vehicle ECU to learn sensor IDs and positions
10. Activates ALL magnetic, frequency and tire deflation triggered sensors using 125Khz continuous or modulated waive signals
11. Receives both 315MHz and 433MHz signals
12. Reads / writes sensor IDs from vehicle ECU
13. Reads / clears DTCs of TPMS and resets Malfunction Indicator Light
14. Programs Autel MX-Sensors 315MHz or 433MHz wirelessly
15. Checks Remote Keyless Entry (Key FOB) for transmissions
16. Reads Data including sensor IDs, tire pressure, temperature, battery condition.
17. OEM Part number and relearn information
18. Displays different sensor relearn procedures for different OEM sensors. OEM sensor information display based on vehicle Make/Model/Year
19. Displays OBD locations for test vehicles
20. Pre-selection process offers faster activation and diagnostics
21. Provides visual and audible responses to confirm sensors are working properly
22. On-screen code definitions
23. Incredibly easy-to-use with intuitive navigation and step-by-step on-screen instructions
24. Proper LF signal to prevent being fooled by other RF signals
25. Built-in rechargeable 3.7 v Li-polymer battery
26. Automatic power-off to preserve battery life
27. Ergonomic design features strong housing and protective rubber boot
28. TFT Color Display (320 X 240 dpi)
29. 8.0 LED Capacitive touchscreen with 1024 X 766P resolution
AUTEL TS508K WITH 315MHZ & 433MHZ MX-SENSORS
TS508K comes with 8pcs Autel MX-sensors, 98% vehicle coverage with only 2 SKU types.
Facing the growing OE sensor SKU numbers, AUTEL help to greatly reduce tire dealers and mechanic shops inventory to only 2 SKU types, 315 MHz sensor and 433 MHz sensor, to replace 98% of OE sensors in the market. MX-Sensors are built to perform like O.E sensor, in terms of signal interval, durability & functionality.
HOW DOES TS508K WORK?

We love to hear from you,our team is available to help answer questions and offer styling advice, so if there's anything you'd like to ask us, we're right here and ready to help in every way we can.
We're available to support you via
Service Tel: (+86) 16686410852
Whatsapp: (+86) 166 8641 0852

We strive to answer your questions within.12 hours
Customer service chat hours:
Monday - Sunday : 8am - 20pm EST
Now available in English.
Company address:
( Changde Innovation and Incubation Industry Park,
Zhangyao Road, Changde High-tech Industrial Development Zone )
Guanxi Town, Dingcheng District, Changde City, Hunan Province,China



Please kindly note: During peak seasons and promotional sales, our response time might take a little longer. Please use the same email address you used when placing your order when contacting us, and include your order number in your email.
Become a reseller of obd2direct
The more you buy, the lower the price. The more you save.
Join us as our small and medium retail client and help you gain more experience
What is a wholesale program?
Join us, become our wholesale customer, buy more quantity and enjoy great wholesale discount price!
Buy more, save more!
In the sideline business of helping you resell professional car diagnostic tools, but also help you make better use of car diagnostic tools, providing recommendations and the best resale services for workshops around you!
Benefits of becoming an obd2direct wholesale customer:
1. Get the biggest discount price.
2. The latest and most abundant product catalog.
3. Professionals will help you analyze the market according to the sales situation of the market, help you choose the most suitable resale products, and help you obtain the maximum profit.
4. Professional product descriptions, pictures, and professional product introduction DPF documents.
5. One-to-one service from professional aftersales- technicians.
6. Free delivery from overseas warehouses, providing the fastest and highest quality express service. We will prepare goods for you in advance according to your needs, and there will be no shortage of goods waiting.
Our goal:

The spark of continuous technological innovation and improved product inventions has stood the test of time, and the service provided and customer relationships in place are popular worldwide.
Whatsapp: (+86) 166 8641 0852

Email: sales@obd2direct.com
ADDRESS:
(Changde Innovation and Incubation Industry Park,
Zhangyao Road, Changde High-tech Industrial Development Zone)
Guanxi Town, Dingcheng District, Changde City, Hunan Province,China.