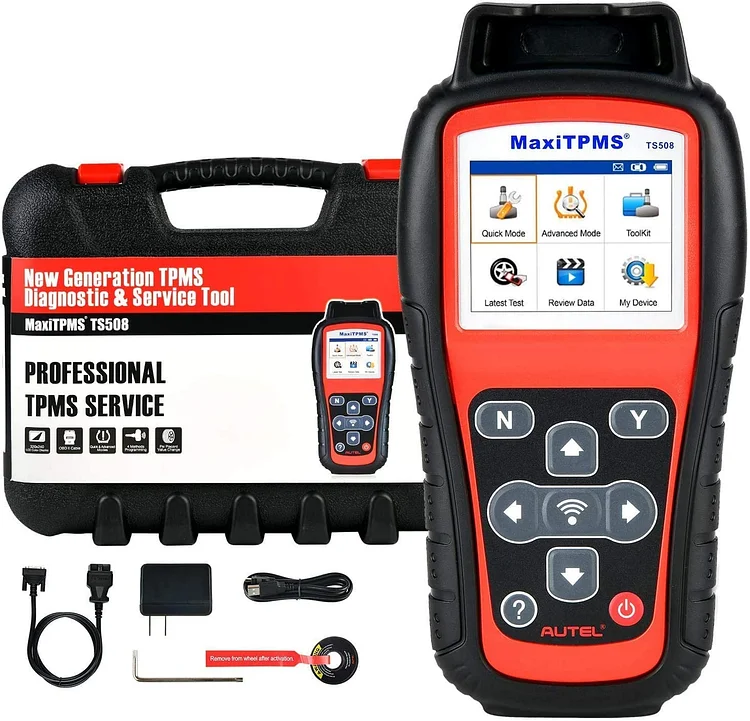 Autel MaxiTPMS TS508 TPMS Relearn Tool 2021 Newest Free Update, 4 Modes to Program MX-Sersors (315/433MHz), Upgraded Version of TS501/TS408 Quick/Advanced Mode, Activate/Relearn All Brand Sensors
2022 New Version, Beat TS408/TS601Autel TS508, the upgraded version of TS501/TS408/TS401, meets all your needs with all-around powerful functions including TPMS relearn, programming, activation, rest and TPMS-related OBD2 functions. Comparing with counterparts, our TS508 is capable to diagnose the newest models and updates in an amazing pace which allows you to enjoy more functions. Any questions, feel free to contact us (sales@obd2direct.com) or Q/A.
Sensor RelearningAlmost every TPMS sensor must be relearned" to the vehicle after replacement, whether its genuine OE or aftermarket. TPMS relearn tool TS508 quickly relearns the sensors to the vehicle with as much as 3 ways, which are Stationary Relearn, Automatic Relearn, and OBD Relearn. Comparing with TS408, TS508 can directly write the sensor IDs to the ECU via OBD Relearn.
Sensor ProgrammingAutel TS508 makes it possible to have the sensor programmed at your fingertips rather than turn to the dealer. TPMS programming tool TS508 provides all 4 ways to program Autel MX-Sensors: Copy by OBD, Copy by Activation, Copy by Manual Input, and Auto Create 1-16 Sensors. All these are easy to do and time-saving. Note: TS508 can program Autel MX-Sensors only. (For any product problems requiring technical support and solutions, please contact: sales@obd2direct.com )
Quick Mode/Advanced Mode for Sensor ActivatingWith Autel TPMS tool TS508, you can wirelessly activate all OEM/Universal TPMS sensors on the market, helping you easily get sensor data like sensor ID, tire pressure, tire temperature, sensor battery, sensor position, frequency, etc. Choose the right vehicle make, model and year, sensor activation is a Flasha for you.
Long-life Time Software Updates + Life-long Time Tech SupportTS508 can update software online all the time. Please send VIN to sales@obd2direct.com for checking compatibility. This TS508 sold by OBDPRICE will comes with Life-long Time Tech Support.
We love to hear from you,our team is available to help answer questions and offer styling advice, so if there's anything you'd like to ask us, we're right here and ready to help in every way we can.
We're available to support you via
Service Tel: (+86) 16686410852
Whatsapp: (+86) 166 8641 0852

We strive to answer your questions within.12 hours
Customer service chat hours:
Monday - Sunday : 8am - 20pm EST
Now available in English.
Company address:
( Changde Innovation and Incubation Industry Park,
Zhangyao Road, Changde High-tech Industrial Development Zone )
Guanxi Town, Dingcheng District, Changde City, Hunan Province,China



Please kindly note: During peak seasons and promotional sales, our response time might take a little longer. Please use the same email address you used when placing your order when contacting us, and include your order number in your email.
Become a reseller of obd2direct
The more you buy, the lower the price. The more you save.
Join us as our small and medium retail client and help you gain more experience
What is a wholesale program?
Join us, become our wholesale customer, buy more quantity and enjoy great wholesale discount price!
Buy more, save more!
In the sideline business of helping you resell professional car diagnostic tools, but also help you make better use of car diagnostic tools, providing recommendations and the best resale services for workshops around you!
Benefits of becoming an obd2direct wholesale customer:
1. Get the biggest discount price.
2. The latest and most abundant product catalog.
3. Professionals will help you analyze the market according to the sales situation of the market, help you choose the most suitable resale products, and help you obtain the maximum profit.
4. Professional product descriptions, pictures, and professional product introduction DPF documents.
5. One-to-one service from professional aftersales- technicians.
6. Free delivery from overseas warehouses, providing the fastest and highest quality express service. We will prepare goods for you in advance according to your needs, and there will be no shortage of goods waiting.
Our goal:

The spark of continuous technological innovation and improved product inventions has stood the test of time, and the service provided and customer relationships in place are popular worldwide.
Whatsapp: (+86) 166 8641 0852

Email: sales@obd2direct.com
ADDRESS:
(Changde Innovation and Incubation Industry Park,
Zhangyao Road, Changde High-tech Industrial Development Zone)
Guanxi Town, Dingcheng District, Changde City, Hunan Province,China.