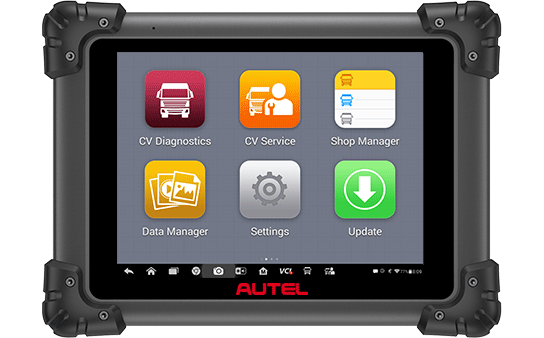 Autel Maxisys MS908CV Heavy Duty
Diagnostic Scan Tool with J-2534 ECU Programming,Bluetooth/WiFi Enabled & Wireless Connection
The Maxisys 908CV for Commercial Vehicles, Professional Heavy Duty Scanner with 25+23 Service Functions, J-2534 Programming, Full-system Diagnostics, Same as Maxisys Elite, MK908P
Autel MS908CV - Maxisys CV : AS the new addition to the MaxiSys line of highly advanced smart diagnostic tool, MaxiSys MS908CV is built on the powerful MaxiSys 908 platform to provide a comprehensive disgnostic solution for almost all commercial vehicles are same as the machines made in North America, Europe and Asia. With extreme ease of use and powerful diagnostic performance, MaxiSys MS908CV is an evolutionary smart solution for independent repair shops, owner-operators and various sized fleets looking for specialized automotive diagnosis.
Burst Point of Autel Maxisys MS908CV
:
2021 Scanner for Heavy-Duty Vehicles: Here we present you the Autel Maxisys MS908CVa high-end diagnostic tool tailored for commercial vehicles such as semi-trucks, light-duty trucks, buses, construction vehicles, agricultural vehicles and supports 80+ brands. The official updates can always keep the scan tool up with the trends so as to meet the needs of workshops and pro mechs. As an official authorized Autel scanner, stick to the old rules, 365 days QA and 24/7 technical support.
25 Special Functions + 23 Adaptation Functions: Get the right tool, get the things done. In total weve packed 25 service functions such as Oil Reset, SAS Rest, ABS Reset, for normal passenger cars and 23 adaption functions such as O2 Sensor Calibration, DPF Regeneration, Fuel Pressure Adaptation, for commercial vehicles. And those functions work perfectly for the 99% of commercial vehicles in the U.S. market for instance Freightliner, Kenworth, Peterbilt, International, Volvo, etc.
ECU Coding & J2534: Heavy-duty scanner MaxiSys CV empowers you to match modules with components, flash the hidden functions, and customize the OE-settings and its compatible with light-duty trucks and semi-trucks such as: Ford F-series, RAM Trucks, Scania, Mercedes, Iveco, etc. The J2534 ECU programming will no longer be a problem once you have the MS908CV in your hands. It acts as a pass-thru device and help you pass-thru the gateway to access the data for coding.
Full-System Diagnostic: To help you root out the problems hidden underneath the hood, Autel diagnostic scan tool MS908CV can conduct a full-system diagnostic and present you with the full details about DTCs. Here are some on-board system it can dive into, such as Engine, AT, ABS, SRS, IMMO, air conditioning system, steering angle system, air suspension system, etc. Once the diagnostic is complete, you can access further details from waveform data stream or the health status report.
Active Test & Relearning: Autel Scanner MaxiSys CV is a bridge for you to mutual communicate with on-board modules and conduct active tests to track down the problems. Cylinder deactivation test, on-board electronic components test, cylinder compression test, all of those complex tests can be done with Autel MS908CV. And also the MS908CV can read the injectors QR code and match them with ECU once the replacement is done. There is still a lot more waiting for you to find out.
We love to hear from you,our team is available to help answer questions and offer styling advice, so if there's anything you'd like to ask us, we're right here and ready to help in every way we can.
We're available to support you via
Service Tel: (+86) 16686410852
Whatsapp: (+86) 166 8641 0852

We strive to answer your questions within.12 hours
Customer service chat hours:
Monday - Sunday : 8am - 20pm EST
Now available in English.
Company address:
( Changde Innovation and Incubation Industry Park,
Zhangyao Road, Changde High-tech Industrial Development Zone )
Guanxi Town, Dingcheng District, Changde City, Hunan Province,China



Please kindly note: During peak seasons and promotional sales, our response time might take a little longer. Please use the same email address you used when placing your order when contacting us, and include your order number in your email.
Become a reseller of obd2direct
The more you buy, the lower the price. The more you save.
Join us as our small and medium retail client and help you gain more experience
What is a wholesale program?
Join us, become our wholesale customer, buy more quantity and enjoy great wholesale discount price!
Buy more, save more!
In the sideline business of helping you resell professional car diagnostic tools, but also help you make better use of car diagnostic tools, providing recommendations and the best resale services for workshops around you!
Benefits of becoming an obd2direct wholesale customer:
1. Get the biggest discount price.
2. The latest and most abundant product catalog.
3. Professionals will help you analyze the market according to the sales situation of the market, help you choose the most suitable resale products, and help you obtain the maximum profit.
4. Professional product descriptions, pictures, and professional product introduction DPF documents.
5. One-to-one service from professional aftersales- technicians.
6. Free delivery from overseas warehouses, providing the fastest and highest quality express service. We will prepare goods for you in advance according to your needs, and there will be no shortage of goods waiting.
Our goal:

The spark of continuous technological innovation and improved product inventions has stood the test of time, and the service provided and customer relationships in place are popular worldwide.
Whatsapp: (+86) 166 8641 0852

Email: sales@obd2direct.com
ADDRESS:
(Changde Innovation and Incubation Industry Park,
Zhangyao Road, Changde High-tech Industrial Development Zone)
Guanxi Town, Dingcheng District, Changde City, Hunan Province,China.