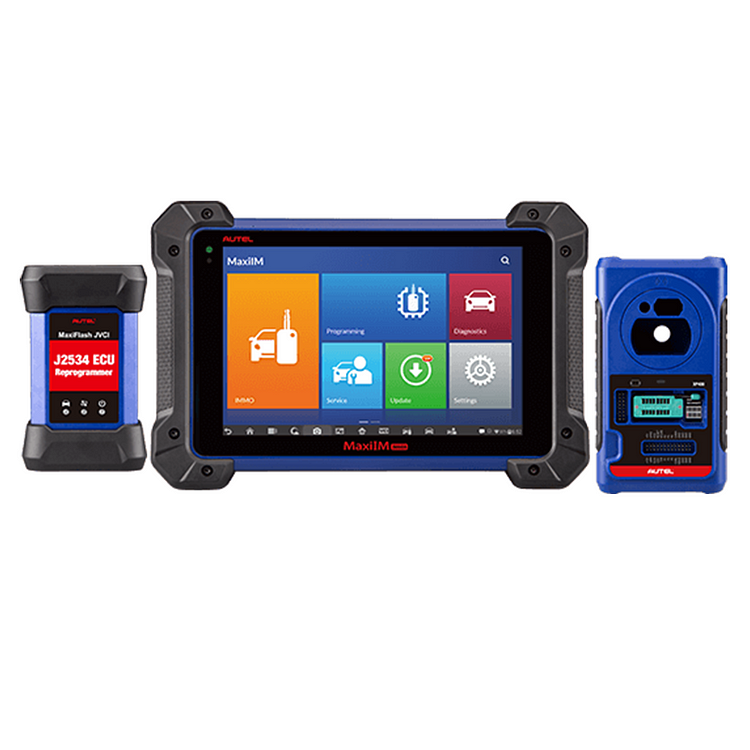 Autel MaxiIM IM608 Pro with IMMO XP400 Pro 2022 Newest [with Gbox2 & APB112] Key Programming Tool J2534 Reprogrammer, 30+ Services Functions All Systems Diagnosis (US ONLY)
Burst Point of Autel MaxiIM IM608Pro:
2022 Ultimate Key Programming Tool with Advanced IMMO Function: IM608 Pro is the most advanced and smart key programming tool that combines the most powerful IMMO key programming functions. IM608 Pro is the most stable technology for key programming on current market. IM608 Pro performs all system diagnosis at the same time. Any qustion please contact Our support: sales@obd2direct.com
XP400 Pro Key Programmer & GBOX2 & APB112: XP400 Pro is advanced All-in-One Key Programmer, it performs EEPROM-data functions needed for European vehicles. Supports Data Read/Write of 3,000 Plus Types. XP400 Pro will read PIN, key learning remote learning, key generation, IMMO ECU reset/adaptation/refresh/coding, IMMO data backup. The Smart Mode for guided and automated key learning, and the Expert Mode for advanced key learning.
ECU Coding & Bi-Directional Control: IM608 Pro can perform advanced ECU Coding such as MK908/MK908P. Bi-directional control (Active Test) to request information or command a actuator to perform specific tests, such as turning the fuel pump on and off, cycling the a/c clutch on and off, performing an evaporative emissions leak test, fast troubleshooting your car, not simply by reading codes.
OE-Level Full Diagnostics & 30+ Services: IM608 Pro can perform 30+ servicet functions: Oil Reset, Engine/ABS/SRS/SAS/DPF, BMS Reset, Brake Reset, Key Fob Coding, fully meeting your needs.The Auto Scan function performs a comprehensive scanning over all the ECUs in the vehicle to locate systems faults and retrieve DTCs. IM608 Pro performs powerful OE level diagnostics for more than 80 US, Asian and European makes and models.
Free 1 Year Update, Data/Report Record & Print, Free Technical Support: You will never walk/work alone. We would be honored if we could have you come on board. Alone with 1-year free update, 1-year warranty, and lifetime technical support, IM608 pro will be your great key programming scan tool you've ever had. Our support:sales@obd2direct.com
Autel MaxiIM IM608 Pro
The IM608 PROKPA is a comprehensive key and immobilizer programming package of the MaxiIM IM608 Pro 10.1-inch Android touchscreen tablet, XP400Pro key and chip programmer, the wireless JVCI J2534 pass thru programming device and the Key Programming Adapter kit.
The IM608 Pro key programming tool enables key learning directly through the OBDII port for 85 percent of vehicles in North America. The tablet can read the immobilizer pins and password directly from the vehicle and store this information to use later when learning the newly programmed keys to the vehicle.
The IM608 Pro is also an advanced diagnostics tablet featuring AutoVIN and AutoSCAN technology to automatically identify the vehicle and perform an all systems scan. The advanced diagnostics functions of the IM608 Pro include the ability to perform active test, coding and adaptations.
Autel IM608 Pro Main Features
IMMO & Key Programming Bundle
MaxiIM IM608 Pro 10.1-inch Android Touchscreen Tablet
Program IMMO & Keys for U.S., Asian and European Vehicles
XP400Pro Key and Chip Programmer
JVCI Wireless J2534 Pass Thru Programming Device
Includes IMKPA Key Programming Adapter Kit
AUTEL IM608 PRO Functions Supported:
1. IMMO Functions
Auto Detect Make/Model/Year/System
Read PIN (All Key Lost)
Key Learning
IMMO ECU Reset/Adaption
IMMO ECU Refresh/Coding
Remote Learning
AUDI Q5/A4/A5 2015-2017 Key Learning
VW MQB Key Learning
BMW FEM/BDC Key Learning and Adaption
BMW CAS4 Key Learning and Adaption
Mercedes Key Learning
2015-2018 Land Rover & Jaguar write key via dump
Volvo Smart Key Learning/knob-style smart key
Advanced Programming Functions
EEPROM Read/Write
MCU Read/Write
Key Programming
Mercedes Key Read/Write
Remote Frequency Detect
OE-Level Diagnostics
2. All System Diagnostics & Advanced Service Functions (Work with the MaxiFlash JVCI (J2534 ECU Reprogrammer)
Oil Service Reset
Parking Brake Pad Relearn After Replacement
Steering Angle Sensor Relearn
Battery Registration and Reset
Diesel Particulate Filter Regeneration
Tire Pressure Monitoring System
Active Test
ECU Coding
VW/Audi Component Protection
Complete Service Functions
XP400 Pro adds support for following Chips:
EEPROM-->AMD-->AM29FXXX series chip
EEPROM--> FUJITSU-->MB29FXXX series chip
EEPROM-->ST-->M29FXXX series chip
Engine control module-->ST-->M29FXXX series chip
IMMO-->BENZ-->ESL_W209_W906 (Motorola) read/write/erase function
IMMO-->BMW-->EWS3 module read/write function
REMOTE_RENEW(renew key)-->NEC-->V51 and V5 chip read/write/erase
XP400 Pro adds support for following Adapter Board:
APB113 PCF79XX adapter board
APB114 EWS3 adapter board
APB115 NEC Adapter board
APB118 NEC ELV adapter board
APB119 TB28FXXX adapter board
APB120 TMS370 adapter board
APB121 AM29FXXX adapter board
APB122 AM29FXXX adapter board 1
APB123 AM29FXXX adapter board 2
APB126 M35080/D80 adapter board
APB127 MC68HC0(7)05BXX adapter board
APB128 MC68HC05X32 adapter board
Advanced Key Programming Functions
Exclusive Smart Mode to guide Key Programming
Auto Read IMMO Data via OBD
One-tap Key Programming via OBD & Easy-to-use Remote Programming
With the newly upgraded key programmer XP400 Pro
Extensive Vehicle & Functionality Coverage
Support Diagnostics & IMMO Programming for 10,000+ Models;
Support Models Up to 2020;
All System Diagnostics and Advanced Maintenance Services;
Benz -- 3rd Generation IMMO CAN-Line / K-Line Add Key, All Key Lost via OBD;
BMW -- Support EWS3/4; CAS 1/2/3/4, FEM/BDC Add Key / All Key Lost;
Volkswagen / Audi -- Add Key / All Key Lost via OBD for 2013 - 2020 Models;
GM -- Read IMMO Password, Add Key / All Key Lost up to 2020;
Ford -- Add Key / All Key Lost (No PIN Needed) up to 2020;
Mazda -- Add Key / All Key Lost (No PIN Needed) up to 2020;
FCA -- Read IMMO Password, Add Key / All Key Lost up to 2020;
Renault -- Add Key / All Key Lost (No PIN Needed) up to 2020
Jaguar LandRover -- Add Key / All Key Lost up to 2019
Volvo -- Semi-smart Key Learning via OBD up to 2018; Smart / Blade / Fobik Key Learning via Dump
Autel IM608 Pro Packing List:
1pc x MaxiIM IM608 Tablet
1pc x XP400 Pro Key Programmer
1pc x MaxiFlash JVCI ECU Reprogrammer
1pc x APB112

(Optional)
1pc x Gbox2

(Optional)
1pc x Carry Case
1pc x Main Cable
1pc x USB Cable (2m)
1pc x Mini USB Cable
1pc x AC/DC Adapter (12V)
1pc x Light Fuse - 6*30mm (2pcs)
1pc x Cigarette Lighter
1pc x AAC001
1pc x APC101 (USB Cable)
1pc x APB129 (EEPROM Adapter)
1pc x APB125 (Mercedes Infrared Collector)
1pc x APB103 (MCU_PLCC52)
1pc x APB104 (MCU_FQFP64)
1pc x APB105 (MCU_FQFP80)
1pc x APB106 (MCU_FQFP112)
1pc x APB107 (MCU_FQFP144)
1pc x APB108 (MCU_FQFP176)
1pc x APB109
1pc x APB110 (MCU_FQFP176)
1pc x APB111 (MCU_FQFP176)
1pc x APA002 (EEPROM Socket)
1pc x APA101 (Signal Cable)
1pc x APA103 (EEPROM Clamp)
1pc x APA107 (ECU Clamp)
1pc x APA108 (MCU Clamp)
1pc x APA109 (MC9S12 Clamp)
1pc x Connect Cable
Package List of IMKPA Accessories
1pc x APB113
1pc x APB114
1pc x APB115
1pc x APB118
1pc x APB119
1pc x APB120
1pc x APB121
1pc x APB122
1pc x APB123
1pc x APB126
1pc x APB127
1pc x APB128
1pc x Storage Case
We love to hear from you,our team is available to help answer questions and offer styling advice, so if there's anything you'd like to ask us, we're right here and ready to help in every way we can.
We're available to support you via
Service Tel: (+86) 16686410852
Whatsapp: (+86) 166 8641 0852

We strive to answer your questions within.12 hours
Customer service chat hours:
Monday - Sunday : 8am - 20pm EST
Now available in English.
Company address:
( Changde Innovation and Incubation Industry Park,
Zhangyao Road, Changde High-tech Industrial Development Zone )
Guanxi Town, Dingcheng District, Changde City, Hunan Province,China



Please kindly note: During peak seasons and promotional sales, our response time might take a little longer. Please use the same email address you used when placing your order when contacting us, and include your order number in your email.
Become a reseller of obd2direct
The more you buy, the lower the price. The more you save.
Join us as our small and medium retail client and help you gain more experience
What is a wholesale program?
Join us, become our wholesale customer, buy more quantity and enjoy great wholesale discount price!
Buy more, save more!
In the sideline business of helping you resell professional car diagnostic tools, but also help you make better use of car diagnostic tools, providing recommendations and the best resale services for workshops around you!
Benefits of becoming an obd2direct wholesale customer:
1. Get the biggest discount price.
2. The latest and most abundant product catalog.
3. Professionals will help you analyze the market according to the sales situation of the market, help you choose the most suitable resale products, and help you obtain the maximum profit.
4. Professional product descriptions, pictures, and professional product introduction DPF documents.
5. One-to-one service from professional aftersales- technicians.
6. Free delivery from overseas warehouses, providing the fastest and highest quality express service. We will prepare goods for you in advance according to your needs, and there will be no shortage of goods waiting.
Our goal:

The spark of continuous technological innovation and improved product inventions has stood the test of time, and the service provided and customer relationships in place are popular worldwide.
Whatsapp: (+86) 166 8641 0852

Email: sales@obd2direct.com
ADDRESS:
(Changde Innovation and Incubation Industry Park,
Zhangyao Road, Changde High-tech Industrial Development Zone)
Guanxi Town, Dingcheng District, Changde City, Hunan Province,China.