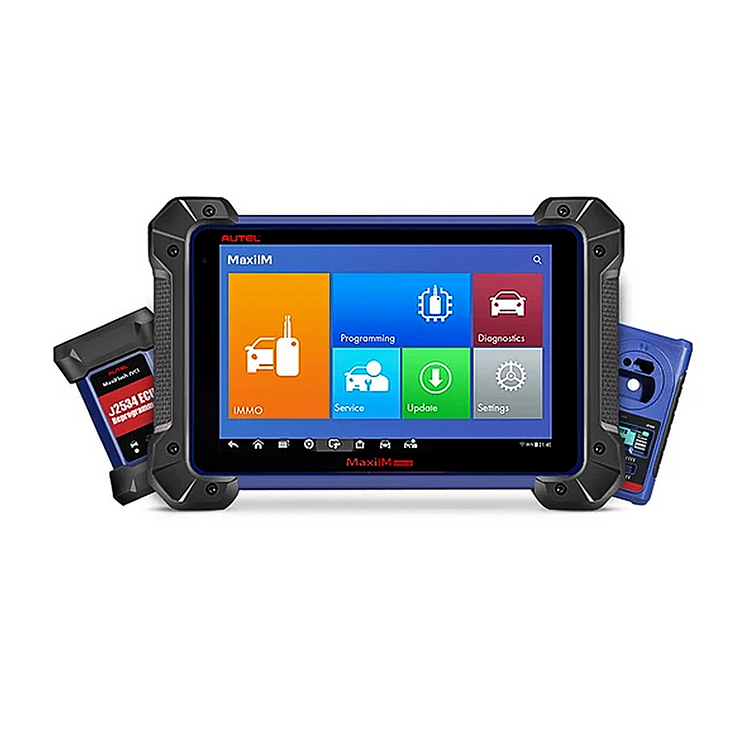 Autel MaxiIM IM608 [with GBOX2 & APB112 ] Advanced Key Programming Tool 2021 New Model with IMMO & Key Programmer XP400 & J2534 Reprogrammer, Bi-Directional Scan Tool & 30+ Services and All Systems Diagnosis

Burst Point of Autel MaxiIM IM608:
2022 Newest. Key Programming + IMMO Function: The most advanced and smart key programming tool that combines the most powerful IMMO and programming functions with OE-level diagnostics and advanced service functions in one Android based 10.1-inch touchscreen tablet, it helps perform complete key programming quickly. Please send VIN to sales@obd2direct.com to check compatibility.
Advanced XP400 Programmer: XP400 is to read transponder data (especially Benz infrared smart key), clone and generate exclusive keys, read/write on-board EEPROM data, etc. IMMO application provides Smart Mode and Expert Mode to guide technicians performing IMMO related functions, including Key Learning, Remote Control Learning, Remote Control Add, etc
ADVANCED IMMO + J2534 ECU programmer: Immobilizer is also known as immo box which is to auto part that recognizes the vehicle key directly. MaxiFlash specially designed to provide users with convenient PC communication on any modern vehicle diagnostic, and offer the most significant features desired by OEM customers: reliability, fast performance and flexibility. The working range for BT communication is about 210 feet (70 m). ▲The J2534 Can't Program ECU With IM608
ACTIVE TEST + ECU CODING + 30+ RESET SERVICE: Bi-directional control of the ECM is useful in determining whetherthe ECM responds to a command well. And Auto VIN Identification, ECU Coding are available for IM608. Most useful service including: Oil Reset Service/ EPB Service/ BMS Service/ SAS Service/ DPF Service etc.Powerful OE level diagnostics for more than 80 US, Asian and European makes and models.
(1 YEAR FREE UPDATE + PERMANENT After-Sales SERVICE: IM608 comes with 1 Year free updates.
Autel MaxiIM IM608:
Autel IM608 key programmer is a state of the art 10-inch Android-based touchscreen tablet combining the most advanced key programming and immobilizer capabilities with OE-level diagnostics and service functions. Equipped with XP400 key programmer and MaxiFlash JVCI ECU programmer, IM608 automotive scan tool is a comprehensive immobilizer and key programming tool. It is ideal for auto technicians and locksmiths. Upgraded verion of Autel IM508.
1 Year Free Updates, NO IP Limited, UK/US Stock & Free Shipping!
Autel MaxiIM IM608 Main Features
Read & Clear Fault Codes | Short description & code provided (can clear faults & warning lights)
Service Functions | EPB, DPF, SAS, Oil Reset, BMS and TPMS Sensor ID Relearn, etc.
Access Live Data | Data from the ECU/Modules/sensors displayed in real-time (Oxygen sensor-rich/lean etc)
Actuation/Component Testing | Actuate (switch on/off) to diagnose functionality (relays, fans, locks etc)
Coding Functions | Allows you to change vehicle parts that need to be 'coded' (Injectors, ABS, starters etc)
Flashing/Reprogramming | Advanced updating/coding of ECU's online through a J2534 pass-through flashing device
Advanced Key Programming | IMMO functions, Transponder read/write/identify, MCU/EEPROM chip read/write
Autel MaxilM IM608 OE-Level Diagnosis For 80+ Vehicle Makes
All Systems Diagnostics
AutoVIN / AutoScan
Read / Erase Codes
View, Record and Playback Live Data
View Freeze Frame Data
Shop and Data Manager Applications
MaxiFlash JVCI ECU Programmer (Bluetooth/USB cable)
Autel MaxiIM IM608 Advanced IMMO & Key Programming
Smart Mode:for Guided and Automated Key Learning
Expert Mode:for Advanced Key Learning
Read PIN / CS (All Key Lost)
Generate Key
Key Learning
Remote Learning
Backup / Restore IMMO Data
IMMO ECU Reset / Adaptation
IMMO ECU Refresh / Coding
BENZ 3rd Generation IMMO Add Key, All Key Lost, Key Learning
BMW FEM / BDC Key Learning and ECU Adaptation
BMW CAS4/3/2 Key Learning
VW / AUDI MQB Key Learning, 48 Transponder (96-bit) Add Key, All Key Lost,
A6 All Key Lost, and More
XP400 Key & Chip Programmer
Support PC
MCU / EEPROM Chips Read / Write
ECU Read / Write
MC9S12 Encryption Chip Read / Write
Key Read / Write
Mercedes Infrared Key Read / Write
Remote Frequency Detect
IC Card Read/Write
XP400 Key & Chip Programmer
Support PC
MCU / EEPROM Chips Read / Write
ECU Read / Write
MC9S12 Encryption Chip Read / Write
Key Read / Write
Mercedes Infrared Key Read / Write
Remote Frequency Detect
IC Card Read/Write
Autel MaxiIM IM608 IMMO Vehicle List:
Audi:

A1, A3, A4, A5, A6, RS4, B6, B7, RS5, RS6, A4 Allroad, A8, S8, Q3, RSQ3, Q5, Q7, R8, TT
Seat:

Alhambra, Altea, Cordoba, CupraLeon, Exeo, Ibiza, Leon, Mii, Toledo
Skoda:

Citigo, Fabia India, Fabia, Kamiq, Karoq, Octavia, Rapid India, Rapid, Roomster, Superb, Yeti
VW:

Amarok, Arteon, Atlas, Beetle, Bora, BoraGli, Caddy, Crafter, EOS, Fox Africa, Fox EU, Fox, GTI, Gol County, Gol(5U), Gol(5W), Golf PLUS, Golf/Rabbit(1K), Golf6 ESTATE, Jetta, Parati, Passat, Phaeton, Polo, Scirocco, Sharan, Suran, T-Roc, Tiguan, Touareg, Touran, Transporter5/Multivan, up, UP!/cross UP!
Fiat:

500, 500L, 500X prox, Albea, Boxer, Daily, Doblo, Doblo New, Ducato, Egea, Fiorino, Freemont, Idea, Grande punto, Jumper, Linea, Marea, Nemo, Ottimo, Palio, Palio RST, Panda, Perla, Promaster, Punto, Sinea, Stilo, Viaggio
Autel MaxiIM IM608 Specification:
Operation System: Android 4.4.2,KitKat
Processor: Samsung Exynos hex-core Processor(1.3GHz Quad-core ARM Cortex-A7+1.7GHz Dual-core ARM Cortex-A15)
Memory: 2GB RAM & 64 GB On-board Memory
Display: 10.1-inch LED capacitive touch screen with 1920*1200 resolution; Wi-Fi(802.11 a/b/g/n/ac); USB 2.0
Connectivity: BT v.2.1+EDR; SD Card (Support up to 32GB); HDMI
Camera(rear): 8.0 Megapixel, AF with Flashlight
Sensors: Gravity Accelerometer, Ambient Light Sensor (ALS)
Audio: Microphone; Dual Speakers
Input/output: 3-Band 3.5mm stereo / standard headset jack
Power and Battery: Charging via 12V AC/DC power supply with the temperature between 0

°C

to 45

°C

Input Voltage: 12V (9-24V)
Power Consumption: 6.5W
Operating Temp: 0 to 50

°C

(32 to 122

°F)

Storage Temp: -20 to 60

°C

(-4 to 140

°F)

Dimensions(W*H*D): 300mm (11.81") x 220.0mm (8.66") x 50.0mm (1.97")
Weight NW: 1.42kg (3.13lb.)
GW: 8.655kg(19.08lb)
Protocols: ISO9141-2, ISO14230-2, ISO15765-4, K/L-line, Flashing code, SAE-J1850 VPW, SAE-J1850PWN, CAN ISO11898, Highspeed, Middlespeed, Lowspeed and Singlewire CAN, GM, GM UART, UART Echo Byte Protocol, Honda Diag-H Protocol, TP2.0, TP1.6SAE J1939, SAE J1708, Fault-Tolerant CAN
IM608'S XP400 & J2534 Connection Instruction:
Autel MaxiIM IM608 Package List:
1x Autel MaxiIM IM608 Main Unit
1x APC101 USB Cable
1x APA101 Signal Cable
1x MaxiFlash JVCI
1x APB101+ APD101 (EEPROM Adaptor + EEPROM Adapter Shell)
1x APA103 (EEPROM Clamp)
1x XP400
1x APB102 MB IR Cable
1x APA104 ECU Clamp
1x Main Cable
1x APB104 (MCU_FQFP64)
1x APA105 (MCU Clamp)
1x USB Cable (2m)
1x APB105 MCU_FQFP80
1x APA106 (MC9S12 Clamp)
1x Mini USB Cable
1x APB106 (MCU_FQFP144)
1x APA107 (Connect Cable)
1x AC/DC 12V Adapter
1x APB107 (MCU_FQFP144)
1x Quick Reference Guide
2x Light Fuse 6*30mm
1x APB108 (MCU_FQFP176)
1x Packing List
1x Cigarette Lighter
1x APA002 (EEPROM Socket)
1x Carrying Case 634*170*404mm
1x AAC001
We love to hear from you,our team is available to help answer questions and offer styling advice, so if there's anything you'd like to ask us, we're right here and ready to help in every way we can.
We're available to support you via
Service Tel: (+86) 16686410852
Whatsapp: (+86) 166 8641 0852

We strive to answer your questions within.12 hours
Customer service chat hours:
Monday - Sunday : 8am - 20pm EST
Now available in English.
Company address:
( Changde Innovation and Incubation Industry Park,
Zhangyao Road, Changde High-tech Industrial Development Zone )
Guanxi Town, Dingcheng District, Changde City, Hunan Province,China



Please kindly note: During peak seasons and promotional sales, our response time might take a little longer. Please use the same email address you used when placing your order when contacting us, and include your order number in your email.
Become a reseller of obd2direct
The more you buy, the lower the price. The more you save.
Join us as our small and medium retail client and help you gain more experience
What is a wholesale program?
Join us, become our wholesale customer, buy more quantity and enjoy great wholesale discount price!
Buy more, save more!
In the sideline business of helping you resell professional car diagnostic tools, but also help you make better use of car diagnostic tools, providing recommendations and the best resale services for workshops around you!
Benefits of becoming an obd2direct wholesale customer:
1. Get the biggest discount price.
2. The latest and most abundant product catalog.
3. Professionals will help you analyze the market according to the sales situation of the market, help you choose the most suitable resale products, and help you obtain the maximum profit.
4. Professional product descriptions, pictures, and professional product introduction DPF documents.
5. One-to-one service from professional aftersales- technicians.
6. Free delivery from overseas warehouses, providing the fastest and highest quality express service. We will prepare goods for you in advance according to your needs, and there will be no shortage of goods waiting.
Our goal:

The spark of continuous technological innovation and improved product inventions has stood the test of time, and the service provided and customer relationships in place are popular worldwide.
Whatsapp: (+86) 166 8641 0852

Email: sales@obd2direct.com
ADDRESS:
(Changde Innovation and Incubation Industry Park,
Zhangyao Road, Changde High-tech Industrial Development Zone)
Guanxi Town, Dingcheng District, Changde City, Hunan Province,China.