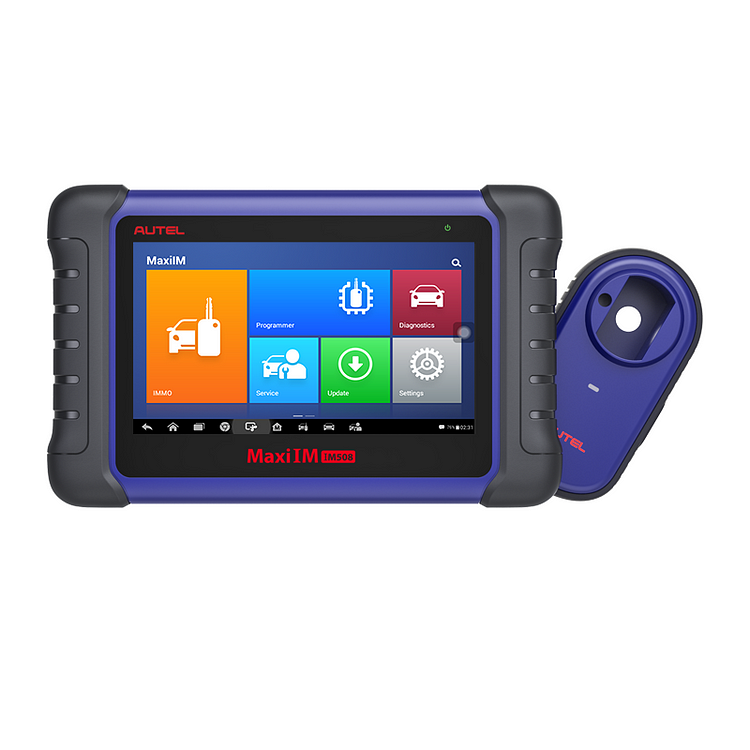 Autel MaxiIM IM508 Automotive Key Programming Scan Tool with XP200 Key Programmer
, Car Diagnostic Scanner with OE-Level All System Diagnosis Oil Reset, EPB, SAS, BMS, DPF Services
MaxiIM IM508 is perfect and Advanced Key Programming tool , combining immobilizer and key programming function. touch screen is 7-inch LCD capacitive and with Cortex-A9 processor, IM508 is more fast to deal with huge data. IM508, as professional diagnostics equipment is able to provide service functions: EPB, DPF, SAS, Oil reset, BMS and TPMS sensor ID relearn. It's the ideal scanner for shops and technicians demand demand smart technology and IMMO and diagnostic services.
Burst Point of Autel MaxiIM IM508
:
COMPREHENSIVE IMMO & KEY PROGRAMMING: IM508 can perform: Read PIN/CS(All Key Lost), key generation, key learning, remote learning on Benz FEM/BDC Key Learning/ECU Adaptation, BMW CAS3/2 K~y Learning, VW/Audi/Skoda/Seat IMMO III/IV/V Add Key, All Key Lost, IMMO ECU reset/adaptation/refresh/coding, Transponder read & write, EEPROM/MCU read & write. IM508 is a professional automotive k~y programming tool that combines key programming, all car systems diagnosis and advanced service functions.
MOST USEFUL SERVICE FUNCTIONS: As a professional diagnostic scanner, IM508 comes with most useful service functions like Oil Reset, Reset Parking Brake Pads after replacement, SAS Calibration, BMS and etc. NOTE: Service & Special Functions are NOT universally compatible. Please send VIN number to 🚘sales@obd2direct.com🚘 to check compatibility.
OE-LEVEL ALL MODULES DIAGNOSIS: Autel MaxiIM IM508 automotive scan tool can quickly diagnose all available modules of more than 80 US, Asian and European makes and models on the market. To check compatibility with your vehicles, please send VIN to 🚘sales@obd2direct.com🚘 to check. With complete capabilities for codes, live data, ECU Info and etc, IM508 is the perfect automotive diagnostic tool pick for auto technicians/ mechanics.
12 MONTHS FREE SOFTWARE UPDATES: IM508 Key Programmer Scan Tool comes with 12 Months Free Software Updates and is backed by 30 Days REPLACEMENT or FULL REFUND, 12 Months free from defects after-sales services. Place your risk-free purchase now and start protecting your cars from being stolen! If any question, please contact us via:🚘sales@obd2direct.com🚘
Autel MaxiIM IM508 Key Programming Tool
IM508 automotive key programmer comes with the key programmer XP200, which is capable of providing extraordinary service functions for the immobilizer system. IM508 scan tool is also with the ability to quickly read & clear DTCs for all available modules of the majority of the makes and models on the market. Its diagnostic level is same as MX808 / MK808BT. Besides, IM508 is a diagnostic tool provides with you superior special functions, including Oil Reset, EPB (Electronic Parking Brake), SAS (Steering Angle Sensor), BMS (Battery Management System), DPF (Diesel Particulate Filter), IMMO, and TPMS (Tire Pressure Monitoring System).
Autel MaxiIM IM508 Main Features:
Advanced Key Programming
PIN / CS Reading (Full Lost)
Key Generation
Key Programming
Command Introduction
Backup / Repair IMMO Data
IMMO ECU Reset / Adaptation
IMMO ECU Regeneration / Coding
BMW FEM / BDC Key
Programming and ECU Adaptation
VW / AUDI MQB Key Programming, 48 Transponder (96-bit) Key Copy, Full Lost, A6 Full Lost and More
1 Year Free Update Online
2021 Latest version
Autel MaxiIM IM508 Supports Muti-Language:
English / Portuguese / Germany / Japanese / French / Spanish
IM508 XP200 KEY & CHIP PROGRAMMER
Key Reading / Writing
EEPROM / MCU Read / Write
Diagnostic Function of More Than 80 Vehicles In Advanced Level
All System Diagnostics
Auto Search / VIN Finding
Reading / Deleting Error Code
Viewing the Live Data Stream
Viewing Records of Failure History
Store and Data Manager Applications
Autel MaxiIM IM508 Advanced Service Functions:
EPB, DPF, SAS, Oil Reset, BMS and TPMS Sensor ID Re-Programming
Autel MaxiIM IM508 Parameter:
7-inch LCD Touch Screen
32GB Memory
Android Kit Floor
Wi-Fi
ENGLISH LANGUAGE
5000mAh Li-polymer Battery
Autel MaxiIM IM508 Package Includes:
MaxiIM IM508 Tablet
XP200 Key Programmer
Connection Cables
USB Adapter
Carrying Case
We love to hear from you,our team is available to help answer questions and offer styling advice, so if there's anything you'd like to ask us, we're right here and ready to help in every way we can.
We're available to support you via
Service Tel: (+86) 16686410852
Whatsapp: (+86) 166 8641 0852

We strive to answer your questions within.12 hours
Customer service chat hours:
Monday - Sunday : 8am - 20pm EST
Now available in English.
Company address:
( Changde Innovation and Incubation Industry Park,
Zhangyao Road, Changde High-tech Industrial Development Zone )
Guanxi Town, Dingcheng District, Changde City, Hunan Province,China



Please kindly note: During peak seasons and promotional sales, our response time might take a little longer. Please use the same email address you used when placing your order when contacting us, and include your order number in your email.
Become a reseller of obd2direct
The more you buy, the lower the price. The more you save.
Join us as our small and medium retail client and help you gain more experience
What is a wholesale program?
Join us, become our wholesale customer, buy more quantity and enjoy great wholesale discount price!
Buy more, save more!
In the sideline business of helping you resell professional car diagnostic tools, but also help you make better use of car diagnostic tools, providing recommendations and the best resale services for workshops around you!
Benefits of becoming an obd2direct wholesale customer:
1. Get the biggest discount price.
2. The latest and most abundant product catalog.
3. Professionals will help you analyze the market according to the sales situation of the market, help you choose the most suitable resale products, and help you obtain the maximum profit.
4. Professional product descriptions, pictures, and professional product introduction DPF documents.
5. One-to-one service from professional aftersales- technicians.
6. Free delivery from overseas warehouses, providing the fastest and highest quality express service. We will prepare goods for you in advance according to your needs, and there will be no shortage of goods waiting.
Our goal:

The spark of continuous technological innovation and improved product inventions has stood the test of time, and the service provided and customer relationships in place are popular worldwide.
Whatsapp: (+86) 166 8641 0852

Email: sales@obd2direct.com
ADDRESS:
(Changde Innovation and Incubation Industry Park,
Zhangyao Road, Changde High-tech Industrial Development Zone)
Guanxi Town, Dingcheng District, Changde City, Hunan Province,China.