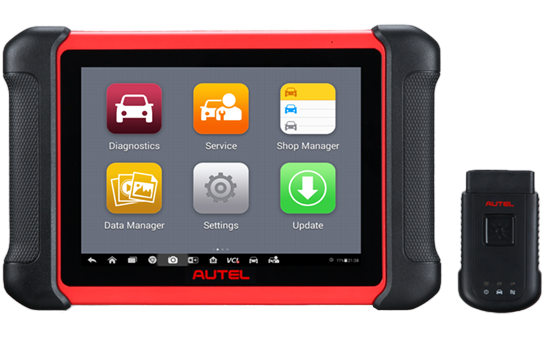 Autel MaxiCOM MK906BT (New Ver. of MaxiSys MS906BT/ MS908), 2022 Newest Automotive Scan Tool with Advanced ECU Coding, Bi-Directional Control, Active Tests, 31+ Services & OE Full Systems Diagnostics
Burst Point of Autel MaxiCOM MK906BT:
31 Service Functions, Same Function as MS908: MK906BT diagnostic scan tool can perform 30+ Service functions: Oil Reset, EPB, SAS, DPF Regeneration, BMS, Throttle Reset, Suspension Calibration, ABS Bleed, Trans Adaptation, Injector Coding, Power Balance, ECU Coding and etc. NOTE: Special service functions do NOT work on all cars. Please send VIN to

[email protected]

2021 New Release, OE Level All Systems Diagnostics: Autel MK906BT has the same diagnostic capabilities as OE tools. With complete capabilities for codes, live data, active tests and ECU information and can access all available vehicle modules.
ECU Coding & Bi-Directional Control: MK906BT comes with advanced ECU coding to help match, learn, code the newly replaced ECU to make them function properly. MK906BT is also a bi-directional scanner that can perform active tests to control ABS motor, window, door and etc to test its operations or pinpoint faults. Note: Fiat-3 adapter is for europen version only and is not included in our package. Please send VIN to

[email protected]

to confirm before ordering it.
Advanced Ver. of MS906, MP808, Same as MK908: Comparing with MK908, MK906BT has the same functionalities and features, but more portable. Comparing with MP808/DS808, MK906BT has better hardware & vehicle coverage, doubled battery capacity to 10,000mAh, added advanced ECU coding, wireless connection(working range up to 164 feet). Compatible with oscilloscope, inspection camera.(Add-on not included).
Broader Vehicle Coverage & 1 Year Free Software Updates & Report Printing & Life Time Tech-support: MK906BT scanner works on over 80+ US domestic, European and Asian makes and models, up to 2018, 2019, some 2020. With complete connector kit, MK906BT can access more vehicle models and modules for mechanics and auto technicians. Working with CAN FD adapter, MK906BT can access newer vehicles. Contact

[email protected]

to get real-time tech-support.
Autel MaxiCOM MK906BT
The MaxiCOM MK906BT Diagnostic Platform is an evolutionary smart solution for specialized automotive diagnosis. MK906BT comes with MaxiVCI V100 Bluetooth Box which can communicate with vehicles wirelessly. And it combined with the best possible coverage of OE-level diagnostics, and based on the revolutionary multitask-capable Android Operating system, the MaxiCOM organizes information with test instrumentation to help you diagnose symptoms, codes, and customer complaints easily, quickly and efficiently.
Autel MaxiCOM MK906BT Features:
Extensive complete system coverage for more than 80 US, Asian and European makes and models;
Complete capabilities for codes, live data, active test, ECU information, adaptation, matching, coding etc.
Auto VIN technology can automatically identify the vehicle's make, model, and year information;
Instant remote control tech support anytime, anywhere;
Cloud-based MaxiFix online community provides a vast database of diagnostic and repair tips and proven filed fixes;
Interactive Data Logging sessions enable direct contact with Autel Technical Support for first-hand troubleshooting of diagnostic bugs and errors;
One-stop multitasking designed for ideal management of workshop operations to keep all data files, customer info, and vehicle records well organized;
Convenient data management system for managing internal program applications and reviewing data.


MK906BT Enhanced ECU Coding:
With the advanced ECU coding function, the MK906BT professional diagnostic scanner empowers you to establish full data links with electronic control units via VCI for vehicle diagnosis, repairs, or coding. It also features online coding and personalization for high-end vehicles:

1) Support online coding for BMW;
2) Support online coding, guided function, modifications for Volkswagen;
3) Support ECU coding, ECU online coding, and guided function of providing repair tips after
4) Reading DTCs for Porsche;
5) Support ECU online coding for Renault;
6) Support customized configuration for Toyota, Nissan, Peugeot, and more.
Autel MaxiCOM MK906BT Specifications:
Operating System: AndroidTM 4.4.2, KitKat
Processor: Samsung Exynos T5260 6-Core Processor (1.3 GHz quad-core ARM Cortex-A7 + 1.7 GHz dual-core ARM Cortex-A15)
Memory: 2 GB RAM & 64 GB ROM
Display: 8.0 inch LED capacitive touch screen with 1024x768P resolution
Connectivity: Wi-Fi (802.11 b/g/n); USB: 2.0; Mini USB 2.0; Wireless BT V2.1+EDR, Class1; HDMI 1.4a
SD Card: (support up to 32GB)
Camera (rear): Rear-facing, 8.0 Megapixel, AF with Flashlight Sensors Gravity Accelerometer, Ambient Light Sensor (ALS)
Audio Input/Output: Microphone; Single Speakers; 3-Band 3.5 mm stereo/standard headset j
Power and Battery: 10,000 mAh 3.7 V lithium-polymer battery; Charging via 12 V AC/DC power supply
Input Voltage: 12 V (9-35 V)
Power Consumption: 5 W
Autel MK906BT Package Content:
1x MK906BT main unit
1x MaxiVCI V100
1x Lighter Fuse
1x Mini USB Cable
1x Cigarette Lighter
1x Soft Cloth
1x User Manual
1x Carrying Case
1x Quick Reference Guide
1x AC/DC Adapter (12V)
1x Adapter for Chrysler-16 (America Version Only)
1x Adapter for GM/Daewoo-12
1x Adapter for Benz-38
1x Adapter for Mitsubishi/Hyundai-12+16
1x Adapter for Honda-3
1x Adapter for BMW-20
1x Adapter for Kia-20
1x Adapter for Nissan-14
1x Adapter for VW/AUDI-2+2
We love to hear from you,our team is available to help answer questions and offer styling advice, so if there's anything you'd like to ask us, we're right here and ready to help in every way we can.
We're available to support you via
Service Tel: (+86) 16686410852
Whatsapp: (+86) 166 8641 0852

We strive to answer your questions within.12 hours
Customer service chat hours:
Monday - Sunday : 8am - 20pm EST
Now available in English.
Company address:
( Changde Innovation and Incubation Industry Park,
Zhangyao Road, Changde High-tech Industrial Development Zone )
Guanxi Town, Dingcheng District, Changde City, Hunan Province,China



Please kindly note: During peak seasons and promotional sales, our response time might take a little longer. Please use the same email address you used when placing your order when contacting us, and include your order number in your email.
Become a reseller of obd2direct
The more you buy, the lower the price. The more you save.
Join us as our small and medium retail client and help you gain more experience
What is a wholesale program?
Join us, become our wholesale customer, buy more quantity and enjoy great wholesale discount price!
Buy more, save more!
In the sideline business of helping you resell professional car diagnostic tools, but also help you make better use of car diagnostic tools, providing recommendations and the best resale services for workshops around you!
Benefits of becoming an obd2direct wholesale customer:
1. Get the biggest discount price.
2. The latest and most abundant product catalog.
3. Professionals will help you analyze the market according to the sales situation of the market, help you choose the most suitable resale products, and help you obtain the maximum profit.
4. Professional product descriptions, pictures, and professional product introduction DPF documents.
5. One-to-one service from professional aftersales- technicians.
6. Free delivery from overseas warehouses, providing the fastest and highest quality express service. We will prepare goods for you in advance according to your needs, and there will be no shortage of goods waiting.
Our goal:

The spark of continuous technological innovation and improved product inventions has stood the test of time, and the service provided and customer relationships in place are popular worldwide.
Whatsapp: (+86) 166 8641 0852

Email: [email protected]
ADDRESS:
(Changde Innovation and Incubation Industry Park,
Zhangyao Road, Changde High-tech Industrial Development Zone)
Guanxi Town, Dingcheng District, Changde City, Hunan Province,China.