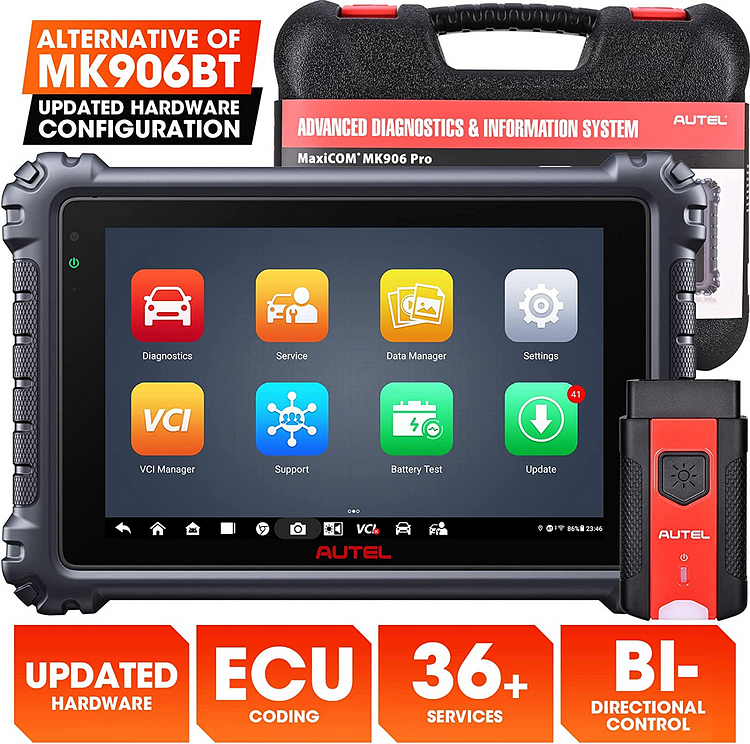 Autel MaxiCOM MK906 Pro Scanner: 2022 MK906Pro Based on MaxiSys MS906BT/MS906 Pro/MK906BT, Smith-Level ECU Coding, 36+ Service, All Systems Diagnosis, Active Test, Superior Hardware, AutoAuth Access
Autel MaxiCOM MK906Pro Diagnostic Scanner-Outstanding Money-maker for Repair Shops and Garages
Autel MaxiCOM MK906Pro: Upgrade of Autel MaxiSys MS906BT/MK906BT and hold the same diagnostic functions as MS906Pro/MK908. 2022 ver. MK906Pro has a comprehensive updating and optimization of the hardware configuration: Equipped with Android10.0OS and Qualcomm 660 processor, it can run faster diagnostics & longer work time and easily handle multi-tasks. In addition, the MK906Pro scanner does better at assisting repair shops/garages in managing customer information and diagnostic reports, which greatly improves efficiency and services.
Top 1 Choice for Repair Shops and Garages
100% Original Autel diagnostic scanner
Work for global 10000+ vehicle models, and Access FCA SGW vehicles
Advanced ECU coding activates high-level vehicle functions
33+ reset functions repair 99% of common vehicle problems
Bi-directional control pinpoints problems within 5 minutes
VAG guided functions ease the complex diagnostics for you
Auto VIN for quickly automatic vehicle identification
OE-level system diagnostics for all available vehicle systems
Cloud data management keeps all the reports well-organized
Extended Functions: Oscilloscope, Videoscope, Battery Test
The Latest Released--Autel MaxiCOM MK906 Pro
Advanced Functions Simplify Busy Diagnostic Work
ECU Coding:
Reprogram adaptive data for vehicle ECUs after repairs and improve vehicle performance.
Offline Programming: compatible with Ford, Mazda, Jaguar, Opel, Vauxhall, etc,
Online Coding
Compatible with BMW, Porsche, VW, Infiniti, Hyundai, etc.
Allow you to obtain the online data from the server to activate each component when the code data is lost to restore the vehicle performance.
Personalization: Compatible with BMW, VW, Skoda, etc.
Modify some code to enable or disable the personalized functions.
1.deactivating the start/stop
2. customizing the interior light
3.disabling seat belt warning sounds
4.adjusting the foldable mirrors
5.changing the tilt mirrors
VAG Guided Functions: Compatible with VW, Skoda, Seat, Man LD, Bently, etc.
Autel MK906Pro diagnostic scanner comes with advanced ECU coding functions and Personalization, which makes this high-level automotive scan tool outperform better than other diagnostic tools in the aftermarket.
36+ Commonly Used Reset & Relearn Functions
Oil Reset / EPB Reset / TPMS Reset / BMS / Brake Bleeding / Aftertreatment / IMMO Keys / Injector Coding / SAS Reset / Suspension / Throttle / WIN DR ROOF / Seats / ODO Reset / Lang Change / Headlamp / CHG Tire Size / TEC Learning / ABS SRS / Cylinder / VTG Learn / Speed & PTO / Clutch Reset / Trans Adaption / Airbag Reset / A/F Setting / etc.
8 Hot Repair Functions:
Oil Reset: Reset the oil life system and turn off the oil light to start a new cycle.
ABS Bleeding: Exhaust the air of a brake system to restore ABS brake sensitivity.
SAS Reset: Reset the steering angle to zero to keep the car running straight.
BMS Reset: Re-match the battery control module and motoring sensor.
Injector Coding: Write the new injector code into the car system for correcting cylinder injection quantity
IMMO: Add new keys and match new remote control for vehicles with low-grade anti-theft systems. No key programming function.
DPF Regeneration: Clear particulate matter from the DPF filter.
Suspension: Adjust the vehicle height sensor for level calibration when replacing the vehicle height sensor or control module in the air suspension system.
Throttle Matching: Initialize the throttle actuators to the default state after replacement.
Functions vary by vehicle model, year, system, etc. You can check the compatibility before purchasing.
Equipped with 36+ maintenance features, Autel diagnostic scanner MK906Pro is a must-have tool for every repair shop to win more businesses and profits. Following are some of the most commonly-used reset functions for reference:
User-friendly Functions Bring More Convenience and Efficiency
Report Management: A cloud-based solution for archiving and business applications of reports
All the real-time & history reports generated by Autel diagnostic scan tool can be saved to the Cloud for a lifetime and shared with your customers via QR codes, text messages,and mails etc. You can view these reports at any time and will never be bothered by data report loss.
Pre & Post Scan
Pre & Post Scan reports are now available on the MK906Pro Autel scanner. These new features make it easy to document the vehicle's pre-repair and post-repair condition. The Pre & Post Scan reports will be combined into a single report file that can be saved to the repair shop system, printed, or mailed to the customers.
If You Are The Technician: You can create a more efficient repair plan from the start and confirm all the faults being solved after repairing.
If You Are The Customer: You can accurately know your vehicle problems and avoid the unreasonable charge
WiFi Printing
Now you don't need to find your PC and perform many operation steps for printing a report. One-click WiFi Printing can directly print what you need by tapping on the Autel MK906Pro. The original printing via PC-Link is retained, and you can choose freely.
Autel MK906Pro automotive scanner has newly developed features: Report Management, Pre & Post Scan, WiFi Printing, etc., to facilitate vehicle diagnostics and improve problem-solving efficiency.
Bi-directional Control (Active Test) For Quick Troubleshooting
For Example1: A DTC P0443 (Evap Purge Solenoid Circuit) is found on the Dodge. The MK906Pro scan tool is capable of commanding the purge valve on and off. And then the fuel trim levels increased, indicating the solenoid opened. Based on the results, the purge solenoid should be replaced.
For Example2: The fuel pump is not working and no fuel pressure was measured. Using the Autel MK906Pro OBD2 scanner to command the fuel pump. If the fuel pressure gauge is normal, indicating the circuit and pump are functioning properly.
For Example3: If you get a shift solenoid-related code, you can access the AT module and test each shift solenoid to determine which one is faulty. Such tests may also include relay or switch, between two operating states. Available tests vary by vehicle.
User-friendly Features
Paired with extra tools videoscope(MV105/108), battery tester(BT506), and oscilloscope(MP408), Autel MK906Pro extends its functions to checking fuel pumps & engines, testing vehicle batteries, and monitoring vehicle signal activities, which makes diagnostics more comprehensive and accurate. Note: The tools are sold separately. You can buy them in UBking-US if needed.
All System Diagnostics
With Autel MaxiCOM MK906Pro, it performs OE level diagnostics for all available 1996-2022 vehicle systems and easily pinpoints the problems from Engine, Gearbox, AT, ABS, SRS, EPB, IMMO, IC, Airbags, etc. It reads codes & views live data to find all the vehicle issues hidden under the hood and clears codes to recover the optimized performance.
Quick Auto VIN Identification
Once the Autel MK906Pro diagnostic scanner connects to the tested vehicle, it can automatically read the VIN information (year, make, model, etc.) to quickly identify the vehicle and saves some time for diagnostics. For those vehicles that are not compatible with the Auto VIN Scan function, Scan VIN & License are also available.
The Active Test can be the greater innovative function of Autel MaxiCOM MK906Pro. This function can be used to access specific components and subsystems and determine the integrity of the system by reading ECU data and monitoring the operation of the actuators.
We love to hear from you,our team is available to help answer questions and offer styling advice, so if there's anything you'd like to ask us, we're right here and ready to help in every way we can.
We're available to support you via
Service Tel: (+86) 16686410852
Whatsapp: (+86) 166 8641 0852

We strive to answer your questions within.12 hours
Customer service chat hours:
Monday - Sunday : 8am - 20pm EST
Now available in English.
Company address:
( Changde Innovation and Incubation Industry Park,
Zhangyao Road, Changde High-tech Industrial Development Zone )
Guanxi Town, Dingcheng District, Changde City, Hunan Province,China



Please kindly note: During peak seasons and promotional sales, our response time might take a little longer. Please use the same email address you used when placing your order when contacting us, and include your order number in your email.
Become a reseller of obd2direct
The more you buy, the lower the price. The more you save.
Join us as our small and medium retail client and help you gain more experience
What is a wholesale program?
Join us, become our wholesale customer, buy more quantity and enjoy great wholesale discount price!
Buy more, save more!
In the sideline business of helping you resell professional car diagnostic tools, but also help you make better use of car diagnostic tools, providing recommendations and the best resale services for workshops around you!
Benefits of becoming an obd2direct wholesale customer:
1. Get the biggest discount price.
2. The latest and most abundant product catalog.
3. Professionals will help you analyze the market according to the sales situation of the market, help you choose the most suitable resale products, and help you obtain the maximum profit.
4. Professional product descriptions, pictures, and professional product introduction DPF documents.
5. One-to-one service from professional aftersales- technicians.
6. Free delivery from overseas warehouses, providing the fastest and highest quality express service. We will prepare goods for you in advance according to your needs, and there will be no shortage of goods waiting.
Our goal:

The spark of continuous technological innovation and improved product inventions has stood the test of time, and the service provided and customer relationships in place are popular worldwide.
Whatsapp: (+86) 166 8641 0852

Email: sales@obd2direct.com
ADDRESS:
(Changde Innovation and Incubation Industry Park,
Zhangyao Road, Changde High-tech Industrial Development Zone)
Guanxi Town, Dingcheng District, Changde City, Hunan Province,China.