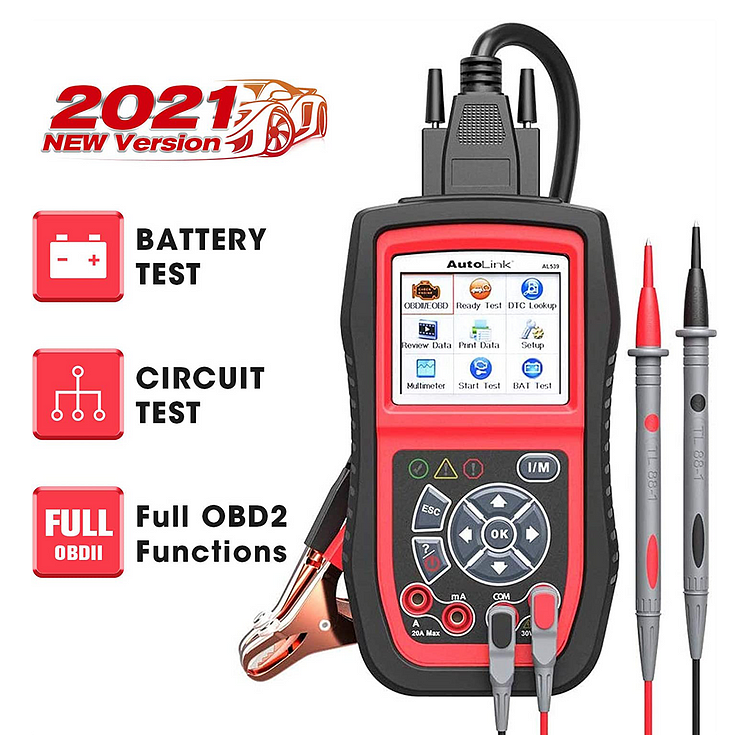 Autel AutoLink AL539B = AL539 + Battrey Test
Autel AutoLink AL539B OBDII/EOBD Scanner is an ultimate automotive analyzer that combines AVOmeter, Battery Test and Code Reader specially designed to work with most 1996 and newer American, Asian and European OBDII/CAN compliant vehicles, which offers comprehensive vehicle analysis for rapid, accurate diagnosis and timely repair.
100% Original
Shipping From USA
Delivery>>Worldwide 3-7 business days
ReturnsFast refund,Money-BackGuarantee.

3-IN-1 Combo: OBD2 Scanner + Multimeter + Battery Tester
On a cold morning you¡¯re rushing to work, but the car cannot start! A battery with no electrical charge is often the main cause of a non-start.
And when you customize of the car (e.g. ECU coding, J2534 programming), if the electrical and battery system isn¡¯t functioning properly, you are engaging in very risky behavior.
It is a good idea to get a battery test first.
Pick up this quality diagnostic scanner Autel AutoLink AL539B combined with battery testing to handle the issue:
3-in-1 Combo: an OBDII scanner, a multimeter, and a battery tester (for battery health/starter/charging system).
Vehicle Coverage: most 1996 and newer OBDII & CAN vehicles across the globe.
Full OBD2 Modes Test: turn off the CEL; help pass the smog test; detect most emission-related car issues (graphic live stream, freeze frame data, o2 sensor test, etc.).
Patented One-click I/M Readiness: for fast and easy emission readiness check.
Multimeter (AVOmeter): diagnose the vehicle electrical system (DC or AC voltage, continuity, and current) to simplify the troubleshooting.
Battery Health Tester: load-free testing of most 12V batteries health status (Type: Regular, AGM, AGM/Spiral, Gel; Rating: CCA, CA, MCA, JIS, DIN, SAE, IEC, EN).
Starter Tester:help predict if the battery will fail to start a vehicle.
Charging System Tester: check if the output voltage and the charging current is normal.
More:data record and review; multilingual menu (EN, ES, FR ¡­), DTC definition; internet updateable; data printable via PC.
>> Circuit Test (as a Multimeter / AVOmeter)
Autel AutoLink AL539B is simple to use and feature-packed diagnostic code reader. Contact the probes to a circuit, and you can use it as a multimeter / AVOmeter:
Test the voltage in both AC or DC components (if > 30V, the scan tool may be damaged).

Test the resistance between two circuit points (if > 50 ohm, it will display 0L).

Measure the flow of current between 0A~20A (if >20A, the scan tool may be damaged).

Can test the diodes (connect the probes to battery terminals correctly).
>> Battery Test (diagnose battery health, starter, and charging system status)
Connect Autel AutoLink AL539B to your vechile via DLC port, or contact the probes to battery¡¯s terminals. You can also use it to test the battery health, starter, and charging system status.
Battery Health Test: show battery voltage, and the CCA value in seconds, with consice suggestion of ¡°Good Battery, Charge Battery, and Bad Battery¡± for your reference.
Starter Status Test: show crank volt, volt percent, and the crank time, with recommendations of ¡°Cranking Normal, Cranking Abnormal, Cranking Low, and Charge Battery¡± for you to make the proper decision
Charging System Test: help you find out if the output voltage of the generator, and the charging current is high or low, or if there is an excessive ripple.
Autel AutoLink AL539B - All Modes OBDII Scanner
The full modes of OBDII diagnostics gives you a window into what may be wrong when the check engine light comes on. So you can gain insight into engine health, and even make repairs yourself instead of paying a mechianc.
Read DTCs (Diagnostic Trouble Codes): to locate the trouble area associated with Check Engine Light.

Clear DTCs (Diagnostic Trouble Codes): to turn off Check Engine Light after servicing and repairing.

View dynamic Live Data: to know how the car is performing.

Display I/M Readiness Status: to know if the car is ready for the emissions test.

Show Freeze Frame Data: to see what happened when the fault code set.

O2 Sensor Test: to check fuel efficiency and emission status.

EVAP Test: for fuel tank system (carbon canister test).

Access to on-Board Diagnostic Monitoring Test Results: to determine if some specific components or the monitors are normal.

Retrieve vehicle information (VIN, CID, and CVN): to track car details and historical records.

Read generic (P0, P2, P3, and U0) and manufacturer specific (P1, P3, and U1) codes; show the DTCs definition directly, save the search online.
AutoLink AL539B - Widespread Vehicle Coverage
AL539B is compatible with most OBD2/EOBD/JOBD compliant vehicles manufactured in 1996 and later, such as Toyota, Honda, Chevrolet, Ford, Benz, Jeep, BMW, Nissan, VW, Audi, GMCs, and many others of various makes and models.
Autel AutoLink AL539B supports all OBDII protocols: KWP2000, ISO9141, J1850 VPW, J1850 PWM and CAN.
AL539B - Data in Various Languages
AL539B comes programmed in English, but you can always set it to display data in Spanish, even French, and other languages.
The DTC definition function can tell you what the codes mean. So you don¡¯t have to look up the error code online.
Autel AL539B - Access to VIN, CIN & CVN
Autel AL539B can identify your vehicle and pull its information of VIN, CIN and CVN.
These data will let you know where the vehicle is manufactured, help find out the auto part that fits, or track such things as previous owner(s), prior accidents / damages, registrations, insurance coverage etc.
>> Warm Tips
Make sure this scan tool covers the type, make and model of your car before buying.
If there are any issues that require immediate attention, welcome to contact us Contact us.
>> Free Lifetime Update
Download and install the ¡°Autel Maxi Link II Tool Kit¡± in your computer. And connect Autel AutoLink AL539B to the computer via an USB cable, then run the updating through the internet.
This will make sure the scan tool is updated with the latest software version.
>> Data is Printable
You can print out the stored diagnostic data or customized test report on paper, in case you need to consult other experts on the condition of your car.
>> Package List
Autel AutoLink AL539B/ Battery Test Cable / 3.7V Li-ion Battery / Carry Case / USB Cable / OBDII Cable / User Manual
We love to hear from you,our team is available to help answer questions and offer styling advice, so if there's anything you'd like to ask us, we're right here and ready to help in every way we can.
We're available to support you via
Service Tel: (+86) 16686410852
Whatsapp: (+86) 166 8641 0852

We strive to answer your questions within.12 hours
Customer service chat hours:
Monday - Sunday : 8am - 20pm EST
Now available in English.
Company address:
( Changde Innovation and Incubation Industry Park,
Zhangyao Road, Changde High-tech Industrial Development Zone )
Guanxi Town, Dingcheng District, Changde City, Hunan Province,China



Please kindly note: During peak seasons and promotional sales, our response time might take a little longer. Please use the same email address you used when placing your order when contacting us, and include your order number in your email.
Become a reseller of obd2direct
The more you buy, the lower the price. The more you save.
Join us as our small and medium retail client and help you gain more experience
What is a wholesale program?
Join us, become our wholesale customer, buy more quantity and enjoy great wholesale discount price!
Buy more, save more!
In the sideline business of helping you resell professional car diagnostic tools, but also help you make better use of car diagnostic tools, providing recommendations and the best resale services for workshops around you!
Benefits of becoming an obd2direct wholesale customer:
1. Get the biggest discount price.
2. The latest and most abundant product catalog.
3. Professionals will help you analyze the market according to the sales situation of the market, help you choose the most suitable resale products, and help you obtain the maximum profit.
4. Professional product descriptions, pictures, and professional product introduction DPF documents.
5. One-to-one service from professional aftersales- technicians.
6. Free delivery from overseas warehouses, providing the fastest and highest quality express service. We will prepare goods for you in advance according to your needs, and there will be no shortage of goods waiting.
Our goal:

The spark of continuous technological innovation and improved product inventions has stood the test of time, and the service provided and customer relationships in place are popular worldwide.
Whatsapp: (+86) 166 8641 0852

Email: sales@obd2direct.com
ADDRESS:
(Changde Innovation and Incubation Industry Park,
Zhangyao Road, Changde High-tech Industrial Development Zone)
Guanxi Town, Dingcheng District, Changde City, Hunan Province,China.