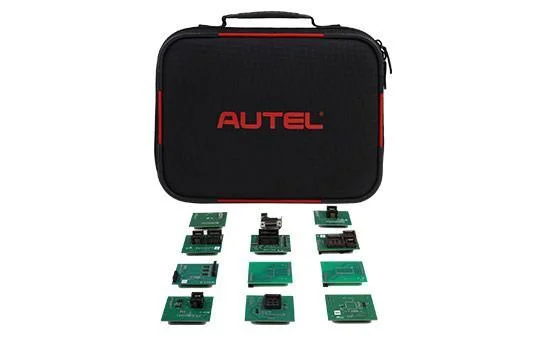 Autel MaxiIM IMKPA Expanded Key Programming Adapter Kit, Compatible with XP400 Pro, Working with 2021 Newest IM608, IM508+XP400 Pro, IM608+XP400 Pro, IM608 Pro, IM608PROKPA
Burst Point of AUTEL IMKPAK Kit:
WORKS WITH XP400 PRO/ 2021 NEWEST IM608: Autel IMKPA Kit is compatible with (XP400 Pro + IM508/IM608/IM608 Pro) to do advanced key programming. Note: IMKPA Kit is compalibility with 2021 newest XP400/IM608 as well. NOTE: IMKPA Adapter's key programming is NOT universally compatible, please send VIN number to sales@obd2direct.com to check compatibility before your order.
KEY PROGRAMMER FOR BWM, BENZ: IMKPA Kit enables read/write/erase on Mercedes Benz ESL_W209 / W906 Data, for Mercedes Benz OE NEC Key Learning, for BMW EWS3 Key Learning as well as Volkswagen/ for BMW/Mercedes Benz key unl~k, it supports over 10 key unl~k types. Please send the VIN to sales@obd2direct.com to check function before your make order.
KEY PROGRAMMINING ADAPTERS: Autel IMKPA Kit includes 12 Adapters, compatible with the XP400 Pro to expand XP400 Pro's key programming. Kit includes: APB113, APB114, APB115, APB118, APB119, APB120, APB121, APB122, APB123, APB126, APB127, APB128.
USING WITH IM508+XP400 Pro: If the budget is limited, you can choose the IM508+XP400 Pro+IMKPAT combination to get the same IMMO key programming capability as the latest IM608 Pro+IMKPA, definitely the most competitive key programmer combo in the market!
RISK-FREE PURCHASE: Your purchase of IMPKA with us is 100% risk-free. IMKPA Kit is backed by REPLACEMENT or FULL REFUND within 30 Days and protected from defects for 12 Months. If there are any questions or issues, please contact us at sales@obd2direct.com in the first time.
MaxiIM Key Programming Adapter Kit
Includes 12 Adapters, Compatible with the XP400Pro
Enables Read/Write/Erase on Mercedes Benz ESL_W209 / W906 Data
Enables Mercedes Benz OE NEC Key Learning
Enables BMW EWS3 Key Learning
Enables Volkswagen/AUDI/BMW/Mercedes Benz Key Unlock
Compatible with IM608 Tablet and IM508 Tablet with XP400Pro
We love to hear from you,our team is available to help answer questions and offer styling advice, so if there's anything you'd like to ask us, we're right here and ready to help in every way we can.
We're available to support you via
Service Tel: (+86) 16686410852
Whatsapp: (+86) 166 8641 0852

We strive to answer your questions within.12 hours
Customer service chat hours:
Monday - Sunday : 8am - 20pm EST
Now available in English.
Company address:
( Changde Innovation and Incubation Industry Park,
Zhangyao Road, Changde High-tech Industrial Development Zone )
Guanxi Town, Dingcheng District, Changde City, Hunan Province,China



Please kindly note: During peak seasons and promotional sales, our response time might take a little longer. Please use the same email address you used when placing your order when contacting us, and include your order number in your email.
Become a reseller of obd2direct
The more you buy, the lower the price. The more you save.
Join us as our small and medium retail client and help you gain more experience
What is a wholesale program?
Join us, become our wholesale customer, buy more quantity and enjoy great wholesale discount price!
Buy more, save more!
In the sideline business of helping you resell professional car diagnostic tools, but also help you make better use of car diagnostic tools, providing recommendations and the best resale services for workshops around you!
Benefits of becoming an obd2direct wholesale customer:
1. Get the biggest discount price.
2. The latest and most abundant product catalog.
3. Professionals will help you analyze the market according to the sales situation of the market, help you choose the most suitable resale products, and help you obtain the maximum profit.
4. Professional product descriptions, pictures, and professional product introduction DPF documents.
5. One-to-one service from professional aftersales- technicians.
6. Free delivery from overseas warehouses, providing the fastest and highest quality express service. We will prepare goods for you in advance according to your needs, and there will be no shortage of goods waiting.
Our goal:

The spark of continuous technological innovation and improved product inventions has stood the test of time, and the service provided and customer relationships in place are popular worldwide.
Whatsapp: (+86) 166 8641 0852

Email: sales@obd2direct.com
ADDRESS:
(Changde Innovation and Incubation Industry Park,
Zhangyao Road, Changde High-tech Industrial Development Zone)
Guanxi Town, Dingcheng District, Changde City, Hunan Province,China.