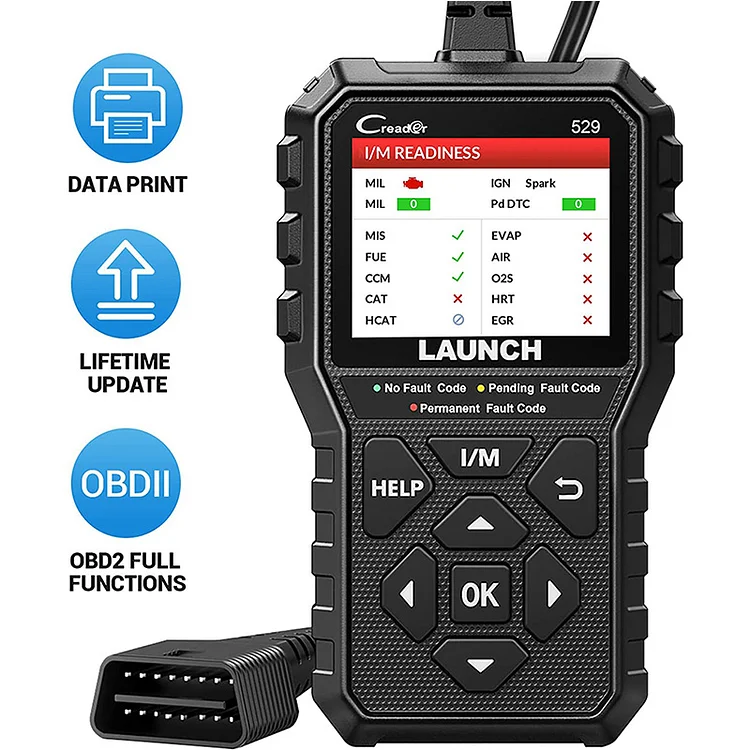 Launch CR529 is a practical OBD2 scan tool design specially designed to work with all OBDII compliant vehicles (1996 and newer), featuring the complete OBD2 functions with the patented one-key I/M Readiness Test etc., is an excellent choice for facilitating vehicle repair work to troubleshoot indicator lights and codes.

Launch CR529 Functions:

1. Read, Clear engine error codes.

Turn off 'Engine Check' MIL.

2.Live Data / Freeze Frame

When emission-related faults occurs, certain vehicle conditions are recorded, so it can better locate the abnormal position and find the cause of the abnormality when it is repaired.

3.I/M Readiness

It indicates whether or not the various emissions-related systems on the vehicle are operating properly and are ready for Inspection and Maintenance testing.

4. VIN Code Reading Automatically

It can reading the VIN code from the car ECU automatically.

5.Hard(memory) Codes Reading

6. Pending Codes Reading

7. Oxygen Sensor Test

Launch CR529 allows retrieval and viewing of O2 sensor monitor test results for the most recently performed tests from the vehicle's on-board computer.

8. On-Board Monitor

It allows you to view the results of On-Board Monitor tests. The tests are useful after servicing or after erasing a vehicle's control module memory.

9.Vehicle Information:

The option displays the vehicle identification number (VIN), the calibration identification, and the calibration verification number (CVN), and other information of the test vehicle.

Launch CR529 Supported Language:

English, French, Spanish, German, Portuguese, Russian, Japanese.

Car Coverage:

Launch CR529 is compatible with most worldwide models manufactured as from 1996, with the support of all OBDII protocols: KWP2000, ISO9141, J1850 VPW, J1850 PWM and CAN (Controller Area Network).

Other Features

1. Record & Replay

Record all issues while doing the diagnostic work, and you can later on check the records related wherever, whenever.

2. HELP Shortcut Key

Comfortably help you to resolve most basic issues in a second with tips.

3. LED Indicator

Quick and easy way to identify your vehicle's status visually, via its Green, Yellow and Red LED light.

4. Print Via Computer

You can connect it to your computer and print the diagnositc report.

5. Update Via Computer

You can connect to your computer and update it via Internet.

6. 3-Foot-Long Diagnostic Cable

You can drive your car, while the scanner reads data on the seat next to you.

Update and Warranty

Lifetime Free Update, One Year Warranty.

Launch CR529 Specification:
Display: 2.8-inch LCD (320*240 dpi)
Operating Temp.: -10℃ to 50℃
Storage Temp.: -20℃ to 70℃
External Power: 9.0 to 18.0 V power provided via vehicle battery
Dimensions (L*W*H): 179 mm (7.0")*103 mm (4.0")*30 mm (1.2")
Weight: <500 g (1.102 lb.)

Launch CR529 Package List:
1*Main Unit
1*USB Cable
1*Quick guide
We love to hear from you,our team is available to help answer questions and offer styling advice, so if there's anything you'd like to ask us, we're right here and ready to help in every way we can.
We're available to support you via
Service Tel: (+86) 16686410852
Whatsapp: (+86) 166 8641 0852

We strive to answer your questions within.12 hours
Customer service chat hours:
Monday - Sunday : 8am - 20pm EST
Now available in English.
Company address:
( Changde Innovation and Incubation Industry Park,
Zhangyao Road, Changde High-tech Industrial Development Zone )
Guanxi Town, Dingcheng District, Changde City, Hunan Province,China



Please kindly note: During peak seasons and promotional sales, our response time might take a little longer. Please use the same email address you used when placing your order when contacting us, and include your order number in your email.
Become a reseller of obd2direct
The more you buy, the lower the price. The more you save.
Join us as our small and medium retail client and help you gain more experience
What is a wholesale program?
Join us, become our wholesale customer, buy more quantity and enjoy great wholesale discount price!
Buy more, save more!
In the sideline business of helping you resell professional car diagnostic tools, but also help you make better use of car diagnostic tools, providing recommendations and the best resale services for workshops around you!
Benefits of becoming an obd2direct wholesale customer:
1. Get the biggest discount price.
2. The latest and most abundant product catalog.
3. Professionals will help you analyze the market according to the sales situation of the market, help you choose the most suitable resale products, and help you obtain the maximum profit.
4. Professional product descriptions, pictures, and professional product introduction DPF documents.
5. One-to-one service from professional aftersales- technicians.
6. Free delivery from overseas warehouses, providing the fastest and highest quality express service. We will prepare goods for you in advance according to your needs, and there will be no shortage of goods waiting.
Our goal:

The spark of continuous technological innovation and improved product inventions has stood the test of time, and the service provided and customer relationships in place are popular worldwide.
Whatsapp: (+86) 166 8641 0852

Email: sales@obd2direct.com
ADDRESS:
(Changde Innovation and Incubation Industry Park,
Zhangyao Road, Changde High-tech Industrial Development Zone)
Guanxi Town, Dingcheng District, Changde City, Hunan Province,China.