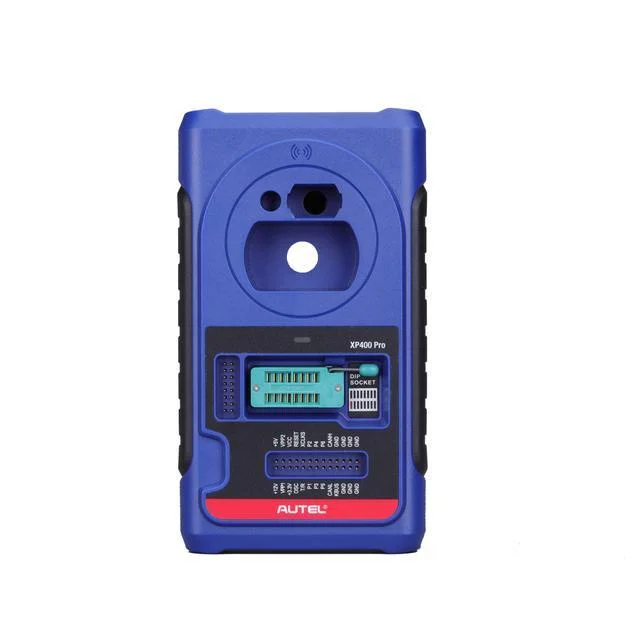 Autel XP400 Pro 2021 Newest Key Programming Accessory Tool Working with IM508, IM608, IM608 Pro, Upgraded Ver. of XP400
Autel XP400Pro
key and chip programmer, compatible with the IM508 and IM608, reads/writes and learns keys to the vehicle. The XP400Pro enables programming of infrared keys for Mercedes vehicles and IC Chip keys on late model Hyundai KIA vehicles. The XP400 also performs EEPROM-data functions needed for European vehicles. The XP400Pro supports Data Read/Write of 3,000 Plus Chip Types (inc. EEPROM, engine ECU, MCU, IMMO ECU).
Burst Point of Autel XP400 Pro
:
ADVANCED VERSION OF XP400: As the 2021 latest key programmer accessory kit, upgrated ver of XP400, XP400 Pro is added with more functionality for BMW, BENZ, as well as more powerful functions on EEPROM, MCU, ECU reading/writing. With the new protocols, XP400 Pro can read/write data of over 3,000 Chip Type to mostly satisfy your needs. NOTE: XP400 Pro+IM508/IM608/IM608 Pro is NOT universally supported. Send VIN to sales@obd2direct.com to check function before order.
ALL-IN-ONE KEY PROGRAMMER: Autel XP400 Pro Car Key Programmer is designed to work with Autel IM508/ IM608 to expand the IMMO functions, including add a new key, IMMO ECU Reset/Adaption, IMMO ECU Refresh/Coding, Remote Learning, for AUDI Q5/ A4/A5 2015-2017 Key Learning, for VW MQB Key Learning, for BMW FEM/BDC/CAS4 Key Learning and Adaption etc. NOTE: the IMMO functions are not all-vehicle supported, send VIN to sales@obd2direct.com to check before order.
COMPATIBILE WITH IM508, IM608, IM608PRO: The XP400 Pro programmer is designed to work with IM508, IM608, IM608 Pro key programmer to perform various IMMO Key programmings, key chip programming functions, MCU writing and reading and other key related tasks. Just like the XP400, XP400 Pro also has exactly same programming abilities whether working with IM508 or IM608, IM608 Pro, You can always choose among them and find yourself the suitable collocation.
UNMATACHED COVERAGR OF KEY CHIPS & ECU: Autel XP400 Pro Automotive Key Programmer Tool can read/write 445 different key chips (newly added support of AM29FXXX series, MB29FXXX series), read/write EEPROM, Read/Write Engine ECU, Read/Write Immobilizer ECU, Read/Write MC9S12 Encryption Chip, Read/Write IC Card, Read/Write Mercedes Infrared Key, Remote Frequency Detect and more.
RISK-FREE PURCHASE Autel XP400 Pro programmer is backed by NEW REPLACEMENT or FULL REFUND within 30 Days and its protected from defects for 12 Months by US seller. All the functions are not universal compatible, to check functions or any questions, please send VIN(17 digits), brand, model year, and the specific function you need to sales@obd2direct.com to check compatibility before purchase.
We love to hear from you,our team is available to help answer questions and offer styling advice, so if there's anything you'd like to ask us, we're right here and ready to help in every way we can.
We're available to support you via
Service Tel: (+86) 16686410852
Whatsapp: (+86) 166 8641 0852

We strive to answer your questions within.12 hours
Customer service chat hours:
Monday - Sunday : 8am - 20pm EST
Now available in English.
Company address:
( Changde Innovation and Incubation Industry Park,
Zhangyao Road, Changde High-tech Industrial Development Zone )
Guanxi Town, Dingcheng District, Changde City, Hunan Province,China



Please kindly note: During peak seasons and promotional sales, our response time might take a little longer. Please use the same email address you used when placing your order when contacting us, and include your order number in your email.
Become a reseller of obd2direct
The more you buy, the lower the price. The more you save.
Join us as our small and medium retail client and help you gain more experience
What is a wholesale program?
Join us, become our wholesale customer, buy more quantity and enjoy great wholesale discount price!
Buy more, save more!
In the sideline business of helping you resell professional car diagnostic tools, but also help you make better use of car diagnostic tools, providing recommendations and the best resale services for workshops around you!
Benefits of becoming an obd2direct wholesale customer:
1. Get the biggest discount price.
2. The latest and most abundant product catalog.
3. Professionals will help you analyze the market according to the sales situation of the market, help you choose the most suitable resale products, and help you obtain the maximum profit.
4. Professional product descriptions, pictures, and professional product introduction DPF documents.
5. One-to-one service from professional aftersales- technicians.
6. Free delivery from overseas warehouses, providing the fastest and highest quality express service. We will prepare goods for you in advance according to your needs, and there will be no shortage of goods waiting.
Our goal:

The spark of continuous technological innovation and improved product inventions has stood the test of time, and the service provided and customer relationships in place are popular worldwide.
Whatsapp: (+86) 166 8641 0852

Email: sales@obd2direct.com
ADDRESS:
(Changde Innovation and Incubation Industry Park,
Zhangyao Road, Changde High-tech Industrial Development Zone)
Guanxi Town, Dingcheng District, Changde City, Hunan Province,China.